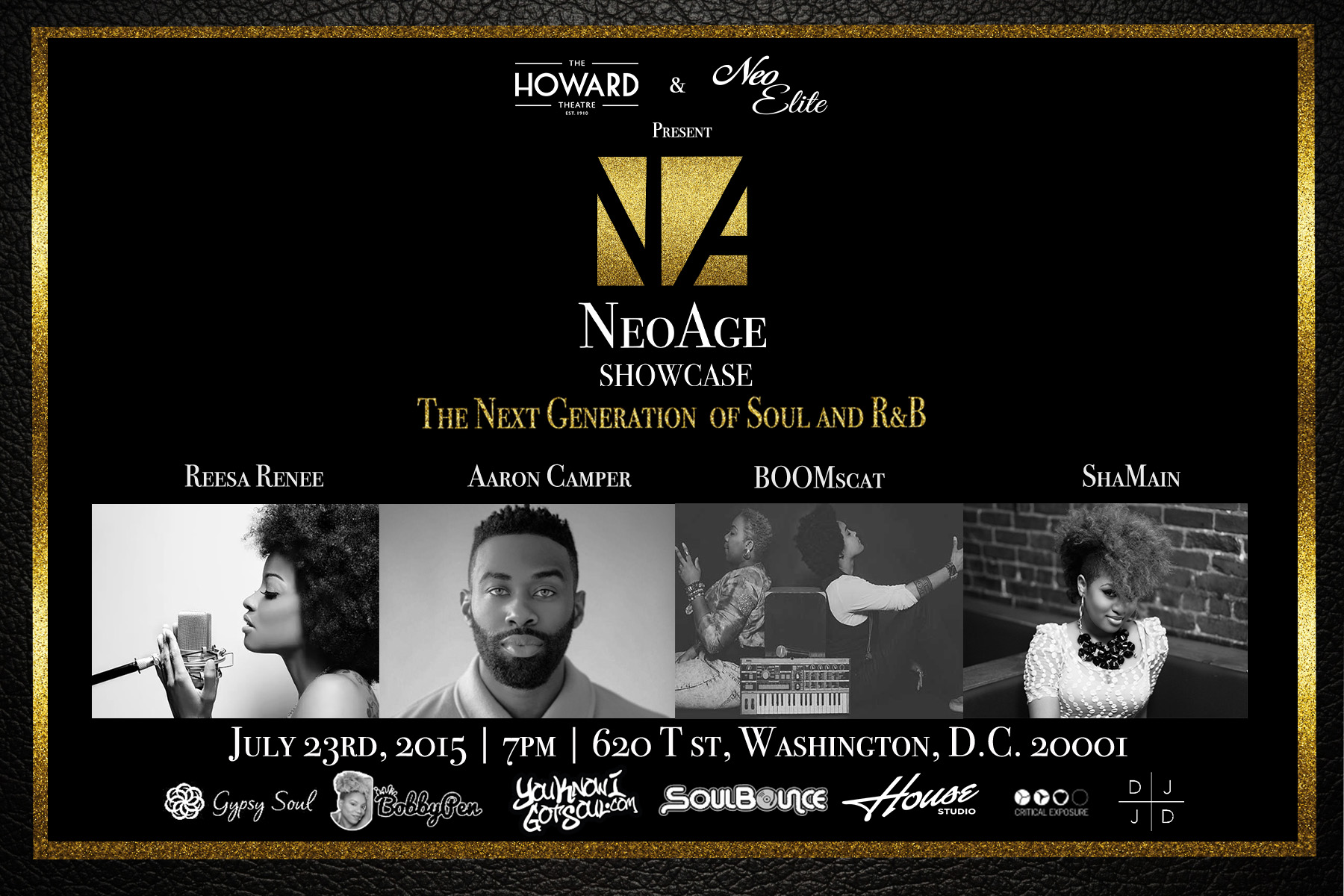 It's Summertime in the Nation's Capital and a new music experience is about to be bestowed upon this great city! In partnership with The Howard Theatre, Neo Elite is proud to present The Neo Age Showcase: The Next Generation of Soul and R&B. The debut of the bi monthly show will take place July 23, 2015 with doors opening at 7 PM. The line up decision was made by deciding on the following:
-One Rising Artist with buzz from the DMV Community
-One Rising Artists with Talent from the House Studios AGP Program
-One Rising Artist with Buzz and Legitimate Established Fanbase from outside the DMV:
-One Rising Artist that has built a Legitimate Following and Fanbase from the DMV
Performing LIVE will be Reesa Renee, Aaron Camper, BOOMscat and ShaMain. Another exciting bonus to The Neo Age Showcase is the "One Minute Mic" competition which will be hosted online and the winners (which will be chosen via Social Media) will perform on The Howard Theatre stage during the show July 23rd and a champion will be crowned. Participants can enter by posting a 15 sec Instagram video of a cover and using the hashtag #OneMinuteMic.
When asked about making Washington, DC the home of the new music experience, creator Zeplyn Xavier states "With such a heavy existing music culture in the DMV, it was a great opportunity to partner with one of the most prestigious historic venues (The Howard Theatre), and co-create an experience that can mirror a time when Washington D.C. was a major location for rising Soul and R&B talent to come and perform. We are giving it a modern day twist and adding some flair, but the goal is to really amplify the amazing rising talent we have here and all across the nation."
The Neo Age Showcase is also proud to announce their partners House Studios, YouKnowIGotSoul.com, TheBobbyPen, Gypsy Soul Entertainment & SoulBounce. In addition, a percentage of the total proceeds after every Neo Age Showcase show will go to nonprofit organizations. For the July 23rd showcase experience, the recipients are Critical Exposure, a DC based organization which trains youth to use photography and advocacy to make real change in their schools and communities and DJ | JD Foundation who are committed to molding high school students by utilizing multiple developmental programs and networks to a thorough understanding of both finance, financial markets, and long-term goal setting.
Tickets can be purchased here www.thehowardtheatre.com/show/2015/07/23/neo-age-showcase/ and for any media inquiries please contact Candice@CandiceNicolePR.com.