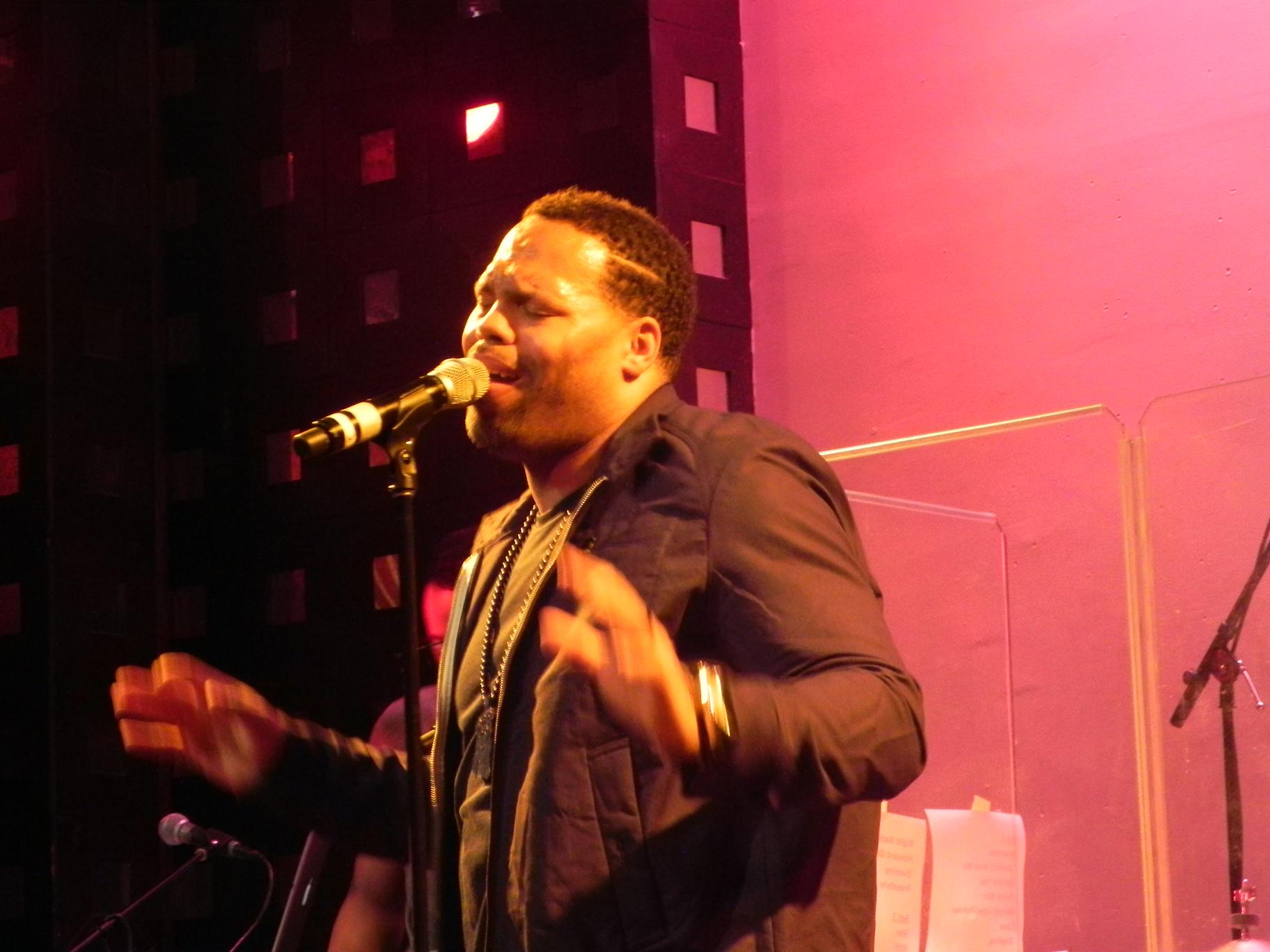 Prior to his performance at SOBs in NYC as part of his tour with Vivian Green, YouKnowIGotSoul had a chance to catch up with the pioneer for independent soul artists, Eric Roberson. In part one of our interview with this super talented musician, we discuss the tour he's currently on with Vivian Green, his original decision to shun major labels and be an independent artist, advice he would give independent artists these days as the r&b genre moves heavily in that direction, if he worries some fans will never get to discover his music, his writing process, and the background on how he wrote 112's "Funny Feelings" and Musiq Soulchild's "PreviousCats".
YouKnowIGotSoul: You've been doing this tour with Vivian Green here. How did that come together and how's that been so far?
Eric Roberson: I've known Vivian for a long time now, over 15 years now probably, and we worked on her first album together; so Vivian is a very good friend. I believe I was talking with her manager and started discussing ideas about possibly doing a tour together and that was probably eight months ago. It's crazy when I think about it because this should have happened sooner, it makes no sense that it took this long. At one point earlier in our careers, she was my background singer, and at one point earlier in her career, I was her background singer. So it kinda made sense that we'd eventually get on stage. It's been going great, this is the third show of it, and I'm looking forward to doing more.
YKIGS: I want to take it back to earlier in your career. Back in 2001 when you released your first album, you kinda strayed away from the major labels and went the independent route. What made you go in that direction? Because I know a lot of other artists at that time, their goal was to get on a major label.
ER: I think failure. *Laughs* I took the major label route, and it didn't always work for me. I had been signed and dropped a few times and for me I really started having a lot of success as a songwriter and a producer, but I wasn't satisfied. Creatively I had all of these songs sitting around that I wrote that I wasn't willing to sell, and that's probably really where it started, not having fulfillment. I worked with so many acts on major labels that never came out, and there's nothing more discouraging than an artist getting signed and they're excited and loving the opportunity they have, and you work with them for six months to craft their talent and put this album together and for whatever reason the album never comes out. I just didn't want to be that, I kinda wanted to have control over what I did and what was heard. So that was kinda the start of it, something very small, and it grew to this. So I'm very appreciative of what we have now.
YKIGS: I Guess you could say it's ironic that now a lot of soul and r&b artists are going the independent route these days. What's some advice you could offer to an artist coming from a major label and now trying to succeed on an independent label? Because I know you've had much success independently.
ER: Well the funny thing is, I remember when I first started doing it and my peers were looking at me like I was crazy. It is something that where the industry is now turning more towards that. If I was to give advice to the major label artists who are now going independent, I would say to just maintain their foundation. They had a great opportunity to have this jump start with these marketing dollars behind them, and we started from the ground up, so dare I say it they are taking a step down. But what they need to realize is they are taking a step down so they can have strong connection with the fans. The independent movement in general has always been about the relationship between the artist and the fans. The songs validate the relationship and I think through the albums I think people can trust in me to support my career through what I do, but at the end of the day, it's really about me and them. I think any artist that's been on Jive or Def Jam or whatever, and they're going independent now, it's not necessarily about having that first single or the explosion or whatever, you've got to have something that somebody connects to, and when that connects, we're building the relationship. So it's not just about cds, it's about t-shirts, it's about tours, it's about consistency. So I think that's the main thing, and also get ready to wear a lot of hats. You've got to wear a lot of hats in the music business anyway, but especially for the independent side you've really got to wear a lot of hats.
YKIGS: You're such a talented artist, but without that major label backing, do you ever worry that there are some people who might be fans of your music that might not ever discover you because you don't have that major promotional marketing behind you? Basically, do you worry that there are some music fans who would love your music but never get a chance to hear it?
ER: Well I think that can easily happen. I believe that someone can miss my music in either direction. I'm very satisfied with my goal that I have in my spirit; my goal is to grow old doing music. I'm very satisfied with knowing that not everybody is going to like my music. I think if it's one thing that I champion, know that I have my own path, and even if you don't feel this, this should show you that there's something out there that you will feel if you look for it. One thing I love about it is I don't put a timeline to anything. We had show yesterday and we had all seven albums for sale at the show, and I ran into a lady who bought all seven albums and told me she's just now discovering my music, and I told her "You're not late!" I'll work the first album just like I'll work the newest album. With the majors they'll put a timeline to an album where if it doesn't reach certain numbers by a certain time, they'll go to the next one. I still work the second, first, third album like they were brand new. At the same time, there are always different markets, like we just did big shows in Houston and Dallas, but we're practically unknown in San Antonio. So it's always something to do and always something to build and that's what keeps me passionate about touring. It's always a tour to combine that can expand our fan base and things like that, so I'm always open to it all. So I don't look at it like I might have somebody that would love my music that I have missed, I'm still trying to find that person.
YKIGS: As an accomplished song writer who writes his own music and writes songs for others, can you take me through the writing process of how you put a song together?
ER: Now I'm married, I've got a son, I've got the touring schedule with a staff and a company, so what's crazy is that their used to be a ritual, their used to be a process, and now it's like any free second I get. My phone is full of lyrics, my laptop and iPad are full of lyrics, there are papers lying all around, this beat up pad over here is full of lyrics. It's just whenever I can get to it I try to be in the moment at all times. I'm constantly listening an observing for subjects and for lessons and then any chance I get I'm always trying to create it. Even if I'm at a party I'll just type some stuff in my phone that might not make any sense, but when I go back and look at it I might find something in it. So I trust in the process that I can stop it and change diapers and go back and pick it up and it will still be there. I also trust that when I need to be in character I can drop everything and just be completely focused, get out of the way of myself, and just be. I had to learn that because I used to be a studio rat, I lived in the studio, and then it just got to a point where touring like we did, it was by the time I got home, I was home for two days, by the time you wash clothes and get some sleep, you're checking into your next flight and you haven't been to the studio in weeks! So I kinda had to learn how to focus and really lock into those quality moments creatively.
YKIGS: I went through your discography of songs you've had a hand in writing or co-writing for other artists and I was hoping to get some background on a few of these that you put together, some personal favorites actually. The first one I came up with was 112 "Funny Feelings".
ER: Wow! You know that was one of the big starts for me as a songwriter. I had just graduated from college and I had landed a song with somebody else already, but I was considering moving to Atlanta, I was still living in DC at the time. I was working at DARP, which was Dallas Austin's studio at the time, and 112 walked in. Luckily my former manager, and somebody who still works on our staff, knew them and introduced me to them, and they were gracious enough to listen to some of my songs. I ran to the car and got my guitar out, and at the time I only knew how to play about three songs on the guitar, so I sat there and just played it out to them and they loved it. It's crazy where my father played guitar and still plays, and there was literally a guitar in every room of the house; bathroom, kitchen, everywhere. I never touched my father's guitars; it was the rule of the house! It was that he played it so much, you were never going to pick it up because he had it. It was crazy because I remember dealing with some relationship after coming home from college and I was so frustrated that I picked up my father's guitar and just played it. My father came in and looked at me crazy because I had never done it before, but my adrenaline was so up and I had watched him for years. So that was the song, and I literally wrote the song in seconds, as fast as I could say the words they were coming out. That was one of the most valuable lessons I learned, I really try to channel those moments when the song is there already, just let it pour out of you, and that was one of those songs.
YKIGS: Very cool, I love that song.
ER: Oh that's good, that's good!
YKIGS: The next one is Musiq Soulchild "PreviousCats"
ER: "PreviousCats"! Man! A good friend of mine who I went to Howard with, Jermaine Mobley who is an amazing guitar player, he sent me the music. I was listening to it in my father's car and driving to another studio, and I wrote the song while driving. The funny thing about Musiq was I played it for him, it was a college song that I had for years and it sat around, and it was one of those songs when I played it for somebody, they would never go "I love that song!" they would go "Yea, I kinda dealt with that." It was more like an internal thing. So I remember playing it for Musiq when he never even had a record deal at the time. The amazing thing was when I played it for him he said "I want this song for my second album." So Def Jam signed him, and we were working on his album and I said "Ok well what about PreviousCats for your album?" and he said "Oh no, that's for my second album" and I was thinking "Uh, what??" So the first album was a big success and he went on tour and everything and out of the blue I got a phone call from Musiq, and he was saying "I'm about to start my second album, when can I come over and cut PreviousCats?" So I was thinking this guy is crazy! So we recorded the song at the studio and the rest is history. What's funny is I had ran into Russell Simmons in Jamaica, me and Jermaine Mobley were there for a wedding, and we were sitting literally right next to Russell Simmons because they were there for a wedding also. At that time we had written for a couple of artists who were on Def Jam, so we introduced ourselves as said we'd worked on a lot of the acts on his label and told him we'd done "PreviousCats" for Musiq Soulchild. So Kevin Liles goes "GREAT SONG! BEAUTIFUL SONG! I LOVE IT! It's not a single, BUT I LOVE IT!" It was like the most discouraging and worst thing in my life to hear him say that! But it was all cool and I personally feel like it was a big mistake that the song wasn't a single. I say that not because the song would have made me a lot of money, but it was a conversation piece. That song really helped a lot of people and to this day he still performs it as his shows, which is a great complement to me for how important that song is.
Stay tuned for part 2 coming this week!