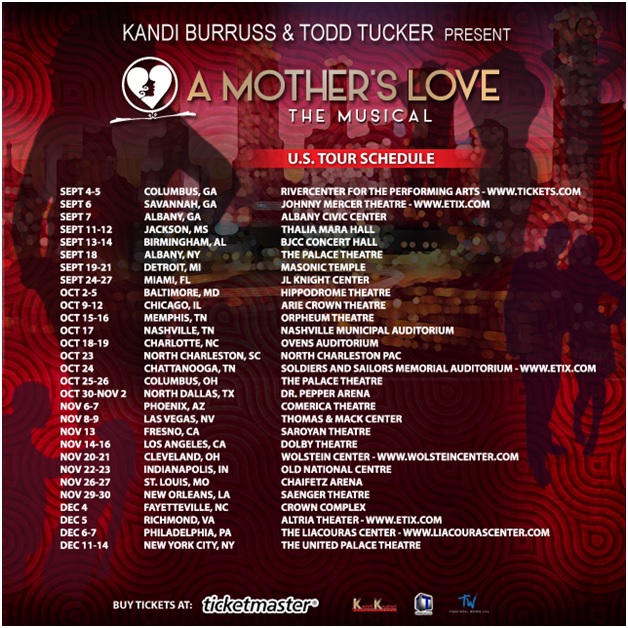 With the critically-acclaimed stage play "A Mother's Love" just weeks away from embarking on its first national run, Executive Producers Kandi Burruss and Todd Tucker, alongside Theatrical Works Live are proud to reveal the star-studded cast that will bring this loosely biographical family drama to audiences in 29 cities this Fall.
Burruss will reprise her turn as the main character, a rising singer and member of a girl group who struggles to find the balance between honoring her relationship with her mother and making her own decisions as her career and love life evolve. On selected dates, American Idol alum LaToya London will appear as a special guest in the female lead role. Since her appearance on the third season of Idol, London has become a well-established member of the theater community, most notably starring as Nettie in the Broadway production of The Color Purple; a role for which she earned an NAACP Theater Award nomination in 2008.
Also returning are powerhouse vocalist Shirley Murdock; renowned stage actress Chandra Currelley-Young of Tyler Perry's For Better or Worse; platinum-selling and Grammy nominated singer Q Parker (of 112 fame) as the male lead and Kandi's love interest; and supporting cast members D. Woods (formerly of the platinum-selling girl group Danity Kane), former NFL linebacker Olrick Johnson, and popular social media personality Quentin Latham (better known as FunkyDineva). Rounding out the touring cast are Anthony Dalton (of Tyler Perry's Laugh to Keep from Crying), "R&B Divas" star Meelah Williams, singer Tony Terry and Myra Beasley (of Tyler Perry's The Marriage Counselor).
Following a successful run in Atlanta in November, Burruss and Tucker struck a partnership with veteran promoter Travis Steele, founder and CEO of Theatrical Works Live, to bring the widely relatable story and moving musical performances of "A Mother's Love" to audiences across the country. "I'm excited to be able to partner with the amazing team at Theatrical Works Live to take 'A Mother's Love' on the road," said Burruss. "We worked extremely hard on our initial run of the show in Atlanta, and to be able to take it on the road and share it with people across the United States, is a feeling that is beyond words."
Along with new cast members, the national presentation of "A Mother's Love" also boasts a revamped script and several set changes as well, making this run of 29 dates a totally different experience from the original offering in Atlanta. The play's national tour kicks off in Columbus, GA on September 4 and will stop in several major markets including Detroit, Miami, Chicago, Nashville, Los Angeles, Las Vegas and New Orleans, before coming to a close in New York City on December 14. Please visit KandiOnline.com, for complete tour date listings and ticket information.
In addition to the great success of the play's initial run in November, "A Mother's Love" has already garnered national attention, not only because of the behind-the-scenes drama captured on "Real Housewives of Atlanta," but also due to the popularity of the play's soundtrack, released in April. The album, which is currently available on iTunes, features 19-tracks written and co-produced by Kandi Burruss and recorded by the play's original cast, which also included R&B legend Eddie Levert and Kandi's RHOA co-star Porsha Williams. The original Atlanta production of "A Mother's Love" is also currently available on DVD at KandiOnline.com.