Rare Gems: Latrelle "Dirty Girl" & "House Party" (Produced by The Neptunes)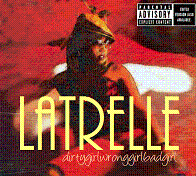 Here are two songs from Latrelle, a singer who had previously been signed to L.A. Reid's Arista label followed by Babyface's Nu America label. A series of label mergers and internal politics however left her without a home and without an official release to her debut album "Dirty Girl, Wrong Girl, Bad Girl." Both of these tracks were produced by the Neptunes, who produced a total of six tracks on the album. We've had a chance to hear the whole thing, and it definitely has some songs that I still listen to today.
Check out our most recent interview with Latrelle aka Mz. Munchine to find out what she's been up to.
Tagged:
Latrelle
The Neptunes