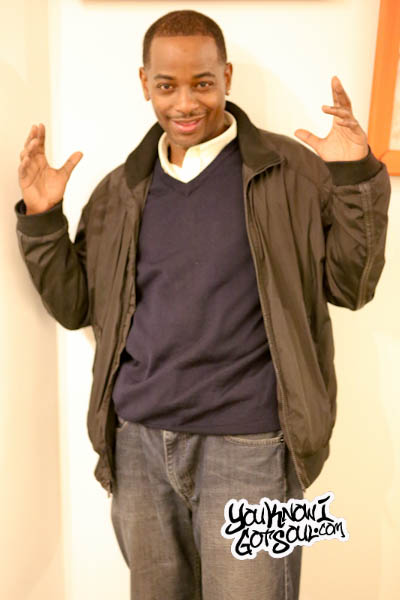 You may remember Marc Dorsey from his debut album "Crave" in the late 90's, or better yet from his work with The Neptunes on songs by LL Cool J and Kelis amongst others. If you're a music fan like we are and you've been wondering what he's been up to, we bring that to you here. Along with his current projects in the past few years, Marc Dorsey discusses in this interview how he originally got signed, how he linked up with The Neptunes, why there was never a follow up to his debut album "Crave", his feelings on the current state of r&b, what's next for him musically, and much more.
YouKnowIGotSoul: Give me your history in music and how you were discovered as an artist and how that led to your first deal.
Marc Dorsey: I guess back in 1990, I started working with a lot of R&B legends like The Manhattans and others. I was very fortunate to meet a radio DJ by the name of Vaughn Harper who is known for the quiet storm format at WBLS. From that, we met and spoke and connected and in the summer of 1990, I was talking a break from Morgan State University where I was majoring in business and music. I got requests from Vaughn Harper to come out and really pursue my music career as a profession, so I went to New York and started working with him and getting acclimated to the New York music scene and then I was introduced to Spike Lee. He gave me an opportunity to perform one of the songs off his movie called "Crooklyn". I worked with Spike Lee for about five years and we did some songs from films like "Crooklyn", "Get on the Bus" with another independent film called "Drop Squad" which opened me up to a whole new avenue and arena of African American actors. That led me to Universal Music where I was able to work on an album which was never released. However, I did get plenty of soundtrack opportunities. But from there, I caught the attention of the founder of Jive Records, Clive Calder, who was really in support of my talent and signed me to Jive. Upon signing to Jive, I was getting an opportunity to sing on one of the lead singles of a movie called "The Wood". The soundtrack helped me break into the mainstream because it sold over 10 million copies. Moving forward, I was doing shows and traveling with different companies while I was with Jive. I ended up developing a lot of great relationships, especially with The Neptunes as producers before they became who they are now as well as Kelis and a few music projects that they had. Then I started doing a lot of freelancing and then I was able to have the #1 single with LL Cool J called "Luv U Better". From there, I worked with E-40, and Jay-Z on the "Blueprint 2" album which was subsequently my second Grammy nomination behind LL Cool J. Then I started to working with music and kids, so we fast forward a couple of more years, now over the last five years I've worked with a few partners and we've able to open a music school in Hackensack, New Jersey. We're pretty much getting started to mold the mind of future artists.
YKIGS: Let me take it back a little back. What do you remember most about recording and working on your album "Crave"?
MD: The most I remember is me actually getting an opportunity to kind of dictate who I was as an artist. They gave me creativity to work with certain producers, new and old as well. Clive Calder was pretty much really personally involved and his vision in the project was for me to release. Not so much focused on the "song" but the creativity of the artist. That was a very big deal with him being the owner of the company and expressing an interest in the creativity.
YKIGS: You mentioned earlier that you linked up with the Neptunes at one point. I'm a big fan of their production and also the work you've done with them. How did you originally link up with them?
MD: When they were first getting started, a good friend of mine by the name of Kenny Ortiz who was an A&R at RCA at the time, he had discovered SWV, and Brian Morgan was their dominant producer. He had thrown my name into the category on a chance to work on a Neptunes produced album. They had just left Teddy Riley and they were looking for artists that really inspired them musically and with the grace of the God, I was one of those artists. So we developed a good friendship in the beginning of their careers and we still speak here and there. I haven't heard from them in about a year, but that was more so the friendship nature that really developed and grew into one that was creatively beneficial.
YKIGS: I was hoping to ask you about the background on some of the songs you worked on with The Neptunes.
MD: Of course Kelis. I also did some work with them with MC Lyte off of the "Seven & Seven" album. The first N.E.R.D. album, I did a few backgrounds on some records. The LL stuff we did later. Throughout their career, as they rose to popularity, they showed me love and brought me on the journey through the "Blueprint 2" album. Pretty much, my thing is that this business has been relationship building. From Rodney Jerkins to Mario Winans, I've been able to come across a lot of great individuals.
YKIGS: Give me the background on the song "Ghetto Childen" with Kelis. How did that song come about?
MD: That song came about was one of Pharrell's brain child's in developing Kelis, he wanted to give her more of an eclectic, urban, gritty, poppy type of thing which was the sound at the time and it was really just trying to develop her as an artist. My musical style and background was one that he thought would be terrific for the project. With our history and camaraderie, he thought she needed to elevate her thing as far as vocally.
YKIGS: For "Luv U Better", that song became a huge success. Did you expect it to become a #1 single?
MD: Actually, no and I would challenge any artist to say would they think their song would be a number one success because you never know. That was one that I had done before LL had even put his verses on it and it was basically constructed and came about as a record that Pharrell and I usually worked with. He did the lyrics, then I would come up with a lot of melodies and arrangements which made us a good team to work in the studio. So when he came up with that, I had another record on the album called "U Should" which in my mind I thought was going to be the single at the time. Through research and development from sending those singles out to radio and stuff, "Luv U Better" came back as one that could cross many different genres so that's ultimately the one they came out with.
YKIGS: Why did we never see a follow up album from you after "Crave"? Did you have plans to release a second album?
MD: I planned to release a second album, but if anybody knows my history, I have a large construction background. I had left college because my Dad had got a little sick. It was more so of a monetary issue. He had diabetes and had a few strokes, so the business aspect was more so in my head more than the music was. It came about in a sense of me recording because I've done just as many jingles for radio and television than I have done albums, so with me I just love music so just like in the Church, my focus was on just signing. I wasn't concerned so much about album sales and branding and different things of that nature, so I asked Jive for a release in 1999 and they gave me a release in 2000. Then the LL stuff was in 2001/2002 and then Jay-Z from 2003/2004 and did a few jazz projects. It was more so just me singing and not saying "I want to put out another album," just because maybe this is what fans might want from a Marc Dorsey. That just never transpired, that wasn't my focus. I had gotten into real estate. Personally, I was able buy and flip a few million in real estate by myself and I got into developing Children Arts programs from DC to Virginia to Connecticut. So I really looked at my career like "Ok, what's best for myself." It was never kind of like "Yo, you have to go back and get that next album." I'm a single dad of two and life plays a part as well, so that was a lot of it.
YKIGS: Do you have any plans to record music again?
MD: Yes sir. I actually did a song called "Follow My Heart" which was on the "Ridin' High" CD which was re-released last year because of the request of radio which garnered a top record at Jazz radio. I continue to do spot shows and I've been a spokesperson for the National Diabetes Association and I've done work with agencies for foster care. I've just been lending myself to a lot of different social organizations, trying to use my voice and my music as a catalyst for different causes. We just opened a million dollar facility in New Jersey that we're working and training adolescents through adults in different workshops and production courses to keep music alive. Don't count me out though, I'm coming back with something.
YKIGS: Since you've been active of an artist since the early 90's, how do you think R&B has changed?
MD: I think it's changed pretty much for the commercialism, not so much for the artistry. I can respect it because you're dealing with a younger demographic as well as technology driving a lot of things as opposed to the creativity or the level of skill of the artist. You have social media which is paving the way for fans and people with no talent. They're becoming celebrities because they have 3 million views on YouTube or MySpace. It's becoming more of a marketing play as opposed to a musical creativity. I have to embrace it because if you don't put out a record, automatically you have to think of business. If you don't want to put out a record and just want to perform or be a creative artist or someone who gets respect within the industry, then you can't really worry about album sales. That's why there's resurgence in independent labels right now.
YKIGS: Is there anything you'd like to add?
MD: I think music is music. I've been keeping involved; I did some artist development for Chris Brown. I was very instrumental in getting record deals for Pretty Ricky and two or three other artists who went on to get record deals. So I found a niche and that led me more so toward the education and training aspect. So my overall tact and thinking is I just love music and the creativity no matter if you're 10 or 100 doing music, it transcends generations. It connects different ways of thinking and to me music is like a universal language. I thank God that I was able to and am still able to remain in music and can help with the creativity of the movement. I just appreciate people like yourself for doing things like what you're doing and getting the word out and being informative where it might not necessarily be so much mainstream. You know, Rosa Parks wasn't the first person to go sit on the back of the bus and she said no. The way I look at things, we're always so focused on the Jay-Z and the LL's, but there are 20 or 30 of those guys in each community, but it's unfortunate they don't get the shine.