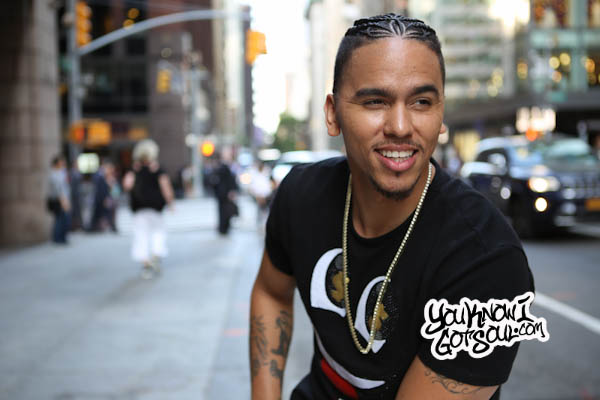 We had Adrian Marcel as a guest on a recent episode of our SoulBack R&B Podcast. During our interview with him on the show, we discussed his newly released sophomore album "98th", leaving a major label and starting his own, originally recording a Chris Brown single, and other music industry challenges. Check out what he had to say below.
YouKnowIGotSoul: Tell us about your recently released sophomore album "98th".
Adrian Marcel: It's my newest offering to what I like to say is my rebirth in a way. I hate to be that corny, but just a reintroduction to who I am now. I've been very blessed to live a life with dope experiences and grow with my family and loved ones. I've been able to travel the world. You start to find yourself more and more and settle into who you are. Sometimes that's taking it back to your best moments. The title "98th" is that time I settled in. I feel like I've got back after so long. When I moved to 98th and McArthur in East Oakland, I was a new kid in arts school, but I knew I had it. I was finally somewhere where I could be challenged and learn more about this craft I love so much. Those were the years I was at my most confident peak.
I went back in the studio and locked in with people who I felt wanted to see me grow in every way. I was going through so many names I wanted to call this project. I said just stop tripping on stuff like that, just make the music, and the music will lead you. After that that, I knew it had to be called "98th". Everyone in the room making it with me was from 98th Street or East Oakland. With me starting my own label Third Voice Music Group, now it's real.
These are the songs I wanted to give first. These are my introductions. It's all on me and what I wanted to do. That's the freedom of it and that's why it was "98th". It was all I wanted to do back then, and it got me a deal, it got me a hit record, it got me this fan base and support system.
 
YouKnowIGotSoul: In a previous interview, we had heard you mention that you originally recorded the song "Back to Sleep", but Chris Brown eventually got a hold of it and made it a single. How did that happen?
Adrian Marcel: It happens a lot man in the industry. You have a lot of people who are looking for placements. Producers are slipping everybody the beat that they just sent you and say it's for you. Don't take too long, because the other person we didn't know who had the beat, might have already did a song to it. On the other hand, you have the labels that move slow. They move off of what's popular and not what you feel. Most labels and A&R are looking at what's already being done and what's already hot, so they are late. So they won't pay for a beat because it's not the sound, or they can't relate to it right now. Next thing you know, Chris Brown got it. But it taught me a valuable lesson.
 
YouKnowIGotSoul: Tell us about your song "Spending the Night Alone" which you released as a single a few years ago. We noticed the sound was a bit different than previous singles.
Adrian Marcel: I recorded the record even though I hoped it wasn't the second record, I hoped it was more like an album cut. The label was so adamant about it. I guess the way we played it was we didn't want to be the ones who were problematic, so we tried it. I'm a believer if we do it your way and it doesn't work, then I'm allowed to do it my way and see if it works. That to me was the even exchange. That didn't come afterwards. To me it wasn't the record, I had no problem with the song, I loved the record. I loved working with Rico love, I learned a lot from him in a matter of hours. After that, I didn't get to do it my way. We moved onto a country sounding record "Take Your Time". *Laughs* I said let me get off this label. But I was blessed to be able to walk away without owing anything. I talked to so many artists who tell me how horrible they're doing right now.
I feel like any record today can be a hit if you've got the money to get it played. So once again, this was my reintroduction to let everyone know I've got some good music. This was effortless.
YouKnowIGotSoul: Talk about your acting role in the Bobby DeBarge biopic.
Adrian Marcel: I played James DeBarge. It was the first time I played a role that I didn't have to sing. Everybody else gets to sing besides me. People were upset about it, but they didn't understand. James and Bobby had a certain history which was very traumatic. For me to do that role was for me to feel like I had chops. I'm excited. It was my first time being in a feature film and experiencing it and marking it off the list of things I wanted to do. It's very deep, their family went through a lot of stuff! It's dope how they shot it, everyone in it was really good.