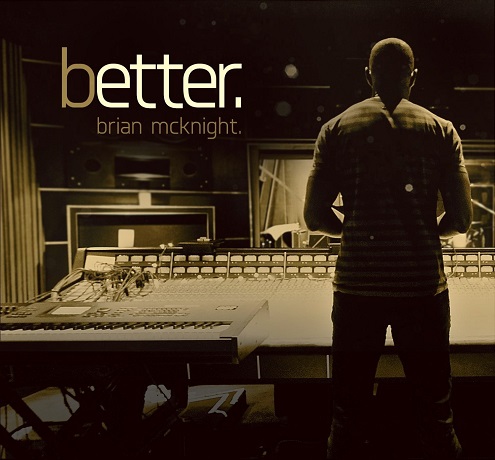 Brian McKnight is in love. This should come as no surprise to anyone who's viewed his Instagram account over the past year and witnessed the beautiful way he's celebrated his woman. He's been one of the premiere r&b artists delivering love songs over the past two decades, and that's the running theme throughout his new album "Better".
Now on his twelfth album, Brian McKnight can create hits in his sleep. His music has ventured into some more progressive production over the course of the past few albums, but he really looked to take it back to the origins on "Better". In speaking about the album when it was announced last year, he laid out his plans for the album
"I'm taking it back to basics, creating music like we did 20 years ago – completely organic, all real instruments. The truth is, I'm in love and love makes us better, it makes us come alive, and I wanted to convey that through this album in a very relatable, authentic way."
Just as he planned it is the way the album plays out. McKnight sings his heart out on the twelve song set consisting of all positive love songs backed with live instrumentation and a good mix of tempo.
Just as he's been able to do so successfully in the past, McKnight starts off the album with a great first single. "Uh Oh Feeling" is a groovy uptempo jam laced with his smooth vocals serenading his lover. We felt the song was one of the best in 2015 when it released, and chose it among our Top 100 R&B Songs of the Year. This was followed by the release of the title track, a progressive power ballad where he croons about how his lover makes every day better.
A real standout from "Better" is the song "Like I Do", a signature and vintage Brian McKnight ballad. Backed by a keyboard laced production, he professes his deep love for his woman. He takes it uptempo on the funky "Strut" where he can't get enough of watching his woman show her stuff.
Notice a trend here? We told you he was in love, and this album is all about celebrating his woman.
"Can't Take It" is an uptempo jam equipped with electric guitar where he can't handle the anticipation. On "Lovin You From a Distance", he can't take the thought of his woman going away. "Enough" finds him yearning to be with his woman every minute because too much is never enough.
Brian McKnight didn't do anything groundbreaking on "Better", but what he did was deliver a solid r&b album that is true to himself. Avoiding the temptation to latch on to trendy production was a smart idea, and the live instrumentation utilized throughout the album gives it an authentic feel. He's proven once again that he is a master songwriter when it comes to creating love songs. Every song on the album is a positive expression of love that anyone who feels love or has felt love can surely relate to.