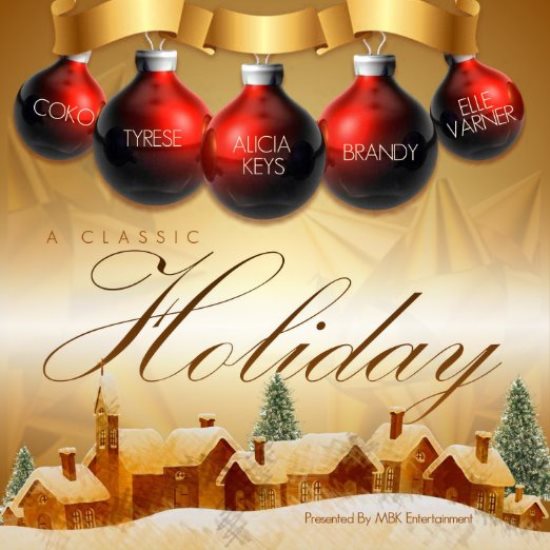 MBK Entertainment introduces the new album "A Classic Holiday" just in time for the holiday season. The album contains a wide range of genres including r&b, pop, soul, gospel and jazz. The lineup is a mix of r&b stars and up and coming talents including Brandy, Tyrese, Alicia Keys, Coko (of SWV), Gabi Wilson, Elle Varner, B. Slade, Justine Skye.
"A Classic Holiday" is a progressive take on holiday favorites including "Have Yourself a Merry Little Christmas", "Last Christmas", "O' Holy Night", "Silent Night", and many others. Jeff Robinson, the founder of MBK, added the following about the project: "Holidays are about family, love and of course sharing. So it's with great joy that I had the pleasure of pulling together my MBK Family to create this fantastic holiday album with love."
You can purchase the album on iTunes now. See full tracklisting below.
"A Classic Holiday" Album Track Listing:
1). Have Yourself A Merry Little Christmas featuring Gabi Wilson
2). Little Drummer Girl Remixed featuring Alicia Keys
3). Please Come Home For Christmas featuring Alex
4). One Voice featuring Brandy
5). Who Would Imagine A King featuring Anaysha
6). Sweet Little Jesus Boy featuring Tyrese
7). Last Christmas featuring Justine Skye
8). God Rest Ye Merry Gentlemen featuring Livre'
9). O' Holy Night featuring Bridgette Kelly
10). Mary Did You Know featuring Swagg R'Celious
11). This Christmas featuring Elle Varner
12). For Love/Deck The Halls featuring Daisha
13). Silent Night featuring Coko
14). Make Me Over/Total Praise featuring B. Slade