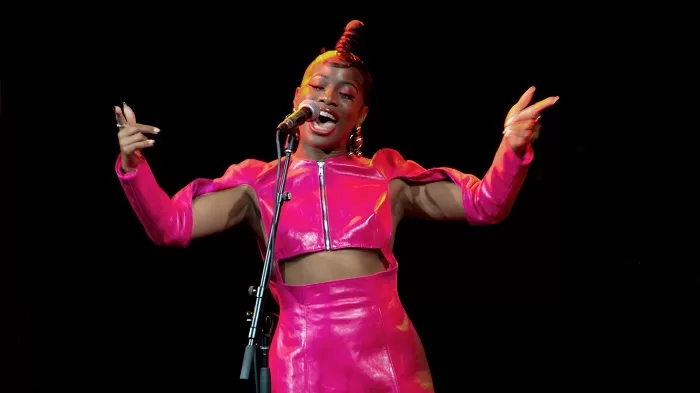 We recently had the chance to interview Courtnie, a Brooklyn based singer-songwriter, after she put on an amazing opening performance for Joyce Wrice at Bowery Ballroom. We were quickly captivated by her soulful sound and style after only a few listens to her records, and were even more impressed when witnessing these songs live. Her smooth vocals paired with her vibrant personality give a natural presence on and off the stage.
Already opening for the likes of BJ the Chicago Kid and soon to be opening for Sebastian Mikael, this Chicago and St.Louis raised artist is someone you need to keep your eye on. With songs like "Tell Me" and "L.T.M.F" being reminiscent of a 70s/90s R&B blend, we are excited for what's to come next from her. We got to talk to Courtnie about her inspirations, her EP I Feel Like Color, her plans for the future and more.
YouKnowIGotSoul: I think you killed your performance. How did you feel opening up for Joyce?
Courtnie: It honestly feels like divine intervention. I've known Joyce for a while, but when she talked about needing an opener for a New York show, I was like, this will be perfect. We've collaborated in other ways, but not on a show before. A lot of weird shit happening in life lately but this came right on time, so it felt amazing. Her crowd and her fans are angelic.
YouKnowIGotSoul: Tell me a few artists that really inspired you to start making music, specifically some r&b artists.
Courtnie: A lot of the artists that inspired me were soul artists because I kind of grew up in that era where my parents listened to a lot of Jill Scott, Erykah Badu, D'Angelo. So those are some big ones. On top of that, Solange. I'm a huge Beyonce fan. I feel like Solange, Beyonce, Rihanna are a trifecta for me. I can list forever. I love André 3000 just because, I don't know, melodic hip hop and his kind
of alternative, everything. It just inspired me to just be myself. Prince. Just in being a true musician and a multi-instrumentalist, it's not necessarily like the lane I fall in to, but it's someone I've respected and admired. Him and Michael [Jackson] are just amazing performers. So, once I kind of elevate, I would love to be able to perform with dancers similar to Joyce.
YouKnowIGotSoul: I see a lot of those influences in a lot of your music too. I was doing some research on you and I saw you worked for BET. You were also in a gospel choir, right? Talk about that experience and what you take from that to the stage.
Courtnie: So honestly with BET, I just love black culture. While I had to have a job when I first got to New York, I just wanted to do something that allowed me to envelop myself in those types of spaces. I made a family there and a lot of them are here at this show. Just amazing supporters and just an awesome community and circle in the city. But the gospel choir, I'm not gonna lie, I joined it in college before I even started making music because my parents wanted me to go to church. I went to school out in LA, and they were like, "Girl, are you receiving the Lord?". We grew up in the church, so it was really something they were passionate about. They wanted to make sure I was tapped in and I kind of did gospel choir to appease them. I was like okay, this is my way of staying connected with my faith. But also I was hungover on Saturday night *laughs*, so I couldn't make it on a Sunday. Yeah, that's really the story there. I loved it though. It brought me to music for real.
YouKnowIGotSoul: I listened to your whole discography. Your second EP [I Feel Like Color] really jumped out to me. I think that it's ahead of its time. What was your mindset during that time? What was the message behind that EP?
Courtnie: Honestly, I noticed that people were super into minimalist and muted design. I watched Architectural Digest in my spare time. I love design and interior, exterior, etc. But I felt like nobody was showing enough color and I named the EP that because I felt like it was kind of an analogy for how I moved through the world. I'm not trying to be different at all. And I think, you know, I love collectivist culture, but at the same time I think it's okay to operate a little differently than the masses sometimes. It was kind of a time where everybody was doing muted shit. It was cute, but I felt like color.
YouKnowIGotSoul: I had a few favorites from listening to your discography. I love the two singles that came out in 2020, especially "Tell Me". "U Don't Have To Call" off of I Feel Like Color was great too. What are some of your favorites from this discography so far? If you had to pick a top three for yourself that you're proud of, what do you think those songs are for you?
Courtnie: Well, I started making music when I was in my SoundCloud bag, and I listened to a lot of Kaytranada. One of my friends at the label was just playing my favorite track the other day and they were all like, oh, is this a new Kaytranada? So "Lifted" for sure is my personal favorite. It's kind of like the space I've been trying to be in for a while. The second is probably "Never Be" because, I don't know, I like being on my sad girl shit. It's like sometimes the easiest way for me to write. It just meant a lot and it came out like effortlessly. I'll never forget that. The third is probably "Tell Me" because I love the way I get to sing it like it's a performance track. It's everything I've been looking for when it comes to how I wanna sound on stage.
YouKnowIGotSoul: It's funny you mention that "Lifted" has that Kaytranada feel, I was going to say it sounds similar to Joyce's Motive. Are you gonna stick with that sound for your next project? I noticed you've been doing a lot of singles, so are you gonna work on an album or EP next? Tell us what's coming.
Courtnie: Absolutely. Yeah, definitely working on an ep and an album. And I would say my project is going to sound similar to, I Feel Like Color in that it's gonna kind of be all over the place. I'm working with a lot of different producers. Some are super jazzy soulection-esque, some are more pop, R&B, and then electronic aspects too. So I'm tapping in, in all directions and I think that's what people can expect. They won't know until they know.
YouKnowIGotSoul: What are some goals for you this year?
Courtnie: One of my goals was to support more friends on tour, which I'm doing. I'm opening for Sebastian Mikael on some of his stops next month. I'm really excited for that. Definitely opening for more and more artists. I think it's where I wanna be in my bag this year. On top of that, I'm just trying to grow my catalog, so I've just been in the studio. Just continuing on that path and being willing to make bad art. Just creating, not worrying about how it sounds, making fun stuff, and then afterwards kind of deciding what I actually wanna release.
YouKnowIGotSoul: You're independent, right? Is it a struggle? Talk about your experience with that so far.
Courtnie: I mean, it's been an amazing and transformative experience. The weird thing about music is there's no formula. I feel like I learn things late sometimes. That's the big struggle with independence. You're kind of feeling around in the dark. I've learned so, so, so much though. So I'm grateful. But I think overall, some ways labels can help you is like they can give you the formula and tell you that you need to spend ad-dollars, give you a PR person, tell you where to focus, help you open up for certain acts. So I think, again, there's no real one plus one way to figure out how to succeed in this industry, but community can be a label for you too. That's just what I've learned long term. Just to put the right people around me. I think that's been more transformational than anything. Got a good squad.
Rapid Fire Questions Questions:
Favorite Album (right now):
Voodoo – D'Angelo.
Favorite Song (right now):
"ALIEN SUPERSTAR" – Beyoncé
An Album You Wish You Were Featured On:
Any Smino Project
A Song You Wish You Wrote:
Any John Mayer song, or "White" by Frank Ocean
Old School Artist You'd Want To Work With:
Prince
New School Artist You'd Want To Work With:
Victoria Monét
Favorite Joyce Wrice Song:
"Ain't No Need"