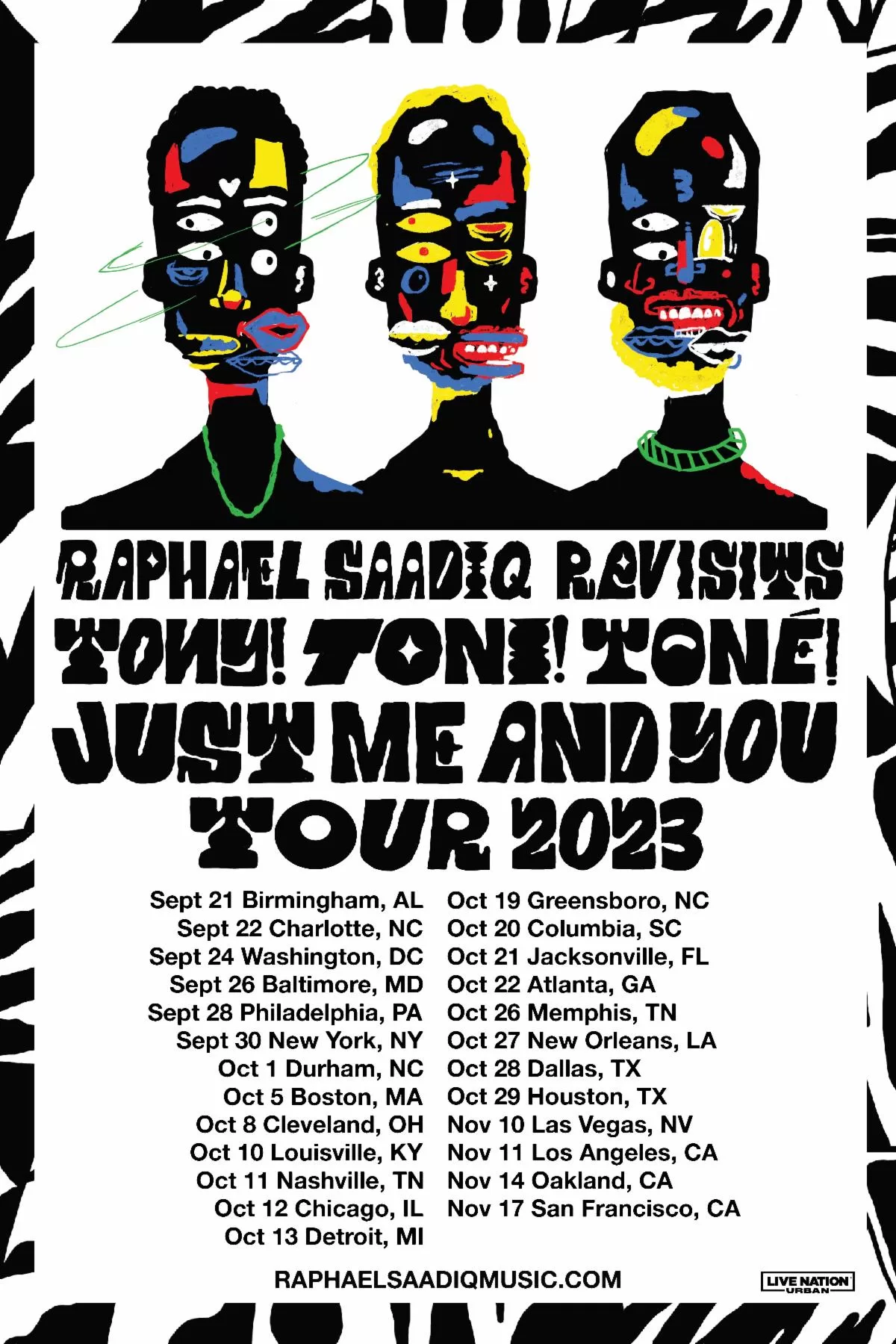 There was plenty of excitement amongst music lovers when it was recently announced that Raphael Saadiq and Tony! Toni! Toné! were finally reuniting after decades apart.
Now we've just received the dates for the upcoming Raphael Saadiq Revisits Tony! Toni! Toné!, the Just Me & You Tour.
The long-awaited return of the Oakland, CA R&B legends launches on September 21 in Birmingham, AL, and will make stops through New York, NY, Chicago, IL, Nashville, TN, and Los Angeles, CA, before wrapping the year back in the bay, at the Paramount Theatre in Oakland, CA, on November 14 and The Masonic in San Francisco on November 17.
The tour marks a momentous homecoming as Raphael Saadiq, his brother D'Wayne Wiggins, and Timothy Christian Riley will perform as Tony! Toni! Toné! for the first time in nearly 25 years. The Tonys set will feature classic R&B smashes like "Feels Good," "Anniversary," and "It Never Rains (In Southern California)," plus brand-new material. Saadiq will also perform tracks from his acclaimed solo albums, the music of his short-lived but beloved R&B supergroup Lucy Pearl, plus the hits he wrote for artists like D'Angelo, Daniel Caesar, Brent Faiyaz, Solange and Beyoncé. He adds:
"I've always wanted to put my family back together. Playing with the Tonys again is a thank you to the fans, the Super Tonians, for supporting all my musical efforts. Without those who were with us from Day One, where would I be? But the main reason is that my father, Charlie Wiggins, would've wanted it this way–to see me, D'Wayne, and Tim playing together again."
Check out the full itinerary below:
Thu September 21 – Birmingham, AL – BJCC Concert Hall
Fri September 22 – Charlotte, NC – Ovens Auditorium
Sun September 24 – Washington, DC – The Theater at MGM National Harbor
Tue September 26 – Baltimore, MD – Lyric Opera House
Thu September 28 – Philadelphia, PA – The Met
Sat September 30 – New York, NY – Radio City Music Hall
Sun October 1 – Durham, NC – Durham Performing Arts Center
Thu October 5 – Boston, MA – Orpheum Theatre
Sun October 8 – Cleveland, OH – State Theatre
Tue October 10 – Louisville, KY – Louisville Palace
Wed October 11 – Nashville, TN – Ryman Auditorium
Thu October 12 – Chicago, IL – Chicago Theatre
Fri October 13 – Detroit, MI – Fox Theatre
Thu October 19 – Greensboro, NC – Steven Tanger Center for the Performing Arts
Fri October 20 – Columbia, SC – The Township Auditorium
Sat October 21 – Jacksonville, FL – Moran Theater
Sun October 22 – Atlanta, GA – Fox Theatre
Thu October 26 – Memphis, TN – Orpheum Theatre
Fri October 27 – New Orleans, LA – Orpheum Theatre
Sat October 28 – Dallas, TX – Music Hall at Fair Park
Sun October 29 – Sugar Land, TX – Smart Financial Centre at Sugar Land
Fri November 10 – Las Vegas, NV – Pearl Concert Theater at Palms Casino Resort
Sat November 11 – Los Angeles, CA – YouTube Theater
Mon November 14 – Oakland, CA – Paramount Theatre
Fri November 17 – San Francisco, CA – The Masonic