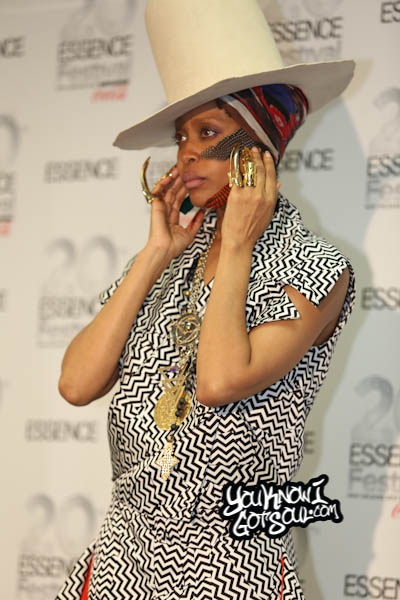 Essence is getting ready to host its greatly anticipated 8th annual "Black Women in Music" as part of the Grammy Week event on Thursday, February 9th, in Los Angeles. As part of the invitation only event, Erykah Badu will be honored in celebration of the 20th anniversary of her debut album "Baduizm".
"From the time that she first hit the scene with her album 'Baduizm,' we all fell in love with the genius that is Erykah Badu. It is only fitting that we honor the accomplishments of our neo-soul queen, whose remarkable artistry still moves us 20 years later," said Essence Editor-in-Chief Vanessa De Luca. "We congratulate Erykah on her incredible career, as well as all of this year's GRAMMY nominees, who share their amazing gifts with the world."
"Our collaboration with The Recording Academy® underscores the mission of our 'Black Women in Music' platform," said Essence President Michelle Ebanks. "Essence, like the GRAMMYs, has always been at the forefront of recognizing the genius of so many artists and influencers—from iconic legends to the next generation's rising stars, like Tiwa Savage. We also applaud our event sponsor, Lincoln, for returning once again to support the vision of this event."
Established in 2010, ESSENCE 'Black Women in Music' has heralded the accomplishments of both emerging and established artists and influencers during GRAMMY week. Previous celebrants include GRAMMY Award winners Jill Scott, Mary J. Blige, Kelly Rowland and Janelle Monáe, GRAMMY Award nominees Solange and Andra Day, as well as music industry veteran Sylvia Rhone and singer/songwriters Lianne La Havas and Emeli Sandé.