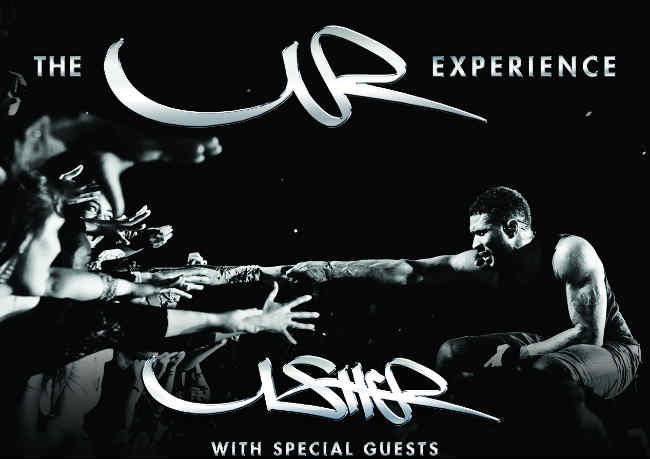 On Thursday, Usher took his "UR Experience" tour to Vancouver, British Columbia as he played in front of a packed house at Rogers Arena.
New Orleans native August Alsina opened up the show performing some of his songs including "I Luv This Shit" and "Make It Home". This tour has been a great opportunity for the young star to reach a new audience and he wasted no time making sure that they knew who he was. His set was a nice treat for the younger crowd as you could see a lot of them rocking out with him the entire time.
After August got off stage, Usher appeared on stage with girls screaming from everywhere. The R&B superstar has been criticized by his core audience in recent years for releasing dance-pop music and abandoning the traditional R&B sound, but you wouldn't have been able to tell by the crowd that evening. Usher, who was backed by a full band, dancers and backup singers (One of them being Kristal Lyndriette formerly from the group RichGirl and now signed to Tyrese's Voltron Recordz) rocked the stage with his vocals and smooth dance moves. He opened up with "My Way" and it seemed like every song after was just as big including "You Make Me Wanna", "OMG" and "Love In This Club". One neat part of the show was when Usher did a medley of his past hits like "Confessions", "I Need a Girl", "Lovers and Friends" and also some of his newer material like "New Flame" and "I Don't Mind". The reaction for "I Don't Mind" was huge and there's a very good chance Usher has another hit in his hands if he promotes the single properly.
Usher has always been known for his dancing skills, but he elected to tone it down a little bit for this tour. Some may have been disappointed by the modified choroegraphy, but it actually helped immensley as his voice really shined on songs like "U Don't Have To Call" and "Burn". In the past, fans have noted that Usher sometimes danced too hard that it affected his vocal performance, but that wasn't the case during the "UR Experience".
Even though his new singles "Good Kisser" and "She Came To Give It You" have been well-received by R&B fans, the throwback sound that he's been going for hasn't translated into commercial success. The songs however sound amazing live thanks to Usher's band. The band was one of the biggest highlight of the show and took the show to the next level. They were able to flip the arrangements on songs like "U Remind Me" and "OMG" to give the hits a new twist.
With no release date for his upcoming album, it was unclear why Usher was going on tour. However after seeing his last album "Looking 4 Myself" sell less than expected, this was probably a necessary time for Usher to reconnect with his audience and remind everyone that he's still one of the biggest names in music.