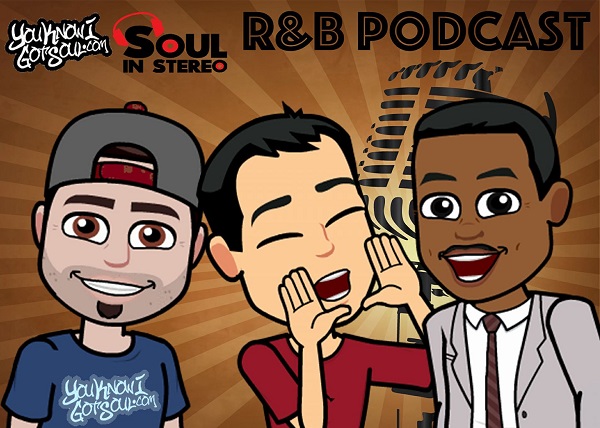 Follow our podcast on Soundcloud: https://soundcloud.com/youknowigotsoul/sets/youknowigotsoul-podcasts
Follow our podcast on iTunes: https://itunes.apple.com/ca/podcast/youknowigotsoul-podcast/id998813013
Follow our podcast on Google Play: https://play.google.com/music/listen?u=0#/ps/Imoe7gt6vd4v6iuf4yq5fyhy3e4
Follow our podcast on YouTube: https://www.youtube.com/playlist?list=PLVyB7WCEUIPl_CYZFTwiNLHqtCHaK2GcK
1:24: Omarion's cover of Earth, Wind & Fire's song "Reasons"
7:20: Mario's new single "Pain Is The New Pleasure"
10:45: Tank releases lead single "When We"
14:50: Love & Hip Hop's Tammy Rivera collaborating with Rico Love
21:35: Review on H.E.R.'s "Vol 2" project
33:06: The Glaring Absence Of Male R&B Sex Symbols
44:40: R&B Hall Of Fame nominations: Kelis and Boyz II Men
We complained about how slow R&B was the last podcast, so it looks like the R&B gods heard us loud and clear as numerous artists put out new singles this week. We start off talking about Omarion's cover of the classic Earth, Wind & Fire song "Reasons". We try to disregard the Maurice White comparisons and judge the cover for what it is. Afterwards, we talk about the release of legendary R&B singer Chaka Khan's new single with B. Slade. Afterwards we talk about Mario's song "Pain Is The New Pleasure" which will serve as the lead single for his upcoming project "Cosmo 17".
Later we talk about Tank's new trendy single "When We" which will be lead single for his new album "Savage". We talk about Tammy Rivera's new single "All Theses Kisses" and discuss which R&B stars have been able to create a career from reality TV. The two that come to mind are Tamar Braxton and K. Michelle. Then we get into our review on H.E.R.'s new project "Volume 2". We were huge fans of the first project, so we went into this one with huge expectations. For our main discussion, we talk about the lack of male R&B sex symbols in today's music industry. We talk about whether that's hurting R&B as a whole as there are no more people that speak to the ladies anymore.
For our R&B hall of fame discussion, we talk about Kelis and Boyz II Men.