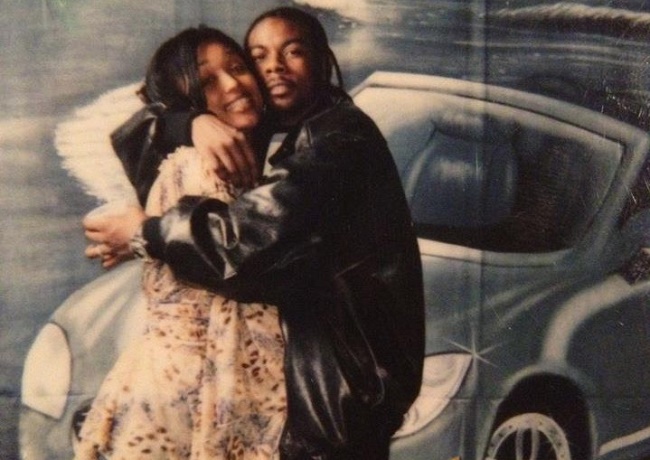 YouKnowIGotSoul has made a conscious effort to keep the legacy of the late Static Major alive through different interviews and articles to highlight his artistry. His impact on the industry is still there with the likes of Drake and Chris Brown sampling his music. Recently we had an opportunity to speak with his wife Avonti Garrett about Static's music and the plans that she has for releasing the new music. Prior to Static's passing in 2008, he was gearing up to put out his debut album "Suppertime" on Blackground Records. Unfortunately the album never came out, but that may change very soon as Static's family is planning for some major projects including a mixtape, a tribute show and the debut. We talked to the wife of the legendary singer/songwriter about the future of Static Major and also about a petition that she has set up for something in Kentucky.
YouKnowIGotSoul: It seems like there's been some new Static content being released recently, so what sparked that?
Avonti Garrett: It's been sparking for awhile but with anything, nothing comes before its time. You're probably seeing it more, but I'm doing a tribute in November this year. This is our third tribute we've done and we usually get together every year for his birthday. This time I wanted to do something a little special. Everything is timing.
YouKnowIGotSoul: What kind of things can we expect in the future?
Avonti Garrett: Right now I'm working on a mixtape of released music. We're remaking music that's already been released. We're reproducing it and the singers will be able to perform at the tribute show coming up November 25th.
YouKnowIGotSoul: Is this going to lead to the release of Static's debut album "Suppertime"?
Avonti Garrett: Hopefully it's going to create the buzz that I want it to. I want to bring out the project in a way that people will know it's coming. I don't want to just drop it. I want people to anticipate it. It's coming, it's definitely coming.
YouKnowIGotSoul: What's the goal for you when releasing the album?
Avonti Garrett: I definitely would love for it to be on the radio. Static left a huge catalog and as a wife. I know how hard he worked. He was a studio rat and I'd like his music to come out properly. He was a legit songwriter and I'll handle his catalog as such. He had lots of music and he would want the music to be properly released, so that is my goal.
YouKnowIGotSoul: Drake and Chris Brown have sampled Static's music in recent years. How do you think that has impacted his legacy?
Avonti Garrett: It's actually amazing. He's always managed to keep himself relevant. It amazes me every time I hear something because it's like "There's Static!". His music still works in the industry. His music was so classic and it'll always be heard.
YouKnowIGotSoul: From my understanding, you guys also have a petition set up in Kentucky for a banner? Talk about that.
Avonti Garrett: In Kentucky, we have something called a Hometown Hero. That's where different people who have come up out of a Louisville and achieved fame, they get to a chance to get their picture on the side of a building. i think the last one was Jennifer Lawrence. It was most between her and Static. She ended up getting it, so I'm hoping this time he'll have his shot to get that. I'm shooting for that. There is a petition, so that they can at least consider him again. I'm trying to get at least 15,000 people and we're almost at 4000. Hopefully this time next year we'll have it. It takes a little time. You can sign the petition here: https://www.change.org/p/greater-louisville-pride-foundation-glpf-static-major-s-hometown-hero-banner
YouKnowIGotSoul: Talk about this tribute show you're putting together.
Avonti Garrett: I just want to remember who he was and where he came from. I'm going to highlight different events in his life like his first time singing as a kid. It was a gospel song and it was actually on Playa's debut album "Cheers 2 U". It's just going to be different events in his life. Then we're going to be some local artists that I've been working with. I'm going to give them an opportunity to sing some of his music and then I'm going to release his mixtape. After that, get ready for the release of "Suppertime" and some of his other music.
YouKnowIGotSoul: Are you going to be releasing Static's music independently or through a major label?
Avonti Garrett: We don't have a major situation set up. It's all about calculating how to do this. Without Static, we don't have an actual artist to promote. We're trying to think of the best way to release it. We're looking to have the proper stage and marketing for it. That's what I'm going to be working on now. With the internet now and with streaming, that helps a lot. We'll see!
YouKnowIGotSoul: Has anyone reached out to you about a documentary about Static's life?
Avonti Garrett: A lot of people have reached out to me about that. I would definitely like to work on something like that. I had reached out to "Unsung" before and everyone there told me that Static was not unsung. I think he deserves maybe a VH1 documentary or it could be a little more to it. I would definitely love to do it if it's with the right people.
YouKnowIGotSoul: What do you want people to take away from Static's music when it comes out?
Avonti Garrett: I think Static with his music, I think he was able to find a certain vibe. I think with music now, the vibe is kind of off to me. We don't have the richness or fullness of music like the way he used to do it with his harmonies. It's so microwaved now with all the autotune. Static didn't record like that. He was a real artist and he was good at what did.
YouKnowIGotSoul: Anything you'd like to add?
Avonti Garrett: I'd like to thank you guys and everybody who has been responsible for keeping his legacy alive. I'm here and as long as I'm here, I'm going to continue what I can do to keep his legacy alive. He left the world some great music and it's up to me as a wife to make sure that it comes out. I won't let his legacy die and I'll keep it going for as long as I can and hopefully when I'm done, his kids will continue with that.