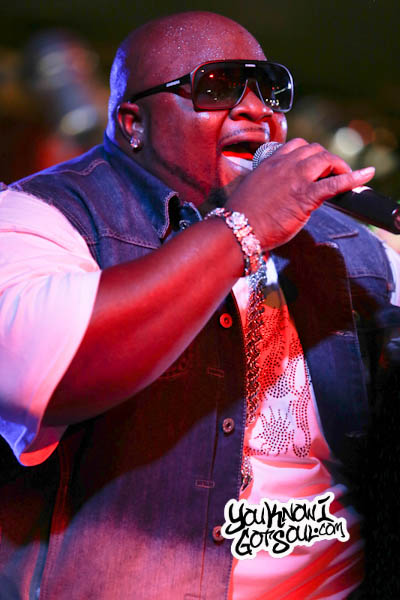 On the most recent episode of our SoulBack R&B Podcast, we had Jazz from Dru Hill as our special guest. The veteran singer opened up to us about leaving Dru Hill, his future with the group, his plans for solo material, and a lot more. Take a listen to the podcast as he was very candid with us about his future as well as digging deep into his history with music and some classic Dru Hill records.
In case you've missed any of our podcasts so far, you can check out all of them here, including last week's episode with 112.
We also recently had producer Troy Taylor as a guest, and he shared some insight on the current status of Dru Hill after working with them on their most recent project.
YouKnowIGotSoul: Tell us where you currently stand with Dru Hill.
Jazz: Right now, I've just been venturing to just a stage where I'm focusing on a few of my own solo endeavors. Over the years, I've worked on some things off and on. I've cut some solo material, I did a record with Jill Scott, they put that on the Rush Hour 2 soundtrack. I did a few things on some soundtracks. Lately I've been focusing on getting some solo material together as well as hitting that pen and pad with a bunch of different entrepreneur ideas and looking to expand.
YouKnowIGotSoul: We loved your single "All Your Love". Tell us about it.
Jazz: It was great to see everyone taking to the song like they have so far. The vibe for me, it just felt like a feel good record. It just flowed real well. I could tell you the first time I ever heard the track, I think I finished the song in like 10 minutes. Sometimes when you hear music, it will speak for itself. Other times you may have to go into the studio and hash it out. For that record, it had a vibe that was undeniable. I felt it when I heard it.
YouKnowIGotSoul: Will this lead to an album?
Jazz: Yep, this will just be the beginning of many projects.
YouKnowIGotSoul: How has the transition from being in the group to being a solo artist been?
Jazz: The good thing is I'm a heavy connoisseur of music. The styles of music that I like is very widespread and when you sing in the group, you've got to pretty much pick an area to hold down. Almost like when you're playing on a team, pick an area that you're going to hold down. I think that area is what people know for me as far as singing in Dru Hill. As far as you doing a solo project, you have the opportunity to open up and display all of the other talents that you have in different directions. It kind of brings everybody to my world. When it comes to the differentiation of sound and all of that, it's not on purpose, it's just going in and being creative. I always take the mindset of let's remove all of the walls and just create. That's when I usually come up with my best work, when I don't go in trying to stay within a type of frame. I just let the music speak.
YouKnowIGotSoul: Do you think you'll ever be a part of Dru Hill again someday?
Jazz: Man I don't know! It's one thing that I know we always kept saying all of the time, always expect the unexpected. I guess it's like my man said, "life is like a box of chocolates, you never know what you're going to get." So we never know. All we can do is try to keep striving and think positive and just know that great things are going to happen. If somewhere along the line that's how it's going to be, that's how it's going to be.