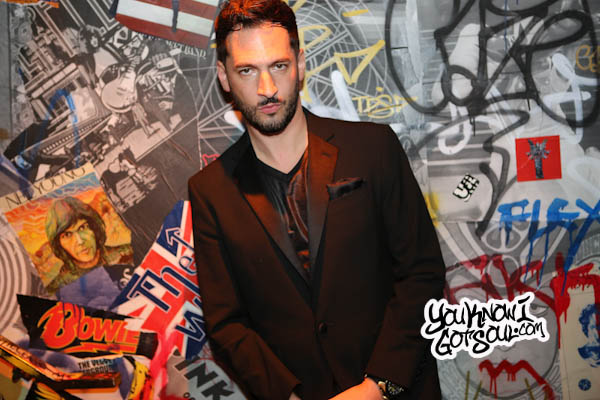 We recently had the legendary Jon B. as a special guest on SoulBack R&B podcast. He gave us the scoop on his upcoming single "Understand" with Donell Jones, his new album, and whatever happened to his single "Hurricane" and "Mr. Goodnight" album. Check out what he had to say below.
Also be sure to check out the full podcast in case you missed it. Jon touched on a wide range of topics and shared great insight. Click here to listen.
YouKnowIGotSoul: Talk about your new single "Understand" with Donell Jones.
 
Jon B.: I'm super excited about it. We just finished the video for it. That made it that much more real for me. When I first wrote and produced the record, a friend of mine, Tim Carter. If you watched the "They Don't Know" video, the barber is Tim Carter. Tim has been a longtime friend of mine. He always was a great singer and songwriter. He became an incredible vocal coach and has worked with everyone from Fifth Harmony to Beyonce. He's well established in his own right. He helped me write the verses. When he wrote the record with me, I recorded it, and said the cadence of the first verse, I didn't know if it was me, it sounded like Donell Jones! I wasn't thinking let me make this a duet with him. It wasn't until I ran into Donell Jones, we were doing a show together. We kept running into each other at these shows. We kept saying we need to do something but never made it happen. After this last time seeing him at this show, I gave him a key with some music on it, including "Understand". He instantly got back to me and said that was the one. It's crazy because that's the one I had in mind. It took a long time to get it done, because both of us had such grueling tour schedules. It's hard to get the time right. We were finally able to get it done. He recorded his verse at his studio and he sent me it. He made it him. He put his swag on it. I just said to him "Now we do the video for this!" I feel really good about it. I haven't really felt this good about a song I put out in a very long time. The quality of the whole thing is very high. I've done a lot of collaborating over the years. This means the most to me that anything has in a really long time. It reminds me how I felt when I did "R U Still Down". The audience hasn't heard it yet, and I already feel like it's a hit.
 
YouKnowIGotSoul: Talk to us about the upcoming album.
 
Jon B.: I'm so excited to have the album coming too. It took a very long time to get this done. I will say the album is the sum of a lot of different moments in time that are important to me. I was able to kind of have these little pockets of time that will now last forever with these songs. What I did was, I took certain songs from certain years, like late 99 or something, and I updated it and put some new drums on it, or layered vocals and added keys. So it had this very unique quality to it. It was vintage but updated. There are joints like that which are very much gems that have been around for a while and aged like wine. I'm very happy to share those. There is also new music that just got created. One of my favorites on the album is called "Waiting on You". I did that with my boy Brady Watt who is actually my bass player. It's probably the only record on the album that I will say happened in one day. I got in the studio and said I was going to write a record and I did just that. I didn't stop until I was done. It's interesting because the song is called "Waiting on You", but the song represents my creativity in that moment, feeling like you're in that zone. Sometimes you have to wait a long time to get back into that zone. Sometimes you get writers block,
you need clarity and focus. It's also about waiting for the one you love to meet you halfway. Sometimes we get so lost in the responsibilities of the day we tend to have. We take a blind eye to a lot of other things relationship wise. The song is to help strengthen that. I don't want to spoil it; I just want to give you guys a sample of what the song is about.
 
YouKnowIGotSoul: What happened to the "Mr. Goodnight" album and single "Hurricane".
 
Jon B.: I will say, it's not coming out. Sometimes in life, you have to go through breakups and relationships that end up not working out. It's a hard thing to address for me. Just like my divorce, when I discussed it on Unsung. It was me making amends with my history. Since you asked about it, that song was very special to me. I wrote the song with the very talented Eric Dawkins and also produced by Warryn Campbell. I was excited about it. To tell you the truth, it was a little premature of a release. It sort of got out from under my feet, and I didn't feel I had my feet fully planted on the floor. I just didn't feel comfortable with the release. I didn't feel the business really made sense for me. When business supersedes the art, you really have to go and redefine what you're doing. At that point I had recorded 10 songs with the intention of putting those out. With "Hurricane", the hurricane came and went. We had to let it blow with the wind. All due respect to everyone involved, we couldn't get the business right. I'm not going to discredit anyone. I feel blessed. We'll leave this one in the past. It's good to finally talk about it because now I have a reason to. I have this album "Understand" that I feel very confident about. It took everything that "Mr. Goodnight" album couldn't be for me. Nevertheless that was a stepping stone and learning process for me what I wanted to do. It's cool to have people ask about it.