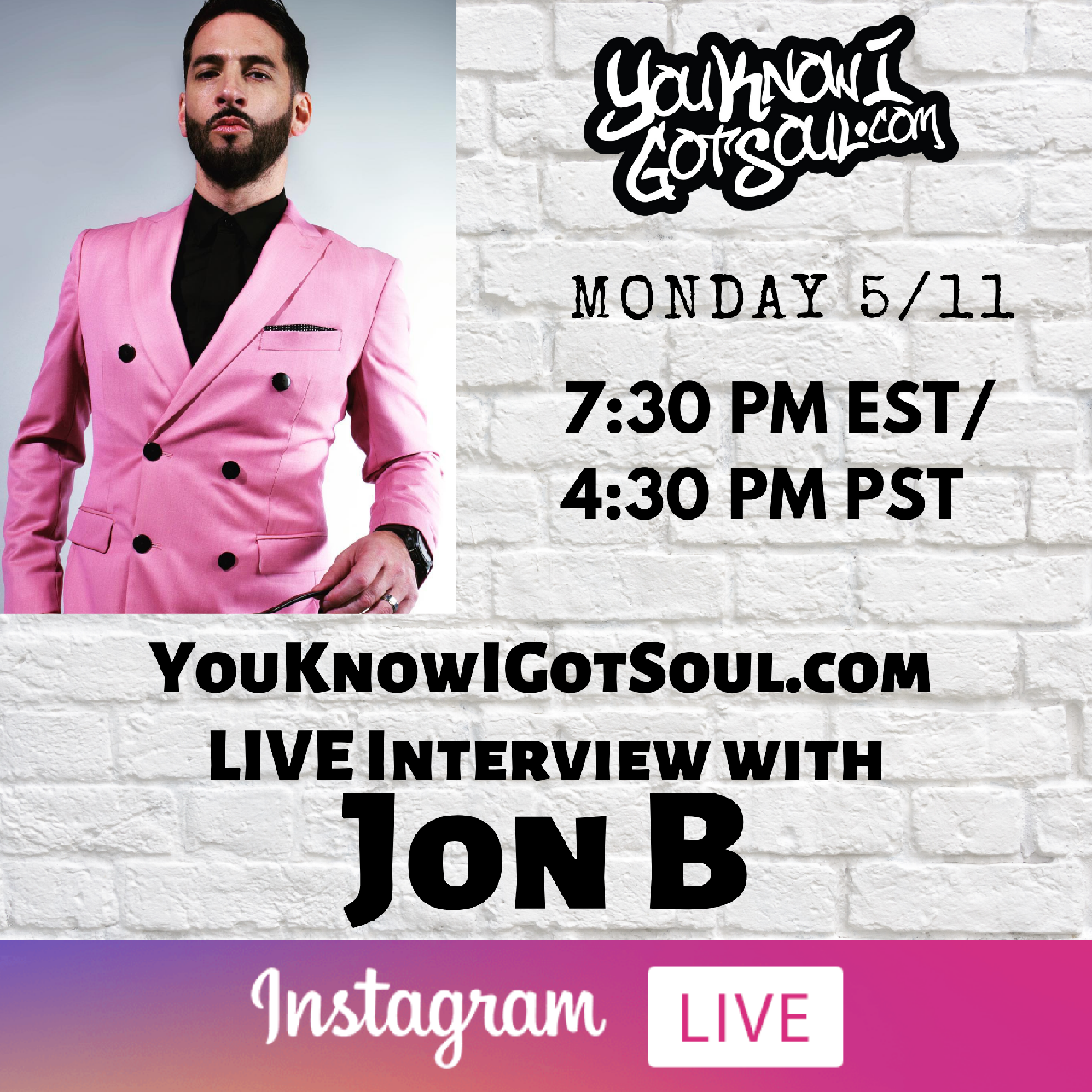 We recently caught up with the legendary Jon B. for an interview on Instagram Live. During our conversation, we discussed his impactful single "Understand" with Donell Jones, memories of creating his debut album "Bonafide" upon it's 25th Anniversary, developing his writing and producing skills as a kid, the new album he's been working on, and much more! Check out what he had to say below.
YouKnowIGotSoul: We love the song "Understand" you created with Donell Jones last year. Such an epic moment for R&B. Reflect back on that song.
Jon B.: I don't make my music with the intention to win an award to get accolades. I make music since I was raised on such good music; it's an innate process inside of me. That's what I do is make what I love. To be able to share the moment with someone you have respect for and someone who has just as much time in the game as you have, we're both raising kids. There are a lot of similarities and parallels with Donell Jones & myself. The song made sense for so many reasons. The Soul Train Awards 2018 was one of the greatest performances I can ever remember in my career! You have some of those times in your career where you can look back, there are very few where I'm not cringing on what I wore, and everything was just right! To make a long story short, that Soul Train Awards where I sang "They Don't Know" and "Someone to Love". It was a tremendous win for me, I felt very good. Donell performed and did his thing as well. We both felt nervous, but we came together backstage and encouraged each other, and we both did it. The energy was so good. It's like a blur while you are performing. I really wanted to go back to that energy and the love that I felt in the room in terms of the people and what that gave me and how solid it made me feel as a person, now at age 45. Doing this 25 years in the game. I need that love more than ever, but more so I wanted to show the listener that I have something to give you that as a grown man is different than what I gave you as a young man. What I have to give you now, you aint seen nothing yet! The refinement, the growth, the maturity, I hope it speaks through the music and my performances.
YouKnowIGotSoul: We're about to celebrate the 25th anniversary of the release of your debut album "Bonafide". What do you remember about creating that album?
Jon B.: "Bonafide" was the beginning of the dream materializing beyond the production aspect of me just being actually in the studio, finally going to a big studio with the big board and record my songs I made in my mom's front bedroom! To take those same songs from the demo to get to throw them down on the big board. Going through a $10,000 pre-amp! The level and quality of the sound was something that was so impressive to me at that age. To experience it for the first time. Just that alone making the album was so fun. It was a memory that I will never forget. I'll remember the people I was collaborating with. Babyface, Tracey Edmonds, those people were crucial to that album. They brought in some seasoners like Bootsy Collins! Man, he brought that Parliament Funkadelic to "Simple Melody" and it was so out of left field and it was beautiful because I didn't have a plan! It was more or less they helped me find my style and zero in on the records they were feeling would be the real nice fit to put together as a cohesive album. It was very eclectic if you ask me. It was not just the average R&B album. I don't feel like Kenny and Tracey wanted to make me the average R&B artist. I felt like they had a world idea of like George Michael's world with pop elements. That's cool because no one really existed in that element besides him. I wanted to of course go a lot more R&B than that like one of the people that would have come out of Babyface's camp like Toni Braxton, Tevin Campbell, After 7. All of that beautiful music and I was a fan. To just be a fly on the wall during the session with TLC during that time. It was a beautiful experience to have Babyface as a mentor and coach. He would just be so encouraging. That was the absolute greatest album in terms of it has something no other of my albums have. That innocence of this being the first time.
YouKnowIGotSoul: You were a writer, producer and singer beginning with the first album, which is not something many artists can say. You honed those skills on every album after that. You were writing for other artists before your album came out. Where did you get those skills from?
Jon B.: I grew up in a musical family. My mother is a pianist and my father is also a musician. We really took music seriously. They invested in my dreams as a young age. Equipment costs money. It was expensive to have a drum machine and synthesizer. So I saved up my birthday money and Christmas money and they helped out with the difference. I just saved up. I always did every style of music from Rock and Electronic stuff to R&B and even Jazz. That process of finding myself through electronic music was very crucial because it was so different at the time. It was a leap of faith for my parents to believe in me. It was the keyboard and I'd never have a Christmas present for the next five years! It was fine with me because I was trying to get this career going. I was only 9! It's a beautiful thing when you're focused and have encouragement is crucial. They helped with my equipment, the demos got made. I was a younger learner in the business. I wanted to shop my tape myself. That's what happened. It got to Babface and he was the one who signed me with Tracey Edmonds. It began the process of making music and getting it to you guys.
YouKnowIGotSoul: Talk about writing songs for other artists before your album even came out. Was there pressure on you to perform during that time so your own album could come out?
Jon B.: Yea now that I was signed, now it was my time. Watching Babyface perform, watching Boyz II Men perform, right after I just watched them create those songs in front of me. He had his show he was doing, Toni Braxton, Boyz II Men, and Babyface. This was when he dropped his album "For The Cool in You". It's right when I came aboard. Getting to watch that process happen, both in the studio and watching rehearsal, it was really cool. I wasn't even old enough to be up in those spots, I wasn't 21 yet! He had me come to Vegas with his band to see what it was. That allowed me to see what I needed to do. I remember the first big shows I ever did were at House of Blues in Hollywood, which isn't even there anymore. It was an amazing experience to do it for your first time and take yourself seriously. Half of performing is the fans, and the energy you give us. Otherwise if the room is dead, the artist could do a great performance, but it's pulling from an internal place, being a musician up there singing your song. There's something really, really special about the experience about having that reciprocal feeling. That's like a drug almost. The first time getting that is like losing your virginity! That's why it gets the best of people and they want fame so bad, the drug that it is.
YouKnowIGotSoul: Let's talk about "Isn't It Scary" from the "Bonafide" album. You told us recently that could have been a single. That was some heavy subject matter for a young kid! Talk about that song.
Jon B.: *Laughs* Honestly, that was really inspired by a lot of Isley Brothers. Their groove, I can't really put my finger on an actual record, but the feeling of it. The two things it makes me think of are Chaka Khan and The Isley Brothers. I got stuck in that place of that sound of trying to almost personify what they were doing. All of their records have this hypnotic quality where the groove makes you nod your head. "Isn't It Scary" started off as a groove that turned into me figuring out what I wanted to write about. I'm basically putting it all out there at that point, the theme is going to be about sweeping a girl off of her feet. In the process, she's in a relationship. At that point, I'm about 17 when I wrote that record! I feel like the perspective I was writing from was that I wanted to be that guy. I saw all of the grownups doing their thing. I wanted to be able to romance her. I put myself in that position and at that age it seemed very sort of naughty if you will. *Laughs* I love that song because there is a lot of Johnny Gill influence in that song as well as far as my tonality and the way I'm thinking about vocals on that song. I love to talk about my influences because those are the ingredients that inspired the music. If it wasn't for those artists and that connection I have to this music, I don't feel like the song would have come off the way it did. I programmed the beat, I made the chords and the baseline on that. So there's lots of elements to that song when you listen to it. It has a simplicity I want to get back to. I love the fact that it's just a rimshot and a kick. I'd like to get back to that. That's what's exciting about the new music, I'm getting back to the nuts and bolts of what put the foundation of my music together. "Understand" is a return to that. "Priceless" is an upgraded 2020 version of what we had going on. The other material will take you back to that same groove. I'm getting back to my groove, that stuff you want to put on and let it play in the background.
YouKnowIGotSoul: Talk about the album track "Bonafide". We love that one, such a unique vibe.
Jon B.: Wow! That shows you what an influence Hip-Hop had on me. I grew up with a lot of East Coast Hip Hop having influence on me. It spoke to me musically. The first time I ever heard Erik B and Rakim I was shook. That's the some of the best Hip-Hop I've ever heard to this day. One of the bands I grew up being entirely inspired by was A Tribe Called Quest. There was a whole unit in A Tribe Called Quest called The Native Tongues. The whole thing was, that sound was what I was trying to personify on that song. There was this Jazz bass that was happening in music, a lot of people used it. Digable Planets used it on their songs. What I did was take the Jazz bass and go for that. It was chords like you were on an upright bass playing just the chords. It's nice because no one was telling me what to do or how to do it. I was just doing this off of just what I wanted to do. I made that track, it was the last track I expected Babyface and Tracey Edmonds to get! They loved it, and they wanted to show people. They wanted it to be the first song on the album and name the album after it! It blew my mind. I was getting to show all of my sides from the very beginning. That was a courageous move to make and not contrived. It was before it was being told to anyone that these things were going to work. We were taking big risks and I appreciate that to have been the guinea pig and put out there first to see how it goes. I was sitting there thinking I didn't know how it would work! I was singing "Someone to Love" on the same album as the song "Bonafide"! I've been making records like that ever since. That's what drove me to work with 2Pac. When I was asked to come to the "How Do U Want It" video shoot. I knew what was going to come from that. I knew I had the music to play for him to inspire him, if I had the chance. He was working with good folks, my guys K-Ci and JoJo and my guy Johnny J. I knew Pac had an open mind and he was ready. So that's what happened.
YouKnowIGotSoul: Talk about the new music you've been working on. Your last album "Comfortable Swagg" came out in 2012.
Jon B.: The beautiful thing about being home is I can get this album done. I was counting on doing a lot of the mixing out of the house and in other people's studios and doing a lot more collaborating. But I feel like it's more important to get an album to you guys. I feel even better when you do it yourself. Nobody can do it like you can, it's a signature that way. I feel like you've got to really have courage to do it yourself. At this stage in the game, you're not doing things to do just sort of throw out there. Nothing that I do at this point is like that. It's also been a process of elimination of what songs mean the most and what would work the best right now. I have like 30 songs I have to pick from right now. I don't want to leave something out that might be something crucial for the album. I'm like 95% done and I'm so excited about it. The only thing holding everything up is the third video! We've shot videos for "Priceless" and "Understand". I want to do a video for the new single called "Waiting on You". It's been so long, this has been longer than any other album I've taken to deliver. It's been a labor of love. It's going to be for your guys to decide what you feel this album represents. For me, it represents manhood, it represents being a father and a well seasoned husband now. Somebody who has adjusted to that and I've got my swagger back. I know what I'm doing. I just had to get my bearings back to what's needed to. I like to give the game something that is missing or it doesn't exactly have. Get ready, it's something special. It's going to take you on a journey through time periods as well. It's not just 2020, it's going to take you back to the 90's. It's going to take you back to the 80's and even the 70's. It's got a little bit of something for everybody. It's going to be dope. Soon as the quarantine is done I'm going to go out a shoot a video for this song. I want everybody's support and I need your support. That's the greatest payoff as a songwriter.
YouKnowIGotSoul: What was the most challenging song for you to write?
Jon B.: I think probably one of the most advanced songs that I ever did was the song "Gone Before Light" on my first album. The reason why was because I actually arranged a string arrangement for my brother, sister and father to all play a string trio and record a bunch of times to make it sound like an orchestra! That process of doing that with my family, I scored it out basically with the keyboard. That was pretty advanced for being 19 years old and doing your first album! It felt very sophisticated. I love recording live instruments. But involving your family in it, man. I left a part at the end where you can hear just them. That's a family record.