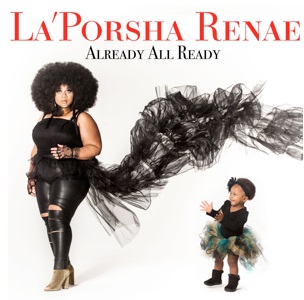 Singer/Songwriter La'Porsha Renae announces her debut album Already All Ready set to be released on March 31 via 19 Recordings/Motown Records. The 13-track album is available for pre-order here. With the pre-order, fans will receive three instant grat tracks including "What Is Love", the title track "Already All Ready", and the Ne-Yo penned and produced record "Somebody Does." Last fall, La'Porsha released "Good Woman" the gritty and heart-pouring first single from Already All Ready which was premiered by Billboard. "Good Woman" featured production by Harmony "H-Money" Samuels and Edgar "JV" Etienne. The single is only a small part of a genre-blending and diverse album.
La'Porsha uses the influence of her favorite artists like Tina Turner, Prince, Michael Jackson, and Whitney Houston and fuses her own young and fresh vibe to the songs creating a unique sound that conveys emotion and excitement. "The album cover represents all of my past insecurities, and everything I advocate for. I represent beautiful, full figured women, single mothers and natural haired women, and black lives," says La'Porsha in regards to the album art. When asked about the meaning of the album, La'Porsha said, "The title Already All Ready was chosen because many of what I just named is not considered to be ideal or socially popular when describing a rising star. I embraced everything that I thought would hold me back from pursuing my dreams, and used my insecurities to give me the courage to inspire and advocate for others who possessed many of the same insecurities I had. I also wanted to honor single mothers and defy the stereotypical dress code of a thick, brown-skinned, single mother and domestic violence survivor. I'm proud of my curves, my daughter, as well as the harsh past that helped shape me into the strong woman I am today."
La'Porsha Renae was introduced to the world via the stage of the 15th and final season of American Idol. Although American Idol is the medium that introduced La'Porsha to the world, she has been signing since the tender age of six. She vividly recalls singing "Fallin'" by Alicia Keys in her mother's beauty shop. La'Porsha grew up singing for her mother's clients but had no idea that she would one day share her talent with the world and become the runner up on one of the most popular talent discovery shows of all time. Since American Idol, La'Porsha has been signed to 19 Recordings/Motown Records. La'Porsha's single "Battles" was tapped as the theme song for the gold medal-winning U.S. Women's Gymnastics team at the 2016 Summer Olympics in Rio. From McComb, Mississippi to American Idol, La'Porsha is now ready to reveal everything that she wasn't able to on the show.
La'Porsha Renae "Already All Ready" Tracklist
Track List
1. What Is Love
2. Good Woman
3. Somebody Does
4. Hideout
5. When In Rome
6. Breathe
7. No Problem (Self Talk)
8. Already All Ready
9. Will You Fight
10. Lock You Down
11. Send Me Your Love
12. Stay
13. Cover Up