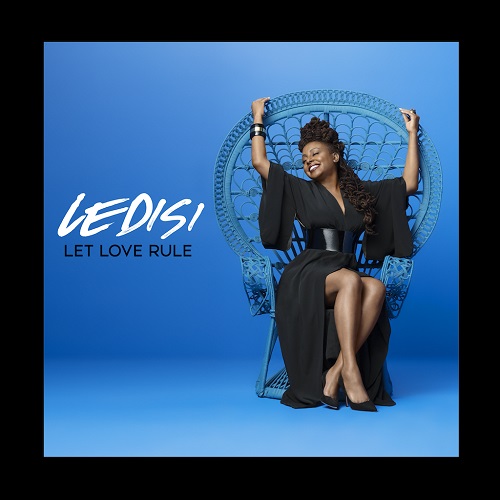 R&B superstar Ledisi is gearing up to release her ninth studio album Let Love Rule, out September 22nd. A nine-time Grammy nominated artist, Ledisi is excited to share her new body of work with the world as she delivers brand new vibes with classic vocals. Packed with raw, unequivocal emotion, the 15-track album showcases her evolution as an artist; executive produced by Ledisi and longtime collaborator Rex Rideout, the album also includes contributions from John Legend, DJ Camper, BJ The Chicago Kid and Kirk Franklin. The classically trained vocals remain on full display, but the production bobs and weaves between eras, echoing everything from seventies-style soul to 21st-century bounce. Let Love Rule is the pure essence of R&B music and will take the listener on a journey of life, love, and relationships.
"I feel like Let Love Rule made me accept my position as a great singer fully," shares Ledisi. "All of my projects are pieces of me. This piece is the singer and the songwriter part of me. I've come back to what I love about R&B and also what I love about today's music. I love my art in the middle of era's and mixing those worlds together."
The new single "HIGH" promotes self-celebration, empowerment, and heightened love. This honest message with raw bravado only emphasizes Ledisi's powerful vocal performance. Written by Prince Charlez (Rihanna, Beyonce), Ledisi, and Rex Rideout and produced by DJ Camper (Mary J Blige), "High" is currently #14 on the AUC and Billboard Adult R&B charts, garnering airplay across the country including on such influential stations as SiriusXM Heart & Soul and Music Choice R&B/Soul.
Ledisi's previous 2014 release The Truth, which earned widespread critical acclaim from the likes of Billboard, Boston Globe, Essence and much more, yielded a string of anthems, including "I Blame You" and "Lose Control"—both of which surpassed 3 million Spotify streams each. She went on to release The Intimate Truth, which is a seven-song live acoustic EP of the former LP. In between the sold-out fan favorite "Truth" tour, she hit the big screen with a pivotal role as Mahalia Jackson in the powerful Academy® Award-nominated film Selma, covered R&B Legends Natalie Cole, Patrice Rushen, and The Isley Brothers with the release of her Nostalgia Movements No. 1 EP, starred in the Gabourey Sidibe directed indie film Tale of Four and focused on community service with the Grammy Foundation and former First Lady Michele Obama's Turnaround Arts Program.
Ledisi recently wrapped up touring with the incomparable Grammy Award winning singer Maxwell, hitting New York, Nashville, and San Diego amongst other cities.