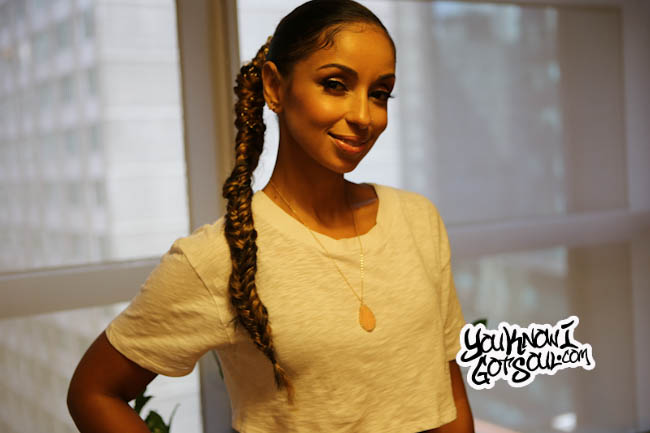 When you look around the current landscape of r&b among 90's artist, there are obviously not many harder workers than Mya. She recently celebrated a decade of success as an independent artist with her Planet 9 label, and her movement was validated when her last album "Smoove Jones" was Grammy nominated. The last decade has brought us a plethora of mixtapes, EP's and even albums from Mya, and she shows no signs of slowing down. Her "Smoove Jones" album released in 2016, her "TKO (The Knock Out)" album earlier this year, and she's already working on the next one. Oh, and it helps that the music is high quality r&b! This is a movement we've been excited and happy to get behind. YouKnowIGotSoul caught up with Mya for an interview once again and discussed her latest album, the success of her independent label, her vegan lifetsyle, advice she got from Prince, and much more.
YouKnowIGotSoul: You released your latest album "TKO (The Knock Out)" earlier this year, and already have another new single out. Tell us about it.
Mya: The new single is called "GMO (Got My Own)" produced by MyGuyMars and Resource, written by myself, MyGuyMars and Tink. *Laughs* It's basically a song that's empowering and independent but allowing a man to be a man as far as his spending is concerned. The message in the song is, "Don't get it twisted, I got my own, that's not the basis upon this sitautionship for now. I don't need to think you can buy me things, but I will allow you to spend it!" *Laughs* It's fun, I can't wait for you guys to see the video, just girl power and synergy all day long, in a fun way that's very non bashing.
YouKnowIGotSoul: We constantly celebrate the success you've been able to have as an independent artist with your label Planet 9. How have you been able to have so much success doing it on your own?
Mya: Well, when I went independent, I was very fortunate to meet up with J. Prince who is a mentor of mine on the business side. He was the first black man in hip hop to own his own masters. Then an icon called, and asked me to open up for him, and that was Prince. Getting to do two nights with him in London and opening up at the O2, as well as having conversations about the business and just the wisdom passed down, has allowed me to hold on for dear life to the independent grind! *Laughs* It is very serious as far as your time consumption and management. You have to spend a lot of time doing all of the paperwork. I have great team members, which has taken years to build, and finding the right sound and musicians, who understand the sound of today and keeping current with the times. I just have great people on the creative team and I'm just now in my 10 year independent career getting to the visuals, which are very expensive. You live and learn through EP's and mixtapes and international albums and then bring them stateside or worldwide after you've honed your craft in the business and understand the missing parts or components to drive a project forward. I'm really enjoying it. Fans are getting more and more every year and becoming more happy and satisfied and excited.
YouKnowIGotSoul: Something you've done so successfully is fused the traditional r&b sound with more of the modern sounds. On your "Smoove Jones" album you had a song like "Team You", on your new album "TKO" you had a song like "Ready For Whatever". How have you been able to seamlessly keep your sound current while maintaining some of the traditional sounds?
Mya: I still dance a lot, I perform everywhere, and I go to clubs still. I hear what's going on. Like I said earlier, I have great people on my team that are just as young mind, spirited, or just starting. I accept people all over the world as far as submissions go. They keep their ear to what's happening, but also play a little bit outside of the box. You just try things when you're in the studio. There is no holds barred when you're on your own budget and time. If it feels good and right, that's the gauge. I love my roots, I love 70's funk and soul music, I love 90's r&b. Anything with those two elements, I'm gravitating towards and I usually feel really solid with. Everything else is a plus. After that, I do reggae collaborations and dance hall features, all over the world. But doing something that you've listened to and grew up on, you're very confident in how it's going to turn out. If you can listen to your song over and over and over again and not want to change anything, that's when you know it's ripe and ready. If I feel like I need go back into the studio to fix something, I'm doing it. That's when I determine when a project is ready. If it just feels good.
YouKnowIGotSoul: Talk about your marketing plan as an independent artist. You've got a very strong social media presence, but is being played on radio at this stage even in consideration?
Mya: What I've been doing for the past ten years at the independent level has not really focused on marketing. It's about a release date and expectations on that specific date, as fans expect. When I first started releasing EP's, it was the anniversary of something, and it was also a test to see what they would gravitate towards. It was not risky because they are not albums. "Smoove Jones" changed the game for me because it got nominated for a Grammy. After the nomination I started calling it an album, because it was just an EP approach to me. I was scared to call it an album because people usually judge albums, by sales. They could say it flopped, but I know I'm independent with no machine behind me. So it's always just been about the fans and little by little as I grow and get into the publicity aspect, if it's right and if it's tight, then I'll entertain those things. This year, I wanted to make sure I got out something for the 20th anniversary. Next year's project is completely different. The gauge was to stay true to r&b, not so much marketing and how to do things in a certain way, but making sure the project is right and sonically satisfying. Then following up with a date that is significant. It was supposed to be Valentine's Day! *Laughs* But it ended up being 4/20, which was the day before the very first album from 1998. Then we'll push the envelope next year.
YouKnowIGotSoul: Going to ask you an interesting question I think I already know the answer to. On the way to this interview, I passed by Universal Music on Broadway. If they were to come to you with a contract, after 10 years of you being independent, is that something you'd even consider?
Mya: I've always been interested in going back to a major label system, but just in a different way. I never wanted to go back to a system with my tail between my legs. I think what I've been trying to build is still being built. The Grammy nomination definitely changed the game for me because that's so hard to get. You're competing with thousands of artists worldwide. That was confirmation to keep doing what I'm doing, but also to invest more in the publicity, the marketing, the promotion, the visuals. Also stick to being independent but don't be afraid to join forces with a major label. I wouldn't necessarily go back into the system and sign a 360 deal, or just a new artist deal, because I don't need that, but I would definitely want to be a label. Planet 9 knows what it's doing, but I could always use some radio budget! *Laughs* I could always use some marketing. As long as it's done in a fair way and I don't have to still prove myself as an artist and business entity so I could walk in with the deserved respect.
YouKnowIGotSoul: We thought the answer would be no, you wouldn't even consider it!
Mya: It's got to be the right time!
YouKnowIGotSoul: You talked about this being the 20th anniversary of your debut album. What advice would you have for a young Mya just starting out on her career?
Mya: My advice to my younger self at 18 regarding my first album is: "You have a point to prove, you're on a rap and rock label, that doesn't understand a lick of r&b! But this is an opportunity of a lifetime, know it's going to get better. Be thankful for this opportunity, and you'll get your time to be the complete artist that you want to be. Be patient, and use this to your advantage. Don't worry about anything, just ride the wave and stay as true to yourself as possible. But still pay your dues".
YouKnowIGotSoul: We know that you're a big advocate of the vegan lifestyle, and often offer your fans tips and challenges they can follow. How hard is it being an entertainer and being on the road all of the time, and trying to maintain that?
Mya: When I first started veganism, I thought it was impossible, because I really didn't know what it was. It's elimination and substitute for dairy and eggs and everything that has dairy in it. There are so many options now. I would say going to foreign territories that may not necessarily have processed products ready to go to pick up was a challenge when I first started. The raw vegan challenge definitely allowed me to eat more pure foods. Wherever I go worldwide, there seems to be organic options everywhere, so that has allowed me to when I land, go to the grocery store and be set. I can survive for a whole year basically. I conditioned myself to do 28 days a month. It's easy now because I put myself through what I thought was going to be hell, but really wasn't. It has a set of benefits that are clear as day now, as far as what my body is conditioned to intake, versus what happens to me when I have the processed foods, it's night and day. I will have the starchy foods and the crappy foods and junk foods that are still vegan, but that also taught me that veganism is not healthy if you don't know what you're doing. It's about the balance and healthy options. Even if you eat meat or seafood, it's more the processed foods that are very detrimental. It's not hard at all, it's just a slight learning curve.
YouKnowIGotSoul: As you celebrate the 20th anniversary of your debut album, what are the goals for the next 20 years of your career?
Mya: It doesn't feel like 20 years! It always feels like I'm just getting started. I know that I haven't given and purged the complete Mya or shown many different dimensions of me on the artistic side. That's on the way in increments when it makes sense. I just hope to still be alive to shape the world in a different way. To learn and absorb knowledge and live my best life! I hope to help people to live their best lives too in every capacity; spiritually, mentally, physically, emotionally, financially, creatively. Those are the goals. How it happens, it could be through anything; art, mentoring, maybe go back to school and major in psychology! *Laughs* That seems to be one of my gifts. Who knows, but I want to make sure that I'm able to assist as many people as possible.
YouKnowIGotSoul: Anything you'd like to add?
Mya: It's a blessing to still be here 20 years in love with what I'm doing. I'm very excited about what's next to come. I just have to thank everybody, every DJ, every programmer, radio personality and station, every marketeer and publicist, just every person that's been involved. Especially the musicians, the dancers, the producers, the graphic artists. There are so many components to this music business and just making art and putting it out. I have great people on my team, I enjoy doing this. It keeps me alive. There's nothing else I'd rather be doing, so thank you so much to everybody, especially the fans who inspire and motivate and send their two cents and criticism! I really appreciate all of that including the encouragement. It is a tough world, and we can get lost in the sauce, but it's been a beautiful ride, and it's going to get even more beautiful. I hope to include you in different ways!