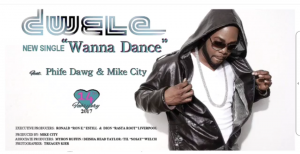 Veteran soul crooner Dwele returns with the brand new single "Wanna Dance" featuring the late Phife Dawg of A Tribe Called Quest and producer Mike City.
In a unique twist, there are actually two versions of the song made available; Dwele takes the lead on one and Phife takes the lead on the other. Dwele's version will be included on his upcoming album "Same Book…New Chapter" and Phife's will be on his upcoming solo album "Forever".
You might remember that Dwele and Phife have previously collaborated together. The last occurance was in 2012 for the remix to Dwele's single "What Profit".
Dwele and Mike City also have a ton of history together. City produced the previous singles " What's Not to Love", "I Think I Love U", and of course "What Profit". Recently, Dwele also appeared on City's single for the song "I Rock Wit U".
Stay tuned as more details emerge about Dwele's upcoming album. It will be his first since " Greater Than One" in 2012.