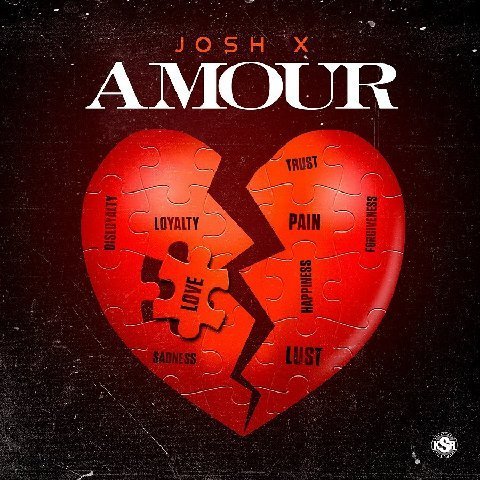 Singer Josh X has just released his long awaited 10-song new mixtape, "Amour aka The Prelude – I Am Josh X" as a free download for his fans via his website, www.JoshXantusMusic.com.
The singer currently has the #21 song on the R&B Billboard charts with his latest single "Heaven On My Mind" featuring Cardi B. JOSH also collaborated and co-wrote the song, "Ready to Go" with multi-platinum super producer Swizz Beatz for Fox's hit show EMPIRE and PEPSI (a global tv commercial). He has also worked with the likes of Jadakiss, Lil' Wayne, Swizz Beatz and Cardi B. just to name a few.
"Literally, when I say in the song 'story of my life I tell the truth no hype ya good man'…it's a real feeling. In life, I've been through an emotional roller coaster when it comes to love; the ups and the downs, the witnessing how I've hurt some good people just being young and immature and not really understanding when a woman gives you her heart you should cherish it," says Josh. "True love is hard to find, so when you find it, make sure you never take it for granted," he adds.
"Amour aka The Prelude – I Am Josh X" is a prelude to Josh's upcoming debut album, "I Am Josh X" scheduled to be released this Summer. "AMOUR" features productions from some of today's hottest producers including; Shaft, DJ Static, BHawk, Elrey, just to name a few. Highlights on "Amour" includes the songs, "Taking Me Back", a song inspired by a personal relationship that was lost due to one's selfishness, but in the end, he is claiming that no matter what, "she is taking him back again." Another highlight is the Jagged Edge sampled, "I Don't Wanna Hurt You", where you realize that you have found "the one" and no matter what happens between you guys, she is all you have ever wanted, and hurting her is the last thing you would want to do. Then you have the club-banger "Promise" featuring Dro, where Josh blends R&B with Haiti's cultural sounds of Kompa. Josh also remade the classic "Stand By Me" in celebration of humanity during these trying times.
JOSH is currently on a 15-city promotional tour in support of "Heaven On My Mind", cities include; New York, Washington DC, Chicago, Los Angeles, Atlanta, Dallas, Nashville, Milwaukee, Houston, Detroit and Miami. Later this month Josh will embark on a Haiti national tour with Haiti's own, Sandro Martelly, son of Haiti's former President.
Josh X "AMOUR" EP Tracklisting:
1. Take Care Of You
2. Taking Me Back (Dirty)
3. Promise
4. Low Key Feeling You
5. I Gotta Try featuring Just VLAD (Skit)
6. Dont' Wanna Hurt You
7. Creole Love
8. Bye Bye Baby featuring Tanya Jones
9. Heaven On My Mind (Ballad)
10. Stand By Me (2016 Wrap up)