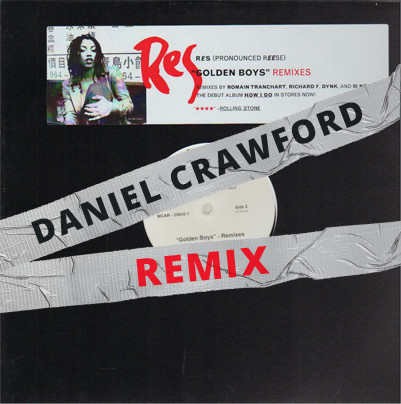 Singer Res gifts her fans with the special Daniel Crawford remix to her hit song "Golden Boys" nearly 15 years after the original released. The new song comes just days after the release of her latest single "Hollow" and the announcement that she'd launched an Indigogo campaign to fund her upcoming album "Reset".
In an e-mail to fans who signed up for her newsletter, here's how Res described the new remix:
Even 10+ years later, the album cut, Golden Boys is still one of my favorite songs! It is crazy how this song started out as a remake of Etta James' Trust In Me for the soundtrack to Hurricane starring Denzel Washington. The track ended up being so good and so different that my team decided to have Santi White (aka Santigold) write to it and Golden Boys was born!

I was going through my laptop recently and realized that I have acapellas from How I Do that I haven't done anything with. So I started looking for a musical director to help me update/remix them. The stars aligned and I reconnected with Daniel Crawford at Raphael Saadiq's studio in North Hollywood. Daniel is an amazing producer and keyboardist in Raphael's band, and he recently worked with my old friend Ceelo as musical director for one of the best Ceelo solo shows I've seen.

He whipped up this version of Golden Boys that I am giving to you here first. It is not available anywhere else right now. As soon as I heard it I knew this was the one. You'll see why. I absolutely LOVE the afro beat and deep house vibe.