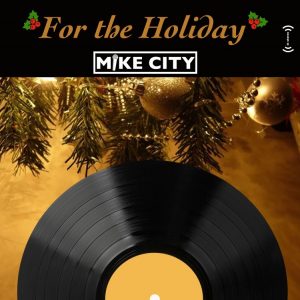 Over the past couple of decades, we've gotten to know Mike City as one of the top producers in the r&b genre. Pretty soon, we'll be getting to know him as a vocalist as well.
The producer will release his first Christmas album called "For the Holiday" including seven original songs which are sure to make this holiday season warm and bright. In the spirit of his soulful dance infused music,"For the Holiday" sets the perfect mood for moving on the dancefloor or sipping cocoa by the fireplace; tis the season to share in the merriment.
Mike City is still riding high from the summer release of his project "Mike City Presents: The Feel Good Agenda Vol 1". City wanted to keep the good feelings coming in through the holiday season. He added:
"Christmas has always been my favorite holiday and we need some new Christmas music to groove to, especially with everything that is going on in the world right now; we need all the good vibrations the universe can muster so I had a great time creating this music especially the special songs I created celebrating my mother and my children, my personal gifts from God."
"For the Holidays" will be exclusively available at Traxsource for pre-orders on November 11, 2017 and all other major digital/streaming outlets on November 20.
Mike City "For the Holiday" Tracklist:
1. Christmas Party
2. Most Precious Gifts
3. For the Holiday
4. Yes on Christmas
5. We're Family
6. Be Thankful
7. Christmas Without You