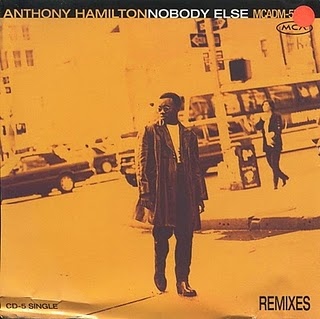 The debut single "Nobody Else" from Anthony Hamilton is pretty rare in itself, but the remix to the song is even more elusive. In fact, many don't realize that Anthony Hamilton released his debut album "XTC" on MCA Records back in 1996, seven years before he'd put out "Comin From Where I'm From" and reach platinum status. Guest appearances in 2002 on the Nappy Roots single "Po Folks" and the 2Pac single "Thugz Mansion" certainly catapulted him back into the spotlight.
But back to the debut. Not only did the "XTC" album fail to chart on Billboard, but it's lead single "Nobody Else" peaked at only #63 on the Hip-Hop/R&B charts. This is not a knock on one of r&b's top artists, but more of a testament to his perseverance and how far he's come. For this rare gem, we look back at the remix of "Nobody Else" which featured rapper Mr. Cheeks of the Lost Boyz.
In a recent interview with Anthony Hamilton, we spoke to him about his debut album and overcoming the lack of success he had with it.
YouKnowIGotSoul: When I look back at your career and talk to music fans, a lot of them don't even realize your "XTC" album exists from the mid 90's before "Comin From Where I'm From". What do you remember about that album?

Anthony Hamilton: It was one of the best creative processes ever, I was on fire! I could do no wrong. Working with Tone & Poke was one of the best experiences ever. It was a good time. Everybody was looking and waiting from Andre Harrell to Russell Simmons to Puff. The whole Uptown Family. The album never really came out, wasn't ever really released.

YouKnowIGotSoul: After that album, was it frustrating for you? I know it took some time before you were eventually able to breakthrough and become a star. Did you ever want to walk away from the industry?

Anthony Hamilton: That first fall through, it didn't really upset me too bad because I had so much faith in where I was and my destiny being what it is. It didn't really shake me that time. I think by the 2nd and 3rd time that it happened, it started to make me feel like "Dang, what's going to happen?" I got frustrated after that. I never really wanted to walk away from it, I just wanted it to be different.