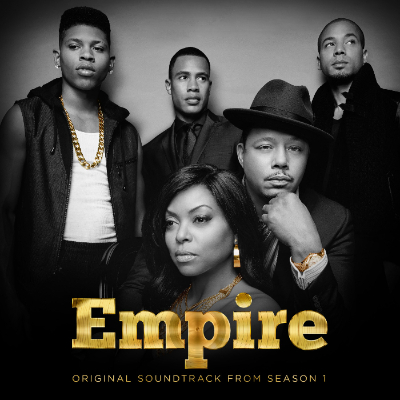 Columbia Records, 20th Century Fox Television and Fox Broadcasting Company (FOX) are pleased to announce the release of the Original Soundtrack from Season 1 of Empire, available on Tuesday, March 10, 2015. The release is the first in a series of soundtracks that will feature original music from critically acclaimed drama EMPIRE, and will showcase cast members Jussie Smollett (Jamal Lyon) and Bryshere Gray a.k.a. Yazz (Hakeem Lyon), alongside Terrence Howard (Lucious Lyon) and guest stars Courtney Love, Juicy J, Jennifer Hudson, Estelle, Mary J. Blige and Rita Ora. The Original Soundtrack from Season 1 of Empire is available for pre-order now http://smarturl.it/EmpireSoundtrack.
The soundtrack will include the emotional ballad "Good Enough," up-tempo track "No Apologies" and soul-stirring song "What Is Love." See below for full track-listing, which includes never-before-heard songs from upcoming episodes. The digital deluxe version of Original Soundtrack from Season 1 of Empire features seven additional songs.
Since its premiere on Jan. 7, EMPIRE's meteoric debut season has broken records and critics cannot stop raving about it. Entertainment Weekly proclaimed the show as "a character-driven, sudsy yet soulful musical drama that is both aware of the culture and about the culture." The Hollywood Reporter stated that EMPIRE is "entertaining as hell with a strong story base and great music." A powerful and unique program coupled with an extremely talented cast make it easy to see why Vulture said that "EMPIRE is a bona-fide phenomenon."
EMPIRE airs Wednesdays (9:01-10:00 PM ET/PT) on FOX.
Standard Edition Track-list:
1. Good Enough feat. Jussie Smollett
2. What Is Love feat. V.Bozeman
3. No Apologies feat. Yazz and Jussie Smollett
4. Keep It Movin' feat. Serayah McNeil and Yazz
5. Walk Out On Me feat. Courtney Love
6. Conqueror feat. Estelle and Jussie Smollett
7. Remember The Music feat. Jennifer Hudson
8. Shake Down feat. Mary J. Blige and Terrence Howard
9. Power of the Empire feat. Yazz
10. Nothing To Lose feat. Jussie Smollett
11. Whatever Makes You Happy feat. Jennifer Hudson and Juicy J
Digital Deluxe Edition Track-list:
Good Enough feat. Jussie Smollett
What Is Love feat. V.Bozeman
No Apologies feat. Yazz and Jussie Smollett
Keep It Movin' feat. Serayah McNeil and Yazz
Keep Your Money feat. Jussie Smollett
Drip Drop feat. Yazz and Serayah McNeil
Can't Truss 'Em feat. Yazz
I Wanna Love You feat. Jussie Smollett
Money For Nothing feat. Jussie Smollett and Yazz
Walk Out On Me feat. Courtney Love
You're So Beautiful feat. Jussie Smollett and Yazz
Conqueror feat. Estelle and Jussie Smollett
Remember The Music feat. Jennifer Hudson
Power Of The Empire feat. Yazz
Shake Down feat. Mary J. Blige and Terrence Howard
Nothing To Lose feat. Jussie Smollett
Whatever Makes You Happy feat. Jennifer Hudson and Juicy J
NY Raining feat. Charles Hamilton and Rita Ora