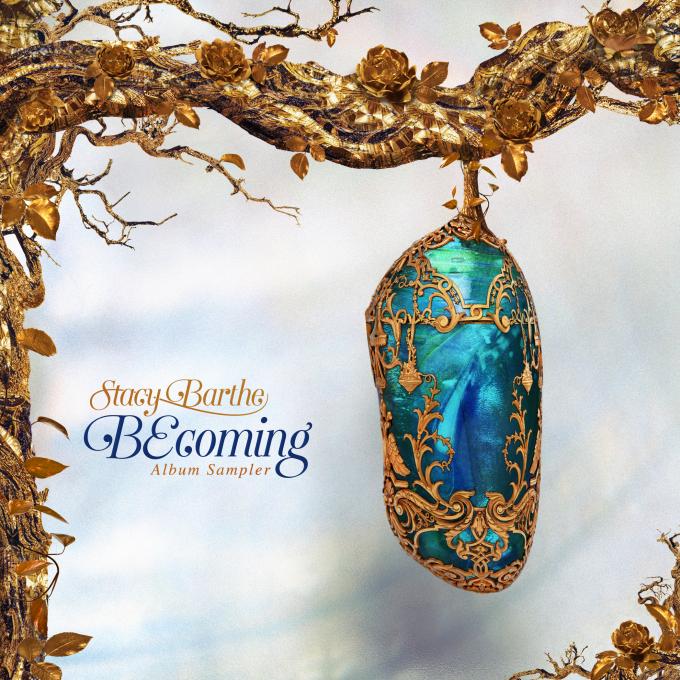 Stacy Barthe opens up her diary (and her heart) with the release of BEcoming—her full-length Motown Records debut available for pre-order on June 29th and in stores and at all online retailers July 10, 2015. An in-demand songwriter, you've heard her work on songs for juggernauts ranging from Rihanna to Katy Perry, however, you've never heard her like this.
Executive-produced by John Legend, BEcoming is a poetic compilation of personal trials, tribulations, and triumphs. Flowing as one piece separated by transitions and interludes, the Queens native uses lush piano-driven soul to gorgeously recount the moments of self-reflection, inspiration, and relationships that define her. The album candidly examines thoughts of suicide, moments of alienation, the destruction of alcoholism, battles with weight loss and body image, and her eventual acceptance and love for herself.
Whether it's the stripped honesty between resounding piano keys on "Me Versus Me" or the uplifting battle cry of "Live For Today" featuring Common, her voice transfixes. "Hey You There" sends out a beautiful love letter, and "War IV Love" combines tribal percussion with a hypnotic melody. Legend lends his inimitable pipes to the dreamy Anita Baker cover "Angel"—where their voices entwine in heavenly harmony.
Legend commented, "I love Stacy's point of view and her willingness to share her story in a very raw and unfiltered kind of way. She's been through a journey; emotionally, psychologically with depression and even thoughts of suicide which she's willing to talk about in her music. I think it's really going to minister to a lot of people who might be going through these same feelings."
Every element contributes to this journey. The artwork depicts a broken butterfly evoking Barthe's transformation from the cocoon, blossoming into herself. However, BEcoming is merely the beginning of Stacy Barthe's story. She explains everything in-depth within this interview.
Stacy Barthe solidified herself as a hit songwriter penning anthems such as "Cheers (Drink to That)" for Rihanna, "Adore You" for Miley Cyrus, "Hummingbird Heartbeat" for Katy Perry, and tracks for Britney Spears, Kelly Rowland, Cheryl Cole, and many more. She stepped into the spotlight with her first EP in 2011, Sincerely Yours, Stacy Barthe followed by Stacy Barthe Presents The Seven Days of Christmas the same year, 2012's In The Inbetween EP, and P.S. I Love You EP in 2013.
Her peers continue to praise her:
"Stacy has a strong and unique perspective. She chooses to do things in a way that's not what you hear from everybody and that is a gift. She offers something that no other artist does." – Common
"Stacy is DOPE! She has an awesome pen game and her vocal range is just stupid." – T.I.
"This is one of the most talented composers in the game." – Rick Ross
"Stacy is a phenomenal talent with a heart of gold. I've always been inspired by her lyric choice and how real she makes a record feel." – Hit-Boy
"Stacy is a talent that will stand the test of time. Her lyrics and tone touches the depths of the soul. I'm blessed to know and have worked such an incomparable artist." – Brandy
BEcoming Tracklisting
1. My Suicide Note (Intro)
2. In My Head
3. Sleep To Dream
4. Eyes Wide Shut
5. Here I Am
6. Me Versus Me
7. Find It (Transition)
8. Live For Today ft. Common
9. Flawed Beautiful Creatures
10. Hey You There
11. Walk On Water
12. Born To Belong (Interlude)
13. War IV Love
14. Angel ft. John Legend
15. You Wonder Why?
16. In the Meantime
17. Enough Is Enough…