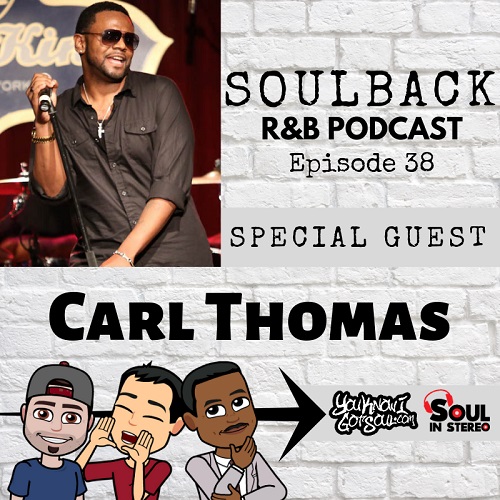 2:40: R&B trivia: Tom (Team Musiq Soulchild) vs Edd (Team Keith Sweat)
8:50: Playa Please Awards: R. Kelly's recent arrest, Ja Rule vs Milwaukee
19:42: Carl Thomas joins the SoulBack podcast
20:20: We talk about his new song "One With Heaven"
23:15: The evolution of R&B music thanks to technology
28:30: Is 90's the golden era of music?
33:25: Analytics and number crunching is killing artistry
36:30: Carl Thomas breaks down his origins in music with Troy Taylor
44:15: Carl talks about his upcoming album
We are back with a new podcast episode. We've been killing with the special guests and it continues this week as we have Carl Thomas. The Bad Boy crooner brought us "I Wish" but that's not what this episode is about. Carl breaks down the origins of R&B and his thoughts on the genre over the last 30 years. He also talks about his upcoming music which we're all excited about. We also get into some R&B trivia to see if Tom or Edd is the king of R&B. A fun episode this time around. We didn't get to talk new music this time around but still lots of content to share with you guys.
Follow our podcast on Soundcloud: https://soundcloud.com/youknowigotsoul/sets/youknowigotsoul-podcasts
Follow our podcast on Spotify: https://open.spotify.com/show/6oLmNUkcXrAqsQP5EBJ4dk
Follow our podcast on iTunes: https://itunes.apple.com/ca/podcast/youknowigotsoul-podcast/id998813013
Follow our podcast on Google Play: https://play.google.com/music/listen?u=0#/ps/Imoe7gt6vd4v6iuf4yq5fyhy3e4
Follow our podcast on YouTube: https://www.youtube.com/playlist?list=PLVyB7WCEUIPl_CYZFTwiNLHqtCHaK2GcK