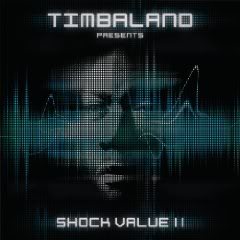 All I can say is WOW. The guest list that Timbaland has put together for this album is amazing. Just about every genre is covered here, and I'm very curious to see how this album flows overall. One thing I know about Timbaland though, his production is strong enough to make it work. Unfortunately for him, many of these songs have leaked already.
Click Below for tracklisting
1. "Intro" feat DJ Felli Fel
2. "Carry Out" feat Justin Timberlake
3. "Losing Control" feat JoJo
4. "Meet In The Middle" feat Bran'Nu
5. "Say Something" feat Drake
6. "Tomorrow in a Bottle" feat Chad Kroeger (of Nickelback) & Sebastian
7. "We Belong to the Music" feat Miley Cyrus
8. "Morning After Dark" feat Nelly Furtado & SoShy
9. "If We Meet Again" feat Katy Perry
10."Can You Feel It" feat Sebastian
11."Ease Off the Liquor" feat SoShy
12."Undertow" feat The Fray
13."Timothy" feat Jet
14."Long Way Down" feat Daughtry
15."Marching On" feat OneRepublic
16."The One I Love" feat Keri Hilson, Chris Brown & D.O.E.
17."Symphony" feat Attitude & Bran'Nu
"Shock Value 2" will be in stores December 8th.