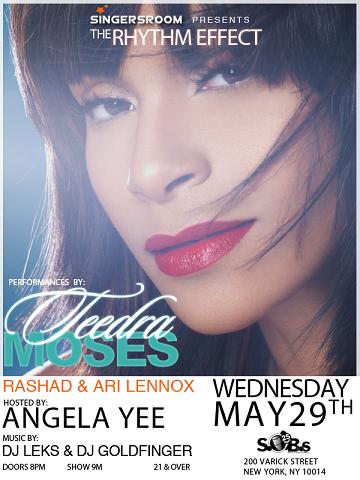 Want to win a pair of tickets to this event? Simply leave a comment letting us know why you love Teedra Moses! We'll e-mail the winners prior to the show!
On Wednesday, May 29th Singersroom presents a new and exciting event series entitled, "The Rhythm Effect", which mixes an extraordinary performance by fan favorite artists with a mix of fans, industries tastemakers and trendsetters. In this second installment of The Rhythm Effect singer-songwriter, Teedra Moses aka The Lioness will be returning to NYC to be part of this amazing experience and to also rock the SOBs stage like never before. She will be performing some of her classics as well as giving the fans a taste of new tracks from her highly anticipated album entitled "The Empress Pride Collection". Teedra will give her fans cult classics such as Complex Simplicity's "Backstroke", "Be Your Girl", "No More Tears". This is her first appearance in New York City prompting a new album since she dropped her first EP Complex Simplicity.
Singer, songwriter, rapper, producer Rashad has been around the music industry since the tender age of 13 after inking a record deal with RCA. However, Rashad has come into his own and is something like a young O.G. His loyalty to his hometown of Ohio has fueled him to spearhead a movement to redefine the Ohio sound. Taking inspiration from the Ohio Players, Isley Brothers to DJ Quik and J Dilla, Rashad has fused a R&B sound that the ladies love, but still has a grit that the guys can rock in their old school whips. The singer that has featured and produced many of his fellow Ohio native, Stalley, tracks. As a part of The Rhythm Effect Rashad will give the concert his brand of R&B.
The 21-year-old singer/songwriter, Ari Lennox, from Washington, D.C., has captured the ears and the hearts of millions. This creative and dynamic beauty with a musical fusion of sophistication and realism is best described by Singersroom.com as the "epitome of soul, a breath of fresh air with a captivating voice." Ari will definitely share her eclectic, versatile and fearless style on that SOBs stage as part of The Rhythm Effect Spring Series. With this extraordinary mix of R&B The Rhythm Effect is guaranteed to be an amazing night that no one should dare missing.
Where: S.O.B.'s, 204 Varick Street, New York, NY 10014
When: Wednesday, May 29th Doors @ 8pm Show 9pm
Ticket info: $25 Advance; Available on Ticketweb http://tktwb.tw/154Adfj