New Music: Tank Releases "You Don't Know" featuring Wale from Upcoming Album "Sex, Love & Pain 2"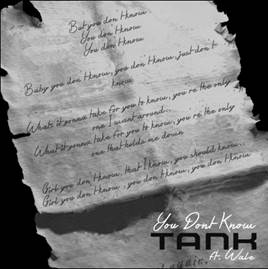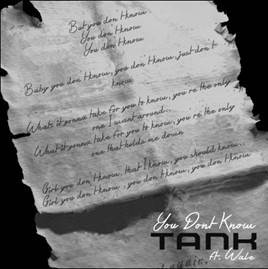 Atlantic recording artist Tank has announced the release of his long awaited new single.  "You Don't Know (Feat. Wale)" – which heralds the multiple GRAMMY® Award-nominated R&B superstar's upcoming new album – arrives at all digital retailers this Friday.
The single marks the first release from Tank's seventh solo album, "SLP2," slated to arrive later this Winter.
 "SLP2" – which features collaborations with Chris Brown, Wale and more – is Tank's long anticipated sequel to his 2007 blockbuster third album, "SEX, LOVE & PAIN." Highlighted by the #1 hit single, "Please Don't Go," the collection made an explosive #2 debut on the SoundScan/Billboard 200 while also arriving atop Billboard's "Top R&B/Hip-Hop Albums" chart. What's more, "SEX, LOVE & PAIN" received a prestigious GRAMMY® Award nomination as "Best R&B Album," with "Please Don't Go" getting a nod as "Best R&B Male Vocal Performance."
 Currently starring in TV One's smash series, Born Again Virgin, Durrell "Tank" Babbs is one of contemporary R&B/hip-hop's most honored and enduring superstars, a gifted producer, songwriter and extraordinary vocal talent. "SLP2" follows last year's acclaimed "STRONGER," which, like its 2012 predecessor, "THIS IS HOW I FEEL," debuted in the #1 spot on Billboard's "Top R&B/Hip-Hop Albums" chart upon its initial release. In 2013, Tank teamed with fellow superstars Tyrese and Ginuwine as TGT, scoring another #1 debut on Billboard's "Top R&B/Hip-Hop Albums" ranking – and a top 3 entry on the main Billboard 200 – with their worldwide smash album, "THREE KINGS."
Tagged:
Tank
Wale