YouKnowIGotSoul X Soul In Stereo Present the Top 100 R&B Songs of 2014 Countdown (Completed List)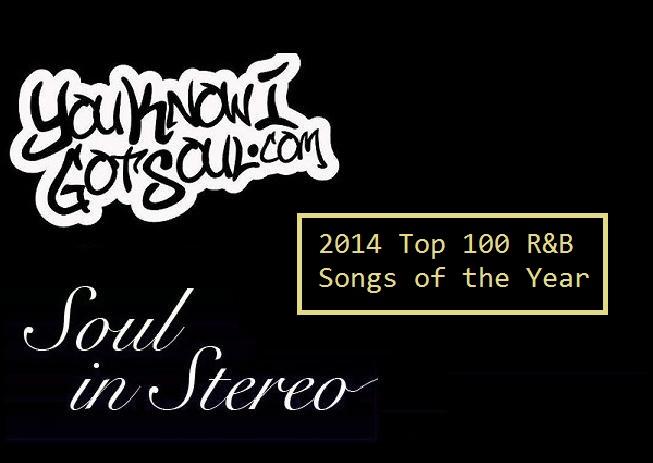 It's became our yearly tradition to name the top 100 r&b songs of the year, and we're back to do just the same for 2014. We partnered up with our writer Edd Bowser's site SoulinStereo once again just like in 2013 and this time, we'll be doing it with a twist. Each Day we'll be counting down 5 songs across our Social Networks (Twitter, Facebook, & Instragram) and updating this post as we do until we reach #1 on December 31st.
The list is a culmination of all r&b songs released between December 2013 through November 2014. Between all of the writers on the site, we listened to it all, from albums to EPs to mixtapes to random songs and spent much time debating. We didn't agree on everything, but the list we did come up with is what we feel is a great reflection of the best of r&b in 2014.
100 – Robin Thicke "Get Her Back"
99 – Toni Braxton & Babyface "The D Word"
98 – Pharrell "Gush"
97 – Ledisi "Can't Help Who You Love"
96 – Jesse Boykins III "Plain"
95 – Marsha Ambrosius "Spend All My Time" featuring Charlie Wilson
94 – Beyonce "Jealous"
93 – Noel Gourdin "Don't You Wanna"
92 – Joelle James "Sweet Lemonade"
91 – Mariah Carey "You Don't Know What to Do" featuring Wale
90 – Goapele "Strong as Glass"
89 – Tamar Braxton "Let Me Know" featuring Future
88 – Syleena Johnson "I Cut My Hair"
87 – Calvin Richardson "We Gonna Love Tonite"
86 – DJ Cassidy & R. Kelly – "Make the World Go Round"
85 – Syleena Johnson "Heaven in Hell"
84 – Jhene Aiko "Lyin King"
83 – BJ the Chicago Kid "Good Karma"
82 – Beyonce "Pretty Hurts"
81 – Mary J. Blige "All Fun & Games"
80 – Jazmine Sullivan "Forever Don't Last"
79 – Jazmine Sullivan "Dumb" featuring Meek Mill
78 – Goapele "My Love" featuring Eric Benet
77 – Dondria "Coat Tail"
76 – Pleasure P "Soaking Wet"
75 – Kindred the Family Soul "Everybody's Hustlin
74 – Trey Songz "What's Best for You"
73 – Beyonce "Rocket"
72 – Rochelle Jordan "Follow Me"
71 – Algebra Blessett "Paper Heart"
70 – Marsha Ambrosius "La La La La La"
69 – Jhene Aiko "The Worst"
68 – Meelah "Give it to You" featuring Musiq Soulchild
67 – Mishon "Luckiest Man"
66 – Keyshia Cole "Party Aint a Party"
65 – Tiara Thomas "One Night"
64 – Usher "Clueless"
63 – Jhene Aiko "Spotless Mind"
62 – Kehlani "As I Am"
61 – Shaliek "Better Woman"
60 – Marsha Ambrosius "Night Time"
59 – Keyshia Cole "Rick James"
58 – Mary J. Blige "Power Back"
57 – Mila J "Smoke, Drink, Break Up"
56 – Sebastian Mikael "4 U" featuring Rick Ross
55 – J. Holiday "Cloud 9"
54 – Pharrell "Gust of Wind"
53 – J. Holiday "Come Back Home"
52 – Tyrese "Dumb Shit" featuring Snoop Dogg
51 – Keke Wyatt "Fall in Love"
50 – Ledisi "Anything"
49 – Mya "House Party"
48 – Kandace Springs "Meet Me in the Sky"
47 – Beyonce "Partition"
46 – August Alsina "Benediction" featuring Rick Ross
45 – Keyshia Cole – "Believer"
44 – Kelly Price "Think Again"
43 – Teedra Moses "All I Ever Wanted"
42 – Kandace Springs "West Coast"
41 – Marsha Ambrosius "Stronger" featuring Dr. Dre
40 – Michael Jackson "Blue Gangsta"
39 – Sevyn Streeter "Shattered"
38 – Dave Hollister "I'm Different"
37 – Bridget Kelly "Cocaine Heartbreak"
36 – Joe "If You Lose Her"
35 – Marsha Ambrosius "Shoes"
34 – Adrian Marcel "Spending the Night Alone"
33 – Chris Brown "Add Me In"
32 – Toni Braxton & Babyface "Roller Coaster"
31 – JoJo "Caught Up in the Rapture"
30 – Elle Varner "Don't Wanna Dance"
29 – Omarion "You Like It"
28 – Luke James "Insane"
27 – Toni Braxton & Babyface "Hurt You"
26 – Justine Skye "Collide"
25 – Ashanti "Nowhere"
24 – K. Michelle "Maybe I Should Call"
23 – Goapele "Insanity"
22 – Beyonce "Blow"
21 – Jagged Edge "No Half Steppin"
20 – Tank "You're My Star"
19 – Keke Wyatt "Rain" featuring Pusha T
18 – Luke James "Exit Wounds"
17 – Dave Hollister "Spend the Night"
16 – Ne-Yo "New Love"
15 – Tinashe "2 On" featuring Schoolboy Q
14 – Tinashe "Feels Like Vegas"
13 – Jagged Edge "Love Come Down"
12 – John Michael "You Want Me"
11 – Mariah Carey "Dedicated" featuring Nas
10 – Jennifer Hudson "Walk it Out"
9 – Teyana Taylor "Request"
8 – Michael Jackson "Loving You
7 – Marsha Ambrosius "You and I"
6 – Mali Music "Beautiful"
5 – Jagged Edge "Hope"
4 – Pharrell "Happy"
3 – Chris Brown "New Flame" featuring Usher
2 – Usher "Good Kisser"
1 – Michael Jackson "Love Never Felt so Good"