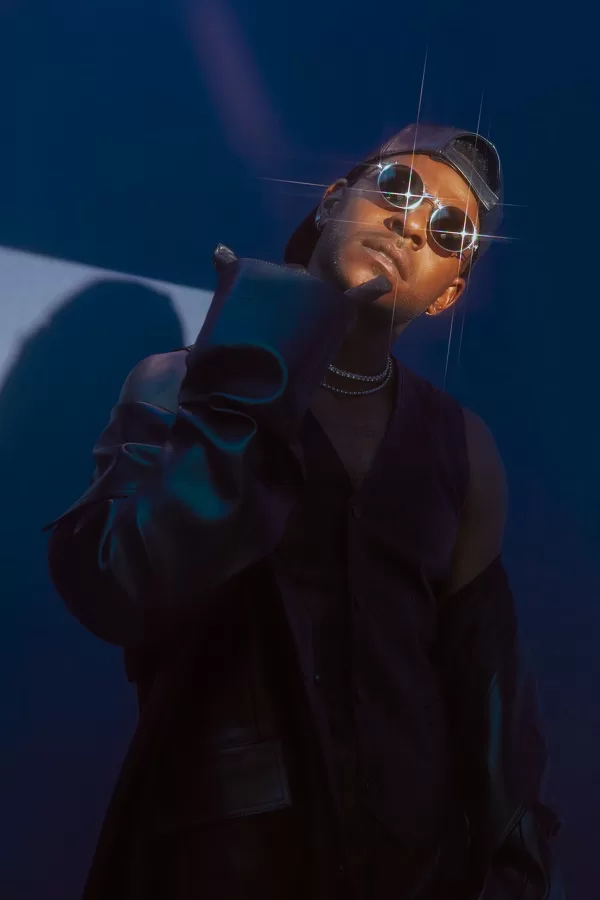 We recently had a chance to catch up with Eric Bellinger for a new interview. During our conversation, we touched on the years he's spent songwriting in the music industry, his process, breaking out as a solo artist, working with Usher on Tiny Desk, the new singles he's recently released, what to expect on his upcoming tour, his plans for 2023, and much more.
YKIGS: You've been in the industry for quite some time now penning 100s of songs, Grammy-award winning songwriter and Grammy-nominated singer/solo artist. You've written songs for artists such as Justin Bieber, Chris Brown, Wale, and Usher. Tell us a bit about your writing process and how you find your inspiration?
Eric Bellinger: For me it's like I just keep writing. You know, as long as I'm telling a story, I'll never run outta lines. And I think that the motivation comes from family, it comes from my past success and just me competing with myself.
YKIGS: That's awesome. I love that. Speaking of Usher/writing songs for Usher, last year you had the opportunity to sing alongside Vedo for Usher's Tiny Desk. Tell me how did it come about and what was that experience like for you to be able to have that moment in your career?
Eric Bellinger: Yeah, so you know, it, it worked out perfect because I just happened to be in Atlanta at the time. I was recording, writing songs and Usher called me and was like, 'what's up lil bro, where you at?' I was like, Atlanta, what's up? What we doing? He was like, pull up on me man. I want you to do this thing with me I'm doing in DC with Something in the Water Festival with Pharrell! And I was like, all right, cool. Pulled up, got the rehearsals in and then we flew to DC and he was like, 'oh yeah, we gonna do Tiny Desk too.'
YKIGS: He just sprung it on you!
Eric Bellinger: He just sprung it on us. And that joint was like seven in the morning. It was like an early, early filming. So we just, you know, if you stay ready you don't gotta get ready.
YKIGS: Yes, absolutely. That's good. So last year was clearly a busy year for you because you also released two singles, the first one you released "Obsession" followed by the remix with fellow songwriter turned solo artist Muni Long. How did that collaboration come about?
Eric Bellinger: Yeah man, you know, we've been friends for a long time and I think um, a lot of the relationships have really carried me and sustained me. Um, just throughout this business. Just, you know, who you know is so important and me and Muni Long used to write together. We've gotten placements together for artists, you know, back in the day and as soon as I seen her, um, drop her new single "Hrs and Hrs", I was just like so proud of her. I immediately called her, I immediately text her and we chopped it up for a while, for hours and hours (laughs) And uh, I was just like, man, we gotta link back up. We gotta link back up that first call and she was like, let's do it. Whatever, whatever. You know what I'm saying? You already know I'm here. And when I had this song it was like I gotta reach out. And then she knocked it out no problem. So, you know, shout out to real friends, real people, real humans, you know, know what I mean? That's just about the music, you know, no politics.
YKIGS: Definitely. And what is the transition like going from songwriter to solo artist? Tell me a little bit about that.
Eric Bellinger: Yeah, it's fun and difficult at the same time, you know, cause you're trying new things and you know, the politics have been removed because it doesn't matter, you know, when you're just trying to write for Rihanna and it's a million people trying to, trying to get a placement on her album, you know, that pressure goes away because it's up to you. And I think it's exhilarating to be able to just express the way I feel through music. But at the same time, the people that are used to you being a songwriter, when they hear a good song by you, the first thing they say is, man, that would be crazy if Chris Brown cut it. That would be crazy if Usher cut it, you know? And you hear that from A&R down to the producers that may have did the song with you. But you know, you gotta stay resilient and um, look at it like the same way you had to build up to the top to be a songwriter, you gotta build your way up to be an artist, top artist as well.
YKIGS: Yeah, absolutely. And speaking of producing, you released in 2021 1-800-HIT-EAZY with Hitmaka! Do we have plans for a line two?
Eric Bellinger: Yeah, line two is about to drop. So these singles are definitely from 1-800-HIT-EAZY: Line 2 and my tour is gonna be kicking off real soon. So you know, I had to accompany with some new hits.
YKIGS: Absolutely. So as we make our way in the start of this new year, everybody's in the gym, you know, on their fitness journey and whatnot. Your new single "BNB" or brand new body just released recently! And so do you have any advice for those of us that are trying to stick to our New Year's resolutions and work on that BNB?
Eric Bellinger: Yeah, you gotta have a why. You know, it can't just be because I dropped the song and you wanna do the challenge, you know, it, it really has to be, you wanna look in the mirror and see a better you, you know, I think, um, I've had a lot of time since the Pandemic to really recreate, um, and reimagine myself, you know, a better version, the best version of myself. So, you know, what does that look like? It looks like eating healthy, it looks like, you know, like I'm about to go to the gym now, I went yesterday and it's pushing yourself. You know, I think one thing that helps is working out with people so that they can hold you accountable and you can hold them accountable to stay on path, to stay on your regimen. And for example, right now, my why is because I'm about to go on tour especially, you know, and 32 cities ain't no joke. I don't wanna be up there tired at 45 minutes. I wanna be like, y'all tired? I'm ready. Y'all are standing there and y'all look tired. You know? And I think that I really want to be that. I want the people to see me and say, is that Michael B. Jordan in Creed ? And I be like, yeah, it's just a goal for myself, you know? And you gotta just try different things. You know, I've, I've done good, you know, I've been an athlete so I've always naturally trained, but now I wanna just try to take it to the next level.
YKIGS: Yes, I can relate to the athleticism. So you're going on tour 32 cities?
Eric Bellinger: Yes.
YKIGS: That's incredible. Your first solo tour headlining. What can fans expect from an Eric Bellinger tour?
Eric Bellinger: Man, a lot of vocals. You know, uh, we gonna be taking them to church, you know, and a lot of structure, you know, a trip down memory lane when it comes to my catalog, you know, um, I went on live recently and I picked a set list with the fans, you know, so we literally went through songs. They were voting yes, no, fire emojis, thumbs up, thumbs down, you know? And I really just wanted to bring them the experience they want. It ain't nothing like going to a concert and you didn't hear your song. It's like you going to Lakers game and LeBron not playing that night. It's like, I wanna see him on the floor you know?
YKIGS: So when I come to one of your stops, I wanna make sure I hear my songs.
Eric Bellinger: Alright. See that's what I'm saying. I got you. I got everybody.
YKIGS: Definitely! That's awesome. I love that for you! I'm not gonna take up too much of your time, but 2023 is gonna be a big year for you. I am looking forward to seeing everything that you accomplish. Again, thank you so much for talking the time to chat with me.
Eric Bellinger: Definitely, yes. Stay tuned!. Next month is lover's month. That's all I'ma say. February, so you know, I gotta do something special.
YKIGS: Can't wait to see it!
Eric Bellinger: Thank you for having me!
Photo credit: Ally Green