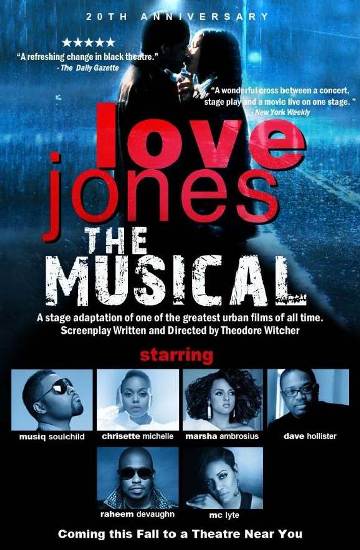 Love Jones The Musical, a stage adaptation of the critically acclaimed 1997 Love Jones film, is scheduled to tour nationally this Fall/ Winter. The stage production will boast an all-star cast of R&B music's biggest names including Chrisette Michelle, Musiq Soulchild, Marsha Ambrosius, MC Lyte, Raheem Devaughn and Dave Hollister who were all carefully selected to star in the must see musical event of the year. Love Jones The Musical will debut in Oklahoma City on September 9th.
Celebrating the20th anniversary of the popular romantic comedy, the stage play takes the essence of the film and tells its story through music. Fusing chart-topping hits and fan favorite songs from the music artists, along with a few original songs, Love Jones The Musical, will be a transformative experience for the audience.
Produced by veteran theater producer Melvin Childs of Produced By Faith with stage play written by Timothy Allen Smith and directed by Zadia Ife, Love Jones The Musical, tells the universal and timeless story of love, heartbreak and starting over. The film's original writer and director, Theodore Witcher, serves as consulting producer.
"We are really excited about this opportunity to break new ground with this musical, as it relates to African American offerings in theater around the country," says producer Melvin Childs. "Our team has created something truly special and sincerely hope to live up to the expectations of the fans of the iconic film, Love Jones."
Love Jones was originally released on March 14, 1997 and became a cult classic film that captured the hearts and imagination of an entire generation. The soundtrack was equally impressive with a blend of neo-soul and R&B hits that fueled the 90s. The film was written and directed by Theodore Witcher.
The film was considered one of the greatest cinematic love stories of the 90's and portrayed a side of black culture that was not reflected onscreen at a time when heavy drug and violent gang films populated the theaters.