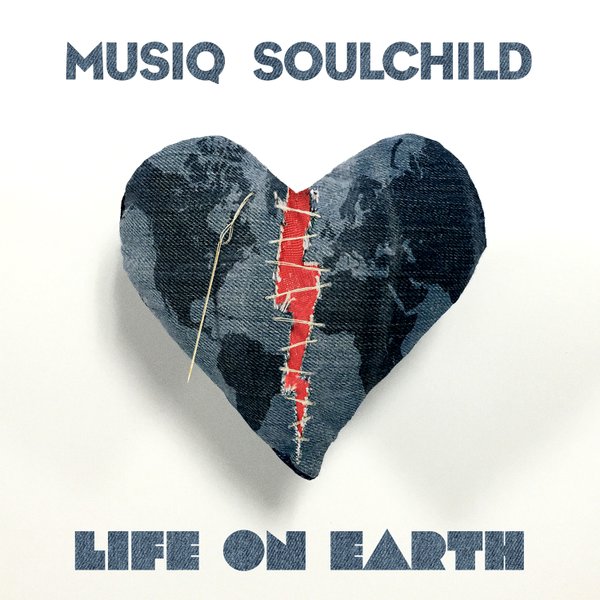 Musiq Soulchild has just revealed the cover art and tracklisting for his upcoming album "Life on Earth". This is the singer's seventh solo album and first as an independent artist. The album is being released through a partnership with producer Warryn Campbell's My Block Inc label along with eOne Entertainment.
The new album features the current single "I Do" which is currently moving up the charts at Urban A/C radio. "Life on Earth" includes 12 songs but also will have two bonus tracks on a deluxe edition of the album that will also be available.
This is Musiq's first project since his "MusiqInTheMagiq" in 2011, and his "Eternal Peace" EP as his alter ego Purple WondaLuv last year. In a recent interview with Warryn Campbell, he gave us some insight on what to expect:
Warryn Campbell: I pretty much let him do whatever he wants to do, because he's Musiq Soulchild and he knows what he's doing. Even when I was making the records for him, he was there when I was doing everything and steering me. I believe that he likes what he's doing. I think after this album, his fans will satisfied.
"Life on Earth" is set to release on April 15th, 2016.
Musiq Soulchild "Life on Earth" Album Tracklist
1) Wait a Minute
2) Who Really Loves You
3) Heart Away
4) Loving You
5) I Do
6) Changed My Mind
7) Walk Away
8) Far Gone
9) Part of Me
10) Alive and Well
11) The Girl
12) Life on Earth
13) Outer Space (Bonus Track)
14) Who's to Say (Bonus Track)