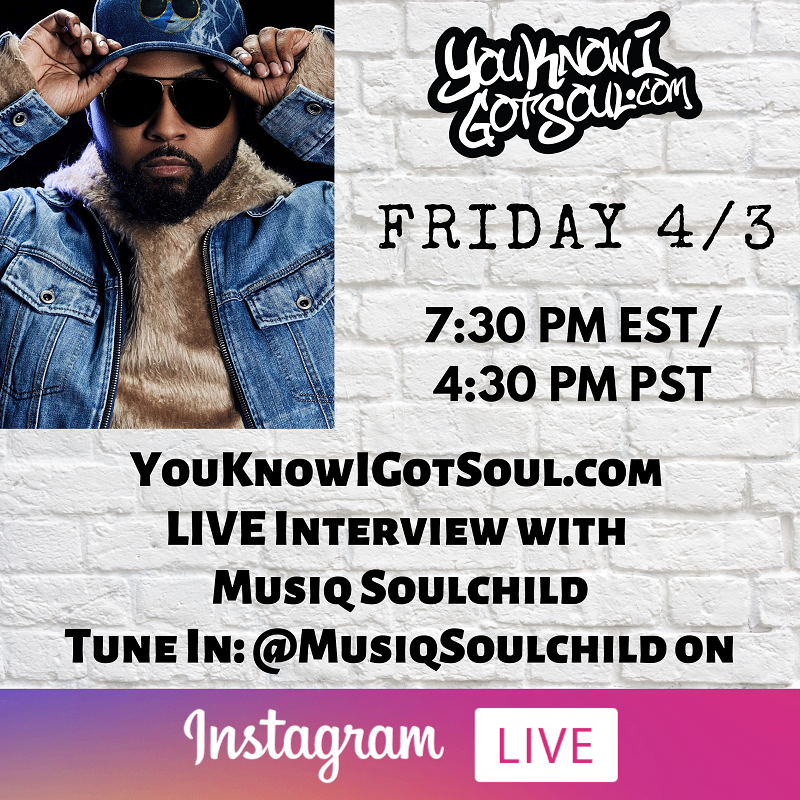 Soul star Musiq Soulchild joined us for an exclusive interview recently on Instagram Live.
We had a lot to catch up with Musiq on as he had recently released the standout mixtape "Dewitt 4 Dilla". The project was a celebration of the late producer J. Dilla with his production used as a backdrop to cover songs Musiq sang by Michael Jackson, Stevie Wonder, Marvin Gaye, Donny Hathaway and Prince.
In the interview, Musiq told us what inspired him to create such a unique project and what J. Dilla meant to him. We also got a chance to ask him about which of those five legends was the hardest to cover.
Next we talked to Musiq about the upcoming 20th anniversary of his debut album "Aijuswanaseing". He gave us some insight into the creation of this masterpiece and what he remembers most about putting out the album.
Finally, we got into plans for upcoming projects and plans for touring and a new album on the horizon.
YouKnowIGotSoul: Talk about the "Dewitt 4 Dilla" mixtape you recently released as a tribute to J. Dilla. It was epic how you covered songs by Michael Jackson, Stevie Wonder, Marvin Gaye, Donny Hathaway and Prince, and put the songs to J. Dilla beats.
Musiq Soulchild: I just did it. I've been trying to do something for Dilla for many years, even before his untimely passing. We talked about stuff that we were going to do. He would send me beat CDs to my crib, we'd have phone conversations about getting in and doing stuff. Stuff just never seems to happen when you want it to. Afterwards I had this thing where I had to do something. Everything that I tried to do, I felt like it was way too much. It would have not really gone over well. I couldn't guarantee it would have reached the right people. I went through the process of trying to find people to get behind it so we could put enough of a push so that it could get some legs behind it. Years just kept flying by man. Time just started getting away from me. I said, the easiest thing I could do, is do what I know. I know these beats and these songs, and I could just put it out. Whoever wants it, wants it. Whoever don't get it, don't get it. I can't be worried. This is coming from the mindset of being in this game for so long and understanding how things go and marketing and promotion. Understanding and servicing your core audience. I got all this mental traffic that I had to navigate through to even get to the point of doing something and putting it out. It took a while, I had to work through a lot of stuff. But I got there and I was able to get it out. I've been talking to Dilla's mom real heavy. This project was actually supposed to come out last year. That's the funny part. It's supposed to be 10 songs. I don't want to just put stuff out to put it out. I want it to have a certain level of quality. That's why there are only 5 songs. I purposely named it "The Dewitt 4 Dilla" mixtape, Soul Brother Series Volume 1. It's going to be a continuation, and I'm going to do more songs from more artists. The second one that's coming out will the ladies, the Soul Sister Series Volume 1. We can't forget the women that helped build the house of soul music.
YouKnowIGotSoul: You won't find anything else like this project out there right now, so unique. Which of the artists you covered was the hardest to cover? Stevie Wonder, Michael Jackson, Prince, Donny Hathaway or Marvin Gaye?
Musiq Soulchild: I didn't think about that! I have to say "I Wanna Be Your Lover" because it's mostly falsetto. That's something I had to develop. I'm naturally a baritone. You can imagine what type of effort went into the years of personal form of training that I had to go through to develop something like that. For instance, when I recorded the song "Love", I had just started getting really good at falsetto. What I didn't factor in is when I popped, and started doing shows, how delicate that part of my voice was. When I started doing a lot of shows, it got to the point where I couldn't sing the high notes, because that's the first thing to go. When you're tired, jet lagged, not eating right. That was a challenging experience for me. I stayed away from a lot of falsetto stuff for years. Even now till this day it's hard to do falsetto stuff. It's hard to do "Love"! I sometimes fake it and put the mic into the crowd and let them sing it. Sometimes I go for it and don't have it, and that's real. Unfortunately stuff like that looks bad on your timeline and people don't understand. Some days it aint there. Another thing is, the fact that I picked these songs, I had to fit my performance of these songs to the track. We can't even talk about the original key of the song unless I speed up the song and change it. But I didn't want to alter Dilla's track, that's his legacy. I had to adjust, so that's why if you know the original song, you'll hear the differences, but it's because I had to tailor fit my performance to the beat. When it came time to do "I Wanna Be Your Lover", it was either do it hella low, which is not going to be in proper Prince fashion, but people identify with him doing falsetto, of that song. So I said I'd go for it. I had to really work on my tone, because I wanted to make sure that I was honoring Price and myself, and doing the beat justice. That would have to be the most challenging one. The second to that, I would say the Marvin Gaye one. It's a lot of words and moving parts. I don't know what he was thinking about when he structured that song! It's like a verse, and another kind of verse, and a hook, and then a pre-hook. That was a challenge, but more than that, Prince was the mostly challenging one.
YouKnowIGotSoul: It was great to get a project like this and we appreciate it as R&B lovers.
Musiq Soulchild: The other point was I had to establish who Musiq Soulchild is officially. I know I'm like 20 years late, my bad! I was on auto pilot, because that was the game. But I started seeing stuff shift, I started losing people and gaining new people. When you do something for a span of 20 years, a lot changes. Sometimes even you get lost in what's going on. I had to go back to basics, and almost like reboot. It got to the point I didn't want to do it anymore. I didn't understand what's going on. People stopped reacting a certain way that I was used to. You got to remember I started before social media. When stuff wasn't coming back to me the way I was used to, I didn't know what the play was. I thought by trying other stuff that might help, but that went weird. I'm an artist and I'm sensitive! Stuff affects us! I just put out my baby, and people are booing! It didn't even become anything yet. I needed to go back to basics. That's the reason why I picked those songs. I didn't go to school for music, I didn't have the luxury and privilege of being shown and taught music like that. Yea there was regular music class in elementary school, but it wasn't that extensive, and eventually it got cut. I got my music education from these artists. I learned how to write and arrange songs and how to sing better. I learned how to make good choices and do runs. I learned how to find my swag from Marvin. I had to find out how to extend my range from Stevie. I had to find how to entertain people from Michael. I had to learn how to be your own thing and think for yourself and do your own style regardless of what was going on in the world from Prince. I learned how to be strategic and arrange and be intelligent from Donny. These are the people that I learned music from. These were my musical instructors essentially.
YouKnowIGotSoul: Let's touch on your debut album "Aijuswanaseing" which celebrates it's 20th anniversary this year. How did you create this masterpiece?
Musiq Soulchild: To be honest, I really wasn't paying much attention. I was living on the streets trying to figure out what to do from day to day. Where I'm going to sleep that night, how I'm going to eat that day. I wasn't really thinking about making music really. I got introduced to my writing partner at the time, through my managers at the time. It was fun. They let me come through and work. Sometimes they would feed me, and that would kind of be like the thing. They'd be like "Yo, you trying to come to the studio?" and I'd say "I dunno man, I have so much to do…." Even though I had nothing to do. Then they'd say "I figure we go get some grub…" then yea, I'd be there. I was just working on records because it was something cool to do. I was stretching and exercising my abilities and figuring out what I was able to do. That's it. Then when I got told that it got picked up by a label and was going to get put out, I said "Huh? What do you mean?" There was never a conversation with me about doing that. I'm sure at some point in the back of my mind I knew it would get to that point. But I had a totally different image in my head of how stuff was going to go. So working on "Aijuswanaseing" was deliberate but only in that moment. It wasn't something I was thinking about in terms of creating songs. It was whatever I had worked on that day, and I could put into the song that day, was it. When I was done with it, I was done with it and on to the next. I wasn't thinking about albums and hit songs and that this might change people's lives. I was really going through a lot of shit back then, and it just came out in the music. When I did "Love", that's a real song for me. That's another thing, that's a real emo song! When people want me to sing that song for their weddings, I don't think they understand what that song is about for me! *Laughs* That's a very heavy song for me. Through the years it got more and more challenging for me to sing that song. I feel I'm taking it too lightly. It just started to become another song I do. That's a very emotional song for me. A lot of times I don't connect with the emotions that got me that song. I'll be feeling like a fraud when I sing that song. I won't be feeling it. I'll have so much stuff on my head and be on stage on auto pilot. It's so much that happens before I get on stage, and so much I have to deal with after I get off stage. I've still got to pull it out and I will always do my best regardless of what I'm going through. I was basically just being me with that album. This whole time I've been trying to get back to that.
YouKnowIGotSoul: We felt your last album "Feel the Real" was a great progression of your sound into that hip-hop/soul genre you represent. What comes next for Musiq Soulchild?
Musiq Soulchild: Right now I'm working on what I'm calling a 2020 project. I'm going to take some of my old songs and kind of remake them. I'm going to be re-producing them, but probably not the singles, those already came out. I might do a few just for the sake of it. Now you're starting to mess with people's memories, we take that seriously. But I'm just trying to be creative and try to give you more. It will be the album cuts. I want to do some of the joints I thought were cool, or that people think should have been a single. But I want to do it in the sound that best represents what I want people to get from me. I've got to find it myself as well as my production team, to give you something fresh. I hope to put that out by the end of the year, just something to say thank you. I have a lot of stuff I want to put out and I want to do.
YouKnowIGotSoul: You consider yourself a hip-hop/soul artist. How do you define that for people who don't understand?
Musiq Soulchild: Just doing soul songs on hip hop beats. You take hip hop music together with soul music and you've got Musiq Soulchild. I don't think everyone has the same idea of it. To me for instance, I feel like Jodeci was hip hop/soul. But everyone calls them R&B. Personally I feel like R&B changed, but nobody changed the category or the name. When it went through new jack swing and all the iterations. When the whole trap sound started coming in, everyone keeps calling it R&B. In my mind when I hear R&B, I think about Motown. Like I said, very early on with me getting on, I kind of perpetuated it in my own way by trying to live up to this concept people were pushing me towards, which is these ballads and this R&B vibe. Ask anybody around me at the time, they will tell you, that's never what I wanted to do, I only did it because it was working and give the people what they want. If you came to my shows though, you almost got a hip hop show. Sometimes you might have even got a rock show. I'm trying to live up to my name, my name is Musiq, not R&B!