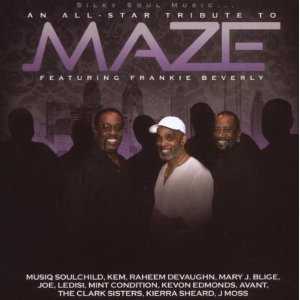 About a month ago, a tribute album to Maze & Frankie Beverly released featuring some of the bigger names in R&B, Neo-Soul and Gospel today, as well as a couple of names from the past. The project was created by Frankie Beverly's son Anthony, as a way to honor his father, and also his long time collaborator, the group Maze. Together, spanning a career of 40 years, the group released 12 albums and had 30 hit singles. I'm especially excited to hear something new from Kevon Edmonds, since he has seemingly been on a ten year hiatus. Overall, it is only fitting that some of these top artists came together to give a proper tribute to these legends.
Tracklisting:
1. Silky Soul – Musiq Soulchild
2. Golden Time Of Day – Kem
3. We Are One – Raheem Davaughn
4. Before I Let Go – Mary J. Blige
5. Can'T Get Over You – Joe
6. Happy Feelins – Ledisi
7. Back In Stride – Mint Condition
8. Never Let You Down – Kevon Edmonds
9. Joy & Pain – Avant
10. I Wanna Thank You – Clark Sisters,Kiki Sheard, Jmoss.