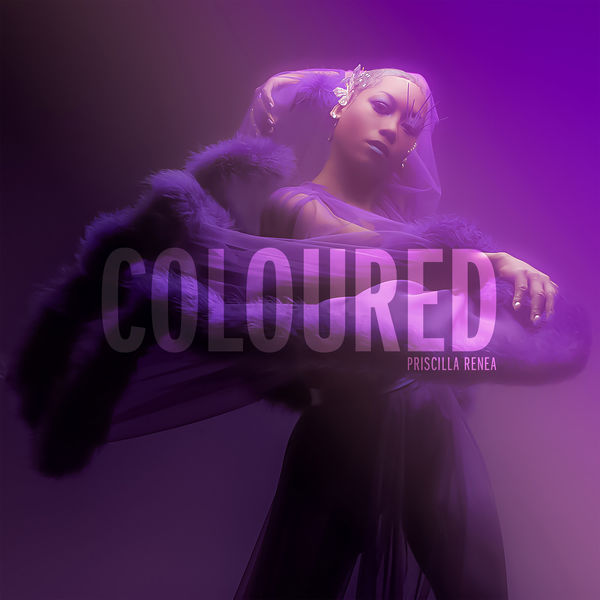 Hit songwriter and R&B powerhouse Priscilla Renea's upcoming album 'Coloured' is set for release on June 22 via Thirty Tigers. The LA-based vocalist has emerged to tell her own story with poetic prowess, emotional intelligence, and chameleon-like stylistic range.
'Coloured' marks an evolution for Priscilla as she returns to focusing on herself as an artist after spending nearly a decade as a songwriter-for-hire. A prolific, award-winning songwriter, Priscilla has penned hits for superstars like Rihanna, Kesha, Chris Brown, Carrie Underwood, Miranda Lambert, Mary J. Blige, Madonna, Demi Lovato. Her credits include: Pitbull and Kesha's No. 1 "Timber," Miranda Lambert and Carrie Underwood's Country No. 1 "Somethin' Bad," Rihanna's "California King Bed," Fifth Harmony's "Worth It," Chris Brown's "Don't Wake Me Up" and Mary J. Blige's "Don't Mind."
The 10-song collection brings together the talent of hip-hop's top producers (Honorable C.N.O.T.E, Curtis "Sauce" Wilson, Theron Feemster, Brett James) with Nashville's top songwriters (Ashley Gorley, Kevin Kadish) to create a bold and lush sound. Spanning classic R&B, dark-edged country and urban-soul, 'Coloured' is a fierce, political, and personal collection of stories that reckon with Priscilla's childhood in rural Florida, love, heartbreak and racial trauma.
Priscilla has released a stunning two-part video for the first two songs off the album, "Gentle Hands" and "Heavenly."
Unfolding in two chapters, the video sees Priscilla dressed to kill, listing off to God the kind of man she'd like to find (wears Timberland Boots, drinks sweet tea, goes to church, loves his mom, ain't scared to dance) and then suddenly, vulnerable as she reckons with the overwhelming weight of love once she's found him. The swaggering, sultry, Nashville-twanged blues-rock of "Gentle Hands," melts into the penetrating, soulful R&B ballad of "Heavenly," encapsulating Priscilla's genre-defying sound and vast emotional range.
The singer-songwriter traveled to Nashville to create the record, seeking respite from Los Angeles' intensity, and inspiration from the city's musical legacy and top talents. Priscilla wrote all 10 tracks on the album — many during the several months that she spent writing and recording at songwriter and "Heavenly" co-writer Brett James' converted barn studio.
The unpredictable and powerful imprint that Nashville left on 'Coloured' rings clear on tracks like the heartbreaking, autobiographical "Family Tree," explosive, slow-burning power ballad "Let's Build A House" (co-written by Ashley Gorley), and raucous country fable "Jonjo."
Following up her appearance on Melissa Etheridge's Live At Sea cruise, Priscilla will headline the Women's International Music Network's "She Rocks" showcase at the 13th annual ASCAP "I Create Music" expo on May 8 and play a select run of East coast dates, including stops at NYC's Rockwood Music Hall and Nashville's The Basement.
'Coloured' Tracklist:
1. Family Tree
2. Jonjo
3. Gentle Hands
4. Heavenly
5. You Shaped Box
6. If I Ever Loved You
7. Different Color
8. Denim
9. Let's Build A House
10. Land Of The Free
Priscilla Renea Tour Dates:
May 8 / Los Angeles, CA / 13th Annual ASCAP I Create Music Expo / Women's International Music Network She Rocks Showcase
May 11 / Nashville, TN / The Basement
May 13 / Decatur, GA / Eddie's Attic
May 16 / Nashville, TN / The Basement
May 18 / Carrboro, NC / Cat's Cradle
May 19 / Norfolk, VA / Virginia Arts Festival
May 20 / Washington, D.C. / Songbyrd
May 22 / Philadelphia, PA / Bourbon & Branch
May 23 / New York, NY / Rockwood Music Hall