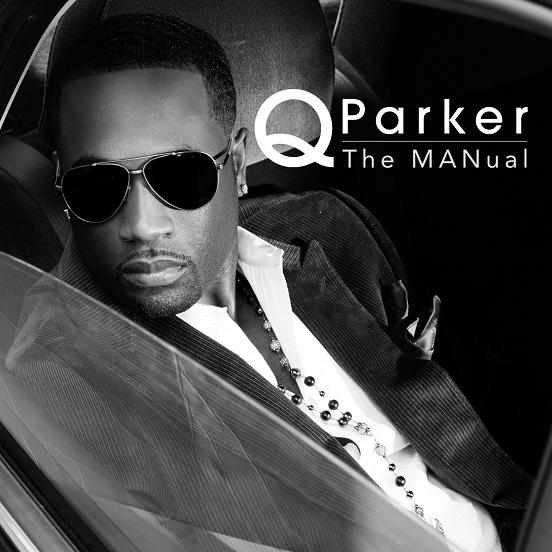 GRAMMY AWARD WINNER, Q PARKER OF 112, CONFIDENTLY CHARTS HIS OWN COURSE AS SOLO R&B RECORDING ARTIST WITH DEBUT ALBUM
Announces Nationwide Release Date of Tuesday, October 30, 2012, Gives Sneak-Peak at Album Cover Artwork and Showcases Official Tracklisting
(New York, NY—October 4, 2012)– Independent music company, Malaco Music Group and NeWFAM Entertainment, jointly announce the album official release date, album cover art, and final track listing for the highly anticipated solo debut entitled, "The MANual" from multi-platinum GRAMMY Award-winning singer & songwriter and co-founding member of 112, Q Parker. "The MANual" will be available at retailers nationwide on Tuesday, October 30, 2012. 'The MANual' is now available for pre-order at iTunes.
2012 has been an extremely busy year for Q Parker. With the success of his first solo single, "Show You How", Q has made a strong reintroduction to the R&B music marketplace. Q's new follow up single, "YES," continues to light up urban mainstream and urban adult contemporary radio charts since and is rapidly approaching Top 20 status since it initially debuted as one of most added song at urban radio.
"It's been a long time coming, but we are thrilled to finally be able to share this incredible album with Q's fans," said Amber Noble-Garland, CEO of I For Talent Management and Executive Producer of the The MANual album (alongside Q Parker).
True to his signature fashion-forward, well-groomed style, "The MANual" album cover displays Q Parker's undeniable swagger. 'The MANual' features production from a bevy of GRAMMY nominated and multiple award-winning producers and co-writers including Warryn Campbell, Chuck Harmony, Ivan Barias & Carvin Haggins, Kendrick Dean, Dwayne Nesmith of Tha Corna Boyz, Mandobeats, Selasi, Adrian Porter, RL, Mika Means, Juan Winans, Jayshawn Champion, Redd Stylez and JQue Smith.

OFFICIAL TRACKLISTING

1. The Conversation Intro feat. Crystal Nicole
2. Show You How
3. Belongs To You
4. All About You
5. YES Interlude
6. YES
7. How I Love You
8. 60 Seconds
9. Two Of Us feat. Faith Evans
10. Cupid (Acoustic Remake)
11. Hold Me
12. Better feat. Styles P (of The Lox)
13. Forced My Hand
14. Just Us
15. Completely