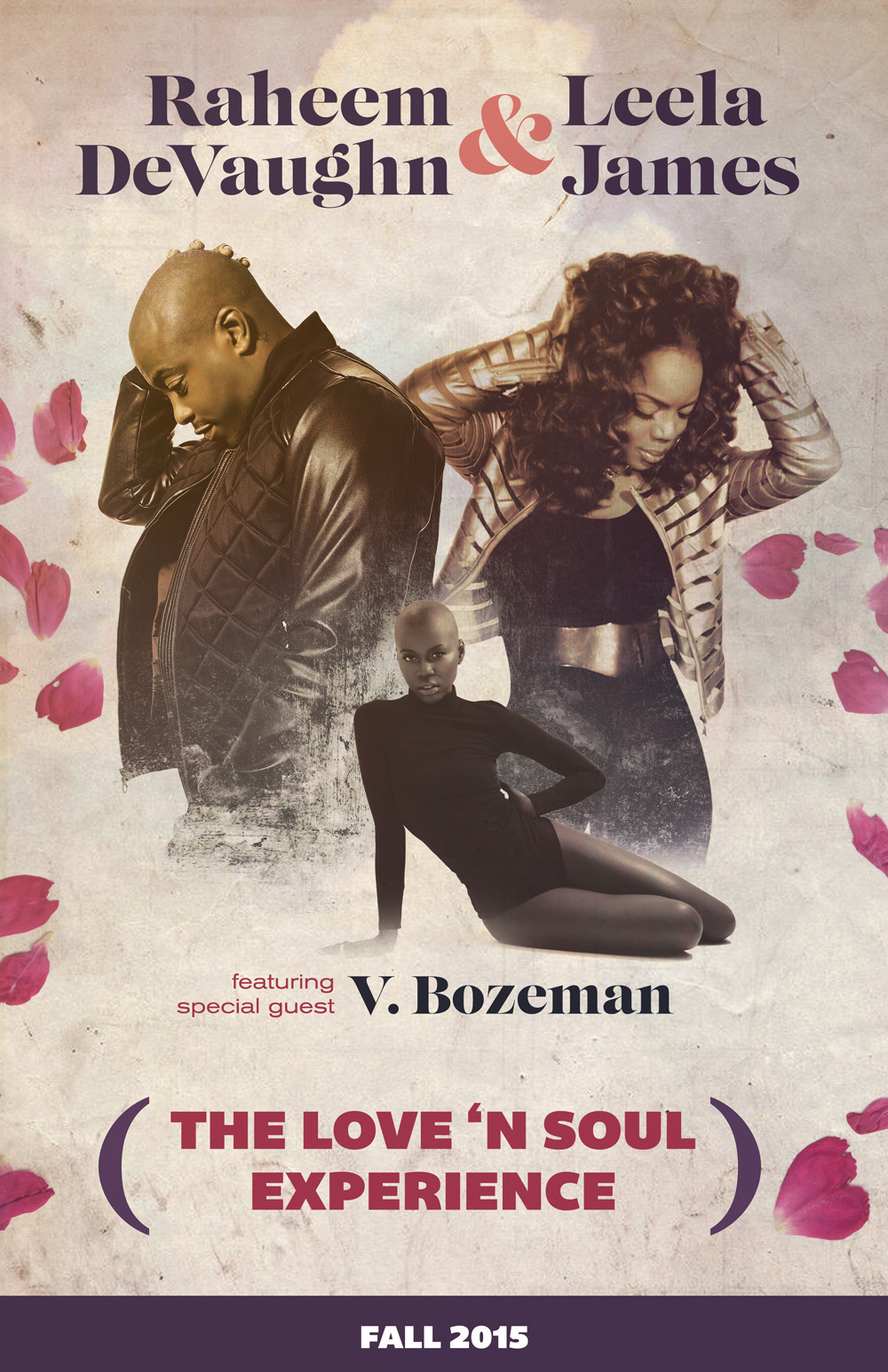 This fall, soul music favorites Raheem DeVaughn and Leela James are partnering up to co-headline The Love 'n Soul Experience. With shows in 25 major cities across the United States, the two will be performing hits off of their recent chart-topping albums alongside fan favorites from their entire catalogs.
Three-time Grammy Award nominated 368 Music Group & Entertainment One recording artist Raheem DeVaughn is one of the most exciting R&B artists of the 21st century. His fifth studio album, Love, Sex, and Passion, released in February 2015, debuted at #1 on the Billboard R&B chart and #2 on Billboard's Independent Album chart. It continues to be propelled by radio hits "Queen" and "Temperature's Rising". In addition to his musical interests, Raheem is equally passionate about the various philanthropic initiatives run by his charity organization, The LoveLife Foundation. Launched in April 2014, the foundation currently focuses on youth education, HIV/AIDS research, and domestic violence prevention. Throughout the tour, Raheem and The LoveLife Foundation will be hosting their national "Queen for a Day" campaign against domestic violence. More information on "Queen For A Day" & The LoveLife Foundation can be viewed HERE
Leela James's explosive 2015 saw her new album Fall For You reach #1 on the iTunes R&B chart, three top-15 singles highlighted by the smash hit "Set Me Free" (currently at #6 on the Urban AC charts), a starring role on TV One's R&B Divas LA,, and a BET/Centric Awards win. She has often been compared to soul legends Etta James and Mavis Staples, and cites them alongside Aretha Franklin and Bobby Womack as primary influences. Her passionate and deeply emotional performances have connected her with fans worldwide. James's most recent album Fall For You recently re-charted #1 on iTunes' R&B chart following a critically acclaimed performance on ABC's Dancing With The Stars.
Joining The Love 'n Soul Experience as the opening act is the exciting new talent V. Bozeman. After an enthralling debut as the co-star of the hit Fox TV series, Empire, Mosley Music Group/Epic Records Recording Artist Bozeman is currently preparing her highly anticipated debut album "Music Is My Boyfriend", produced by Timbaland. Her single "What Is Love" captivated both viewers and listeners alike and garnered the second most downloads from the Empire Soundtrack.
"Art is culture. Culture is Art. I invite you to bear witness to the live performance that will feature a decade of music that I have created. #TheLove&SoulExperienceIsComingFall2015," says Raheem DeVaughn.
"Creating music that taps into the heart of people is what I live for. Soul music connects, affirms, and lifts people out of their seats. I'm proud to be a part of it," says Leela James.
The North American leg of The Love 'n Soul Experience will hit 25 cities beginning October 7, 2015 and concludes November 13, 2015.
October 7, 2015 – Charleston, SC – Music Farm
October 8, 2015 – Chattanooga, TN – Track 29
October 9, 2015 – Atlanta, GA – Symphony Hall
October 10, 2015 – Memphis, TN – Minglewood Hall
October 11, 2015 – Nashville, TN – Marathon Music Works
October 14, 2015 – St. Louis, MO – The Ready Room
October 15, 2015 – Chicago, IL – Portage Theater
October 16, 2015 – Detroit, MI – The Garden Theater
October 17, 2015 – Indianapolis, IN – Egyptian Room
October 18, 2015 – Cleveland, OH – House Of Blues
October 21, 2015 – Boston, MA – Wilbur Theatre
October 22, 2015 – Philadelphia, PA – TLA
October 23, 2015 – New York, NY – Apollo Theater
October 24, 2015 – Washington, DC – Warner Theater
October 25, 2015 – Baltimore, MD – Ram's Head Live
October 27, 2015 – Cincinnati, OH – Bogart's
October 29, 2015 – Norfolk, VA -The Norva
October 30, 2015 – Winston Salem, NC – Lawrence Joel Vet. Memorial Coliseum
November 1, 2015 – Charlotte, NC – The Fillmore
November 4, 2015 – Baton Rouge, LA – Varsity Theatre
November 5, 2015 – New Orleans, LA – House Of Blues
November 6, 2015 – Houston, TX – House Of Blues
November 7, 2015 – Dallas, TX – House Of Blues
November 12, 2015 – Oakland, CA – Fox Theater
November 13, 2015 – Los Angeles, CA – Club Nokia
Check your local listings for tickets to The Love n' Soul Experience.