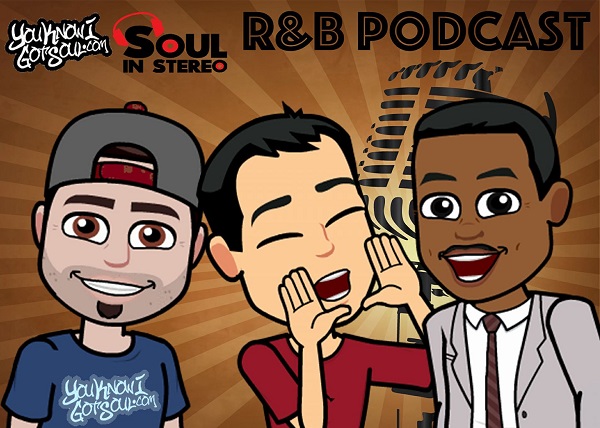 Follow our podcast on Soundcloud: https://soundcloud.com/youknowigotsoul/sets/youknowigotsoul-podcasts
Follow our podcast on iTunes: https://itunes.apple.com/ca/podcast/youknowigotsoul-podcast/id998813013
Follow our podcast on Google Play: https://play.google.com/music/listen?u=0#/ps/Imoe7gt6vd4v6iuf4yq5fyhy3e4
Follow our podcast on YouTube: https://www.youtube.com/playlist?list=PLVyB7WCEUIPl_CYZFTwiNLHqtCHaK2GcK
0:55: Tank's evolution as an artist
3:30: We took Ashanti for granted
6:22: More social media drama from Tyrese
10:45: Review of Chanté Moore's new album "The Rise of the Phoenix"
16:10: Review of Vivian Green's new album "VGVI"
18:15: Review of Demetria McKinney's new album "Officially Yours"
20:30: Review of Kevin Ross' new EP "Drive"
23:11: Bridget Kelly's new single
28:25: Chris Brown's documentary "Welcome To My Life" and his new album cover
32:00: The stan culture and the support for their artists
39:00: Gearing up for the release of Keyshia Cole's new album
44:00: R&B Hall Of Fame nominations: Babyface and B2K
YouKnowIGotSoul celebrated its 8 year anniversary a couple of days ago and we're back again with another podcast. We start off the podcast talking about Tom's love for Tank in 2009 and how that has changed as Tank's sound as evolved. We also look at the impact of Ashanti back in 2002 and if we took her for granted especially with the way music is going today. We also touch on Tyrese's drama with The Rock as some of our readers aren't too happy with him right now.
For new music, we give our thoughts on new music from Chanté Moore, Vivian Green, Demetria McKinney, Bridget Kelly and Kevin Ross. We also look into upcoming releases from two of R&B's biggest artists Chris Brown and Keyshia Cole. We also quickly discuss Chris Brown's new netflix documentary and talk about his massive fanbase.
For our R&B hall of fame, we try to nominate the legendary Babyface as both a songwriter/producer and a solo artist. We also try to nominate B2K based off the impact that they had with the "You Got Served" movie and the craziness with the "Scream" tour and BET's 106 & Park.