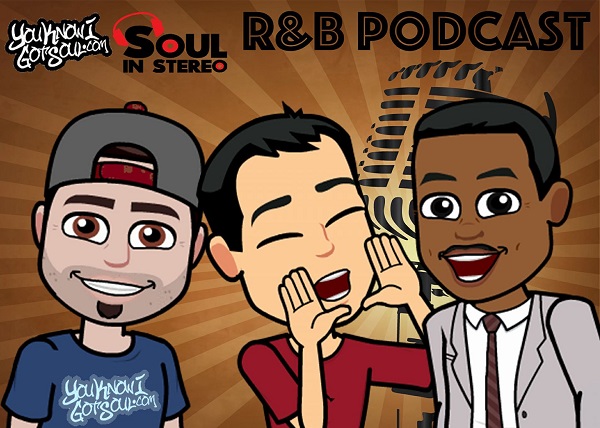 Follow our podcast on Soundcloud: https://soundcloud.com/youknowigotsoul/sets/youknowigotsoul-podcasts
Follow our podcast on iTunes: https://itunes.apple.com/ca/podcast/youknowigotsoul-podcast/id998813013
Follow our podcast on Google Play: https://play.google.com/music/listen?u=0#/ps/Imoe7gt6vd4v6iuf4yq5fyhy3e4
Follow our podcast on YouTube: https://www.youtube.com/playlist?list=PLVyB7WCEUIPl_CYZFTwiNLHqtCHaK2GcK
0:57: New album releases
4:50: Chris Brown announces new album and documentary
9:19: Usher's new haircut
13:22: The savior of R&B was supposed to arrive in 2012
27:15: Top 10 Best Male R&B vocalists today
47:50: R&B Hall Of Fame nominations: SWV and Musiq Soulchild
1:01:35: Food discussion
We caught a lot of heat for our last r&b podcast when we ranked the top female vocalists in the game and we're sure this episode will have very similar results! We start off the podcast talking about some of the new albums that came out last week including Avery*Sunshine, PJ Morton and Eric Roberson. Afterwards we talk about the upcoming release of Chris Brown's album "Heartbreak On A Full Moon" as well as the documentary "Welcome To My Life". We discuss Chris Brown's career and why he feels the need to put out a movie in theaters.
It's not a podcast unless we talk about Usher and he makes it easy for us this week as he dyed his hair recently. This leads to a deeper discussion on whether he can still be the savior of R&B. We rewind the clock back to 2012 when he released "Climax" which we thought would impact R&B in the way that Kendrick Lamar has for Hip Hop. We also talk about some younger artists who we thought could help shift the genre such as Miguel and Luke James.
Our special topic for this week is some of our favorite male R&B vocalists in the game. Our discussion was sparked by Edd's list that he published on his website, so we give our thoughts on it and also add some names to it. Some artists that we talked about include Brian McKnight, Joe and Craig David. We also get into more of our hall of fame discussion and nominate SWV and Musiq Soulchild for this wee.
For our food discussion, we talk about various things including McDonald sauces and the new Starbucks unicorn drink.