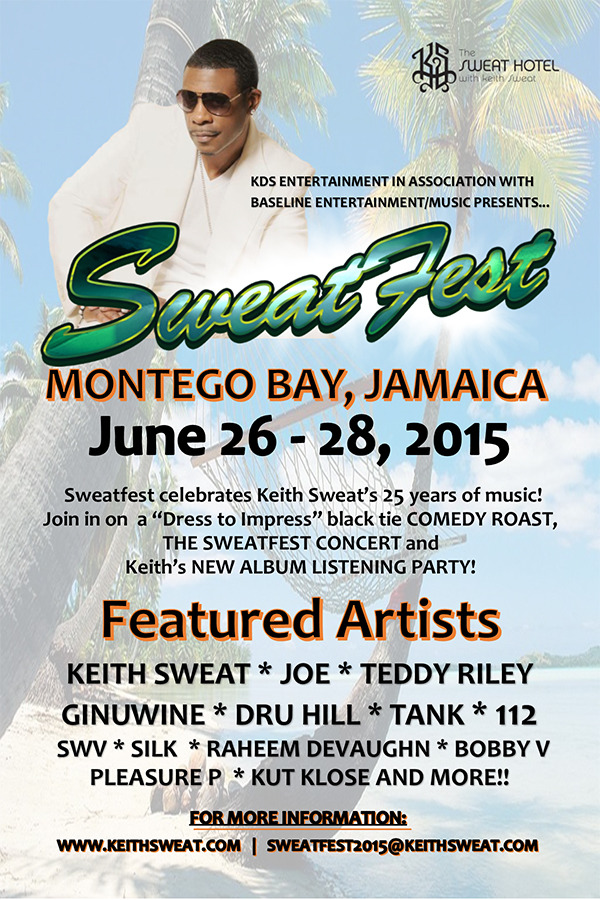 Keith Sweat, R&B icon and host of the nationally syndicated radio program The Sweat Hotel, announced today the launch of the first-ever "Sweat Fest 2015," a weekend of love, laughter and music in Montego Bay, Jamaica, from June 26-28, 2015.
Celebrating Sweat's 25-year career in music, the inaugural three-day weekend escape will be hosted by Sweat and highlighted by special events, including the Keith Sweat and Friends R&B Outdoor Festival¬ featuring live performances by Sweat, Teddy Riley, Ginuwine, Dru Hill, Tank, 112, SWV, Silk, Raheem Devaughn, Pleasure P, Kut Klose, Bobby V and others. In addition, Sweat will host an album listening party on the beach for his upcoming release, "Dress To Impress," and a black-tie dinner and comedy roast featuring local and popular comedians.
"Sweat Fest has been a dream of mine for some time, and I'm excited to share this incredible celebration of music, love and laughter with R&B fans in a beautiful location like Jamaica," stated Sweat. "With a lineup of this caliber, along with more surprises to come, we're going to make this an unforgettable weekend!"
Presented by KDS Entertainment in association with Baseline Entertainment/Music, listeners and fans of The Sweat Hotel, which can be heard on more than 55 stations nationwide, can tune in to the daily radio program for a chance to win a weekend escape or visit www.KeithSweat.com to purchase a travel package.