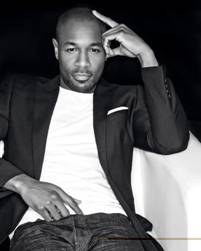 R&B singer, songwriter & producer Tank joins the talent management roster at Primary Wave Music after recently releasing his sixth solo album "Stronger" (Atlantic Records) on August 12th, 2014, which debuted at #1 on Billboard's Top R&B/Hip-Hop Albums. The new album features Tank's latest single and title track "Stronger" and he worked closely with some of the industry's top producers / songwriters such as Jerry Wonda (The Fugees, Shakira, Miguel) and Grammy Award winning producer Infinity (Mary J. Blige, Ciara, Ludacris), to bring back a classic sound that's been missing in the modern R&B landscape. This new album follows the TGT success after Tank reunited with fellow veterans Tyrese and Ginuwine to re-form the R&B supergroup TGT in 2013 and released their debut album "THREE KINGS", which also debuted at #1 on Billboard's Top R&B/Hip-Hop Albums and was nominated for a 2014 Grammy Award. With all the buzz, Tank was also just nominated for a 2014 Soul Train Award in the category for "Best Soul/R&B Male Artist".
 
By signing with Primary Wave Music, Tank will join their talent management roster, which currently includes Melissa Etheridge, CeeLo Green, Cypress Hill, Ginuwine, Eric Benét, The Go-Go's, Goodie Mob, among many others. The Grammy Award-nominated artist was brought in by manager Steven Greener and will be co-managed by Greener and Lakeisha Orange.
 
Tank broke onto the music scene in 2001 after touring with Ginuwine and that same year, he released his debut album "Force of Nature", which spawned the R&B Top Ten single "Maybe I Deserve", and then in 2002, released his sophomore album "One Man", both of which went gold. The R&B artist went on to release two more albums before his success with "This Is How I Feel" (2012), which debuted in the Top 10 on Billboard's Top 200 chart. Over his career, Tank has received four Grammy Award nominations and has made memorable collaborations with everybody from Chris Brown and Drake to Omarion and Kelly Rowland. As an accomplished songwriter, Tank has also penned songs for the likes of Jamie Foxx, Pitbull, Aaliyah, and more. He even contributed to the score of Dreamgirls, and made a cameo in the film.