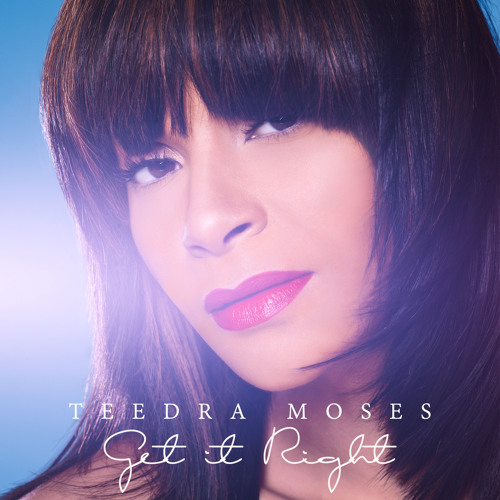 Affectionately dubbed "The Young Lioness," Teedra Moses has been winning fans for the past decade with her sultry, soulful and stirring voice, memorable songwriting and stunning beauty. Having written songs for and or collaborated with the likes of Mary J. Blige, Macy Gray, Christina Milian, Raheem DeVaughn, Rick Ross, Raphael Saadiq, Walé and Big Boi of Outkast, Moses will release a highly anticipated new CD this Spring on Shanachie Entertainment. "We are very pleased to sign a deal with Teedra Moses," states Shanachie General Manager Randall Grass. "She is a unique artist–a true singer and songwriter whose fan base spans the neo-soul and hip-hop worlds but who has been somewhat under the radar even though she has built a loyal following through live performances, an active social media following and her collaborative relationship with Rick Ross and the Maybach group. We believe that with Shanachie as a label partner, her new album will garner her the recognition she deserves." Cognac & Conversation is Teedra's first new CD in ten years and her second solo recording. "This album is a continuation of the evolution of my music as I strive to reach new levels musically and professionally," shares the Miami based singer.
 
Cognac & Conversation's not only includes the stellar first single "Get It Right" but also the track "All I Ever Wanted" featuring Rick Ross. "It's inspired by society's devaluing of love and goodness and praise of money and power," shares Teedra Moses. "I have always felt like 'give me your love and I can make my own money.' Working with Rick Ross has been a wonderful blessing. He appreciates my talent and believes in it. The process of collaborating with him is always very easy." Teedra's longstanding relationship with Rick Ross has resulted in a number of fruitful collaborations. She appears on Ross' CDs Hood Billionaire, Mastermind (on the song "Nobody" featuring Diddy and French Montana and God Forgives I Don't (on the track "Amsterdam"). She also co-wrote three songs on the 2011 compilation SelfMade. Moses also nabbed the crown as "BMI Songwriter Of The Year" for two consecutive years.
 
"Cognac & Conversation is music that's meant to be light-hearted at times while deep in other moments," explains Teedra. "It's meant to be comforting and relatable but at the same time thought provoking and inspiring. The conversation and vibe could be with yourself, the home girls, or your lover." The New Orleans born and Los Angeles raised Teedra Moses grew up in a musical home where her mother, Shirley Moses, was a gospel singer. Known for her flair for fashion, Teedra worked in the fashion world prior to launching her music career. Early on she worked alongside her best friend, Nonja McKenzie, as an assistant wardrobe stylist for artists such as Will Smith, Kelis, R. Kelly, and No Doubt. Never once approaching any of the clients, it wasn't until after the death of her mother that Moses decided to follow her heart and begin making music. In 2002 she joined forces with producer, Paul Poli and signed with TVT Records and released her recording debut Complex Simplicity two years later featuring the songs "Be Your Girl," "Backstroke" and "Take Me" featuring Raphael Saadiq.  The same year she also co-wrote two songs for Saadiq's album Ray Ray ("Chic" and "I Want You Back").  Her songs have been showcased in the Logo series Noah's Arc, HBO's Entourage and the films Never Die Alone, Beauty Shop, Be Cool and The Skinny.
 
"Cognac & Conversation is music to serve a soundtrack to life. I am so excited to finally have this new album for all the fans who have stayed by my side all these years," concludes Teedra.