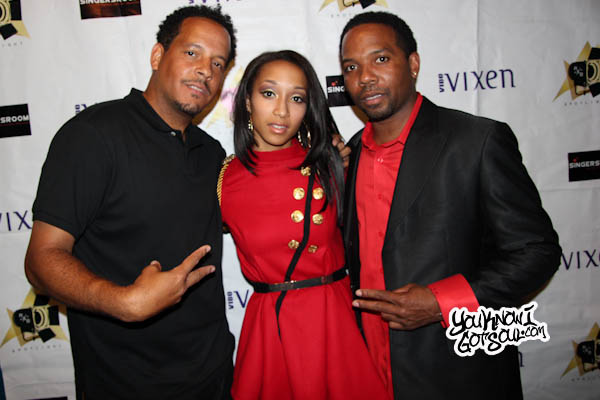 We were first introduced to this Philadelphia based production/songwriting team in the early 2000's during the neo-soul movement. Carvin "Ransum" Haggins and Ivan "Orthodox" Barias have played a major role in crafting some amazing songs for some of soul music's most beloved artists. While Carvin & Ivan's work has earned them a number of Grammy nominations, the duo understands the importance of playing the background role. As "musical tailors" carefully sewing sincere lyrics into timeless melodies, Carvin & Ivan design songs that are perfectly suited for each artist that they work with. They let the quality of the music stand on its own, and allow the artist to stand in the spotlight.
Check out all of our Producer Top 10 Lists
10. Worthy Of – Justin Timberlake (2002)
This song was included as a bonus track on the international release of Justified. If it wasn't for YouKnowIGotSoul's Rare Gems, I probably wouldn't have known that this song was produced by Carvin & Ivan. It's a departure from their signature sound, but it still works. It has a Neptunes vibe to it and fits in nicely with the album.
9. Ride Wit U – Joe ft. G-Unit (2003)
As one of the few up-tempo tracks on Joe's And Then album, this song performed well on both the R&B and pop charts. This song does a nice job of showing Joe's fun side. (Frank Romano, who has collaborated with Carvin & Ivan on several occasions, also produced on this song.)
8. Gone Already – Faith Evans (2010)
As the only official single from Faith's first independent release, this song was nominated for Best Female R&B Vocal Performance. It wasn't until I listened to this song closely on my headphones that I began to appreciate the nuances. This is one of those songs that I think people will appreciate in the years to come. (Johnnie "Smurf" Smith lent additional production to this song.)
7. My Foolish Heart – Jazmine Sullivan (2008)
http://youtu.be/aCB9oY6YIKc
This song is a great display of Carvin & Ivan's hip-hop roots. Jazmine's raspy vocals add just the right amount of soul to the record.
6. Alone – Ledisi (2009)
This is just one of two solid tracks that the duo contributed to Turn Me Loose. The instrumentation matches Ledisi's plea for the truth.
5. Again – Faith Evans (2005)
As Faith's first release after leaving Bad Boy, this song made a huge statement. Being the great producers that they are, Carvin & Ivan challenged Faith to make the song as personal as possible. That personal touch helped listeners relate to the song.
4. Customer – Raheem DeVaughn (2008)
With its clever concept and catchy lyrics, this song earned the duo a Grammy nomination for Best R&B Song.
3. Just Friends (Sunny) – Musiq Soulchild (2000)
This was Carvin & Ivan's first commercially successful song. It was released as Musiq's debut single and also appeared on The Nutty Professor II: The Klumps Soundtrack. This song helped introduce Musiq and his sound to the world.
2. Finding My Way Back – Jaheim (2010)
With its great lyrics and timeless instrumentation, it's no surprise that this song earned Grammy nominations for Best R&B Song and Best Male R&B Vocal Performance. Although this song wasn't released that long ago, it has a classic vibe to it.
1. Halfcrazy – Musiq (2002)
When I think of Musiq Soulchild, this is one of the first songs (and videos) that comes to mind, which is why I consider it one of Musiq's signature songs. Carvin & Ivan make an appearance in the video during the jam session!
Honorable Mention:
Faith Evans – Stop N' Go
Faith Evans – Until You Came
Heather Headley – Losing You
Joe – Testify
Mario – Like Me Real Hard
Musiq Soulchild – Dontchange
Musiq Soulchild – Teachme
Written by Shannan Brady