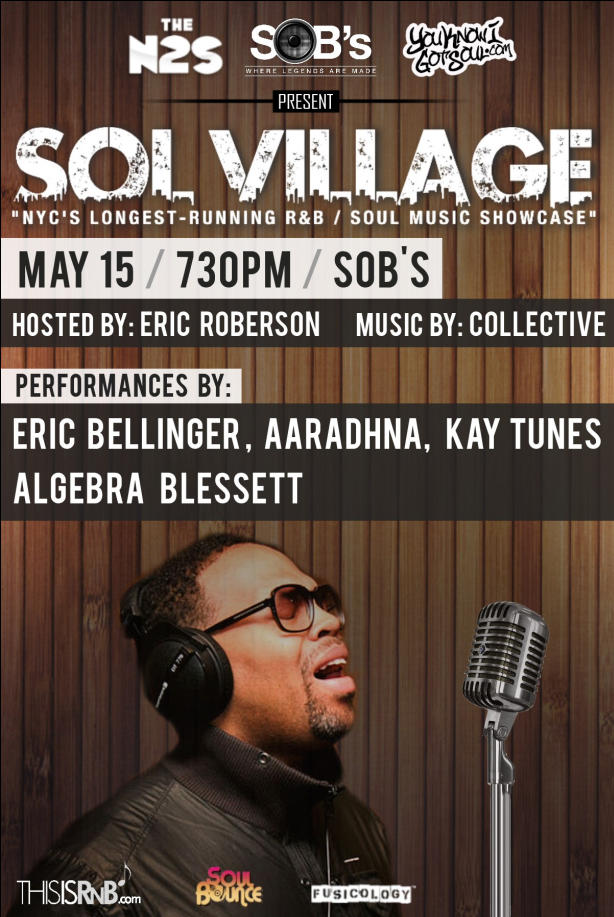 As part of our ongoing commitment to bringing you the best in upcoming r&b artists, YouKnowIGotSoul is proud to be a part of Sol Village at SOBs in NYC once again on May 15th. This month's showcase will include Eric Bellinger, Algebra Blessett, Kay Tunes & Aaradhna, as well as special invited guests. Tickets are on sale now, click here to purchase.
Sol Village is New York City's longest running and most well respected R&B showcase. Running monthly (and typically on the 3rd Wednesday of each month) it is hosted by the artist-singer-songwriter Eric Roberson since its inception, the series features some of the best up & coming talent in R&B.
Over its 10 years, Sol Village has featured artists such as John Legend, Musiq Soulchild, Erykah Badu, Raphael Saadiq, Common, Floetry, Dwele and more recently Luke James, Bridget Kelly, Laurianna Mae, Allen Stone, & Emily King to name a few. Its has served as a cultural breeding ground from which young acts have broken into the next level of their careers.
About the Artists:
Aaradhna
Aaradhna has remained a prominent force in the music scene of New Zealand for the past nine years. She made her musical debut in 2004 with the number one single "Getting Stronger," featuring the group Adeaze. Since then, she has released three studio albums as well as a number of singles including "Down Time" and "I Love You Too," both of which were top five hits in New Zealand. She has worked with stars such as Savage and Australia's Paul Mac.
Eric Bellinger
Eric Bellinger is a gifted singer and songwriter whose talent has been compared to that of Usher and Chris Brown. As the grandson of Jackson 5 songwriter Bobby Day, songwriting has come natural to the Los Angeles native. Bellinger's keen ear for music has lead him to write for phonemes such as Nickelodeon's Big Time Rush and Disney's Selena Gomez.
Kay Tunes
Personifying her name, Kay Tunes blew away her audience at the famous Apollo Theater in Harlem at age 13. Tunes began to develop her skills as a songwriter by creating songs for other artists. For her upcoming album, she has recruited music heavyweights like Lee Major Kid, Theo Edmonds, and Grammy Award winning, multi platinum selling producer Gerard Thomas.
Algebra Blessett
As Kedar Massenburg's newest protégé, Algebra is following in the footsteps of acclaimed artists Erykah Badu and D'Angelo, both of which were also mentored by Massenburg. She has developed her unique R&B style completely organically, not letting outside input influence her vision. Algebra has opened for the likes of Common, The Roots, and Keyshia Cole and released her debut album, "Purpose," which stayed on the Billboard album charts for 14 weeks