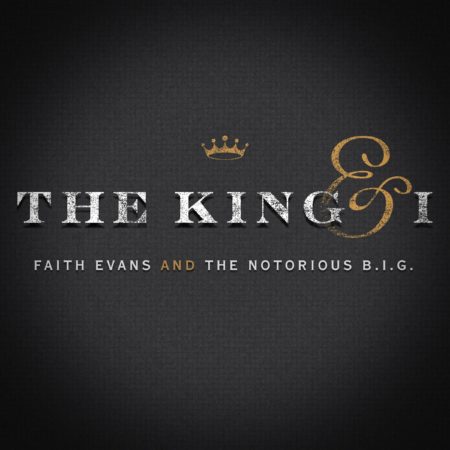 Just days after finally releasing new music from her long promised collaborative album with The Notorious B.I.G. "The King and I", Faith Evans gives us a tracklist and release date.
Evans has now, 20 years after B.I.G.'s still unsolved murder, created THE KING & I, a new album that tells the story of their life together. The album's 25 tracks feature newly recorded vocals by Evans melded with vocals by Biggie Smalls, some well-known but also a selection of rare and unheard rhymes from the B.I.G. vault. THE KING & I also includes an impressive list of guest appearances by rap royalty including Busta Rhymes, Jadakiss, Lil' Cease, Lil' Kim, Sheek Louch, Styles P, and Snoop Dogg. Evans has also brought on some of the most acclaimed producers in hip-hop, many of which produced some of B.I.G.'s most famous tracks, including DJ Premier, Just Blaze, Salaam Remi, Stevie J, and Chucky Thompson.
"I remember telling Ms. Wallace years ago that one day it would be really dope if I could do something similar to Natalie & Nat King Cole's Unforgettable," says Evans. "Knowing the love that B.I.G. had for Tyanna & Ceejay, I feel it's my duty to uphold & extend his legacy, especially his musical contributions. This project is my creative reflection of the love we had & the bond we will always have. I'm elated to share this musical journey with our fans!"
THE KING & I will be released on May 19 – just two days before Biggie's birthday. The album will be available on CD ($18.98), digital download, and streaming from Atco Records, an imprint of Rhino Entertainment. THE KING & I will also be available on vinyl as a 2-LP set ($31.98) on June 9.
The album's first two singles are: "NYC," Evans' love letter to New York featuring Jadakiss, and "When We Party," the West Coast party anthem featuring Snoop Dogg. Both are available now for digital download and streaming.
In addition to the constellation of stars who appear on THE KING & I, there is one other very special guest: Biggie's mother, Voletta Wallace. Her voice is featured, along with those of Evans and Biggie, on multiple interludes that provide a poignant narration of the album. Other guest stars adding harmonies to the interludes include 112, Kevin McCall, Chyna Tahjere, and Jamal "Gravy" Woolard, who famously portrayed B.I.G. in the 2009 film Notorious.
Faith Evans & The Notorious B.I.G. "The King and I" Tracklisting
1. "A Billion"
2. "Legacy"
3. "Beautiful" (Interlude)
4. "Can't Get Enough"
5. "Don't Test Me"
6. "Big/Faye" (Interlude) feat. Jamal Woolard
7. "Tryna Get By"
8. "The Reason"
9. "I Don't Want It" feat. Lil' Cease
10. "I Got Married" (Interlude) feat. Mama Wallace
11. "Wife Commandments"
12. "We Just Clicked" (Interlude) feat. Mama Wallace
13. "A Little Romance"
14. "The Baddest" (Interlude)
15. "Fool for You"
16. "Crazy" (Interlude) feat. 112 & Mama Wallace
17. "Got Me Twisted"
18. "When We Party" feat. Snoop Dogg
19. "Somebody Knows" feat. Busta Rhymes
20. "Take Me There" feat. Sheek Louch & Styles P
21. "One In The Same"
22. "I Wish" (Interlude) feat. Kevin McCall & Chyna Tahjere
23. "Lovin You For Life" feat. Lil' Kim
24. "NYC" feat. Jadakiss
25. "It Was Worth It"