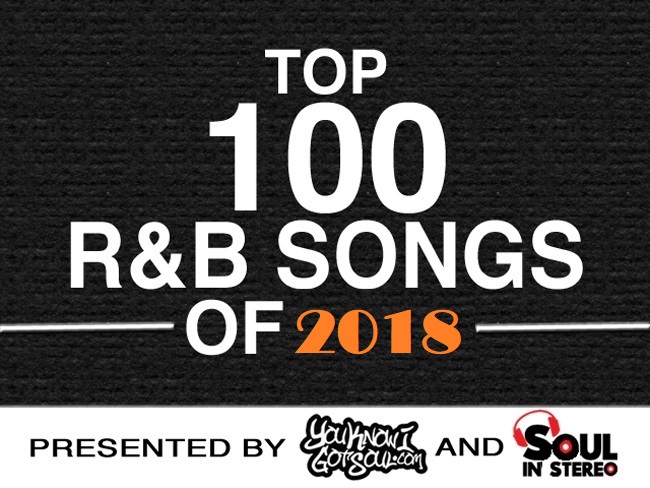 We've reached the end of 2018, and as is the tradition around here, we continue to look back on the year that was for r&b music. We recently published our Top 10 Best R&B Albums of 2018 list, and acknowledged that while it wasn't a great year for R&B, there were a bunch of good projects.
Additionally, we continue to see the trend of artists releasing albums less frequently or not at all, opting instead for just singles or even EP's. As you'll see on the list below, many of these songs didn't make an album. And of course like we always do, we included some album cuts that artists didn't choose as singles.
Once again, YouKnowIGotSoul.com has collaborated with our friend Edd Bowser at SoulInStereo.com to present the Top 100 R&B Songs of 2018. This list is a culmination of votes tallied by Tom and Kyle of YouKnowIGotSoul, and Edd of SoulInStereo. Each of us nominated what we felt were the best songs we heard of the course of the year, and then debated which deserved to be included in the list. We all agree that the list you'll find below came out fairly.
If you're curious about our credentials, between us we listened to every R&B project we could get our hands on this year, including EPs. We also listened to the majority of singles sent our way. So we do have an educated say in this, like we have for nearly a decade now.
Feel free to click any of the songs below to check out some of these great songs you may have missed. Enjoy!
---
100) Tinashe – L-O-V-E
93) Jessie J – Petty
92) Anna Moore – Pity Party
88) VanJess – Rewind Time
85) Queen Naija – Karma
84) Teyana Taylor – Issues/Hold On
83) Tone Stith – Light Flex
82) Ne-Yo – Apology
81) Nao – Drive and Disconnect
79) Chante Moore – Thank You
78) H.E.R. – As I Am
75) Nao – Orbit
71) Jessie J – I Believe In Love
69) Justin Timberlake – Midnight Summer Jam
68) Summer Walker – CPR
67) Jussie Smollett – Ha Ha (I Love You)
62) Justin Timberlake – Breeze Off the Pond
60) Mariah Carey – Caution
57) Tamia – Better
53) Justin Timberlake – Wave
52) Justin Timberlake – Montana
51) Jessie J – 4 Letter Word
49) Ella Mai – Dangerous
48) Leah Labelle – Sun
41) Lloyd – My Bestie (featuring Sevyn)
40) Toni Braxton – FOH
39) Ne-Yo – U Deserve
38) Queen Naija – Butterflies
37) Mariah Carey – 8th Grade
31) Mario – Goes Like That
29) The Internet – Come Over
28) Khalid – OTW (featuring Ty Dolla $ign & 6lack)
27) Usher – You Decide
26) Shawn Stockman – Been Too Long
21) H.E.R. – Hard Place
19) Keith Sweat – Red Negligee
16) Lloyd – Caramel
10) Jessie J – Dopamine
9) Gallant – HaHa No One Can Hear You
6) Janelle Monae – I Like That
---
Honorable Mention
Chante Moore – Moore
Keith Sweat – Bae Bae
Chante Moore – One Love
Jacquees – Play the Field
Ne-Yo – Good Man
Ne-Yo – Over U
VanJess – Touch The Floor
Xscap3 – Memory Lane
The Internet – It Gets Better
John Legend – A Good Night
Jacquees – You
Craig David – Talk to Me