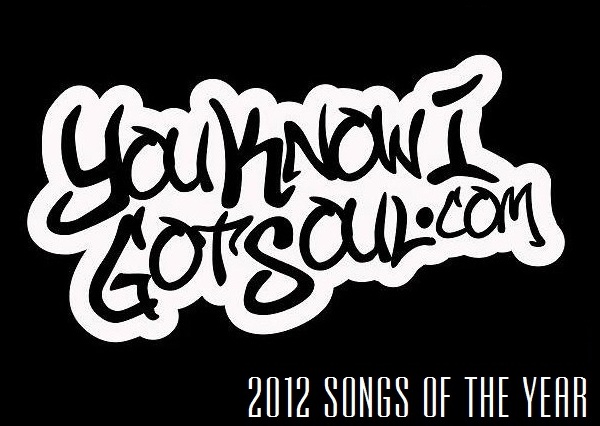 YouKnowIGotSoul is proud to present to you our Top 40 R&B songs of 2012. To compile this list, we went through every r&b/soul single released over the year and after much deliberation and debate, determined these to be the best of the best. There's no doubt that 2012 was a good year for r&b as you'll see from this list, and for those who think the genre is in trouble, can rest assured that it's doing just fine. Please feel free to share your comments on the list and let us know where you agree/disagree. We'll be releasing 5 songs each day over the next week, so be sure to check back each day for the newest additions. Without further ado, here is the list:
40) Dwele "What Profit" (Produced by Mike City)
Checking in at number 40 is Dwele's single "What Profit". The Mike City produced song was the first release from his fifth album "Greater Than One" which came out earlier this year.
39) Q. Parker "Show You How" (Produced by Kendrick Dean)
Q. Parker made the successful transition from 112 to solo artist in 2012 with the release of his debut "The MANual". The first single from the album was "Show You How", a Kendrick Dean produced uptempo jam.
38) Anthony David "Sweet Pain"
Anthony David built off of the momentum he gained with the number one single "4Evermore" last year with the release of his new album "Love Out Loud". He released "Sweet Pain" as the first single earlier this year.
37) Avant & KeKe Wyatt "You and I"
Avant made a strong return to r&b this year, once again collaborating with KeKe Wyatt to give us "You and I". His new album "Face to Music" will be released early next year.
36) Faith Evans "Tears of Joy" (Written by Claude Kelly/Produced by Chuck Harmony)
Re-emerging as a household name with her role on the reality show "R&B Divas", Faith Evans used the opportunity to release a new album featuring each of the cast of the show. The lead single was the incredible ballad "Tears of Joy" which reminded fans of her classic material.
35) Brandy "Put It Down" featuring Chris Brown (Produced by Bangladesh/Written by Sean Garrett
Brandy makes her first of two appearances on the list with the unexpected yet wildly popular collaboration with Chris Brown on "Put it Down". She was able to make a successful return in 2012 with "Two Eleven" with fans hailing it as one of her best albums.
34) Mary J. Blige "Don't Mind" (Produced by Jerry Wonda)
No matter what year it is, Mary J. Blige continues to consistently put out hits. She released the single "Don't Mind" in 2012 from her album "My Life II…The Journey Continues" which released late in 2011.
33) Robin Thicke "All Tied Up"
We haven't always agreed with the musical direction Robin Thicke has taken over the last few years, but he hit it right on the head with "All Tied Up." He released this single from his 5th album "Love & War" late in 2011.
32) Teairra Marí "U Did That" (Produced by Rico Love)
Despite releasing the successful single "U Did That" in 2012, another year came and went without her putting out an album. Under the watch of label head Rico Love, it will be interesting to see what she comes with in 2013.
31) Beyonce "Dance For You" (Written by The Dream/Produced by Tricky Stewart)
Although possibly overshadowed by other songs from her album "4", "Dance For You" was a very solid addition to the album as well. The song was actually included as an Expanded Edition bonus track, but she made the right choice in picking it as a single.
30) Chris Brown "Sweet Love" (Produced by Polow Da Don)
Chris Brown's celebrity continued to grow in 2012; both due to his music and well publicized personal issues. Although his "Fortunate" album wasn't as commercially successful as his previous efforts, he gave us the great single "Sweet Love".
29) Estelle "Wonderful Life" (Produced by Jerry Wonda)
Estelle shows up on the countdown for the first of two songs, this with the Jerry Wonda produced "Wonderful Life". The English singer/rapper experienced a successful comeback after a four year hiatus with her album "All of Me" in 2012.
28) Eric Benet "Harriett Jones"
With the release of his sixth album "The One" in 2012, Eric Benet continued to prove why he's one of the most consistent r&b singers out there. Despite seemingly never getting the credit he deserves, he continues to make great music, including his single "Harriett Jones".
27) Alex Boyd "I Wish I Knew" (Produced by Carvin & Ivan)
One of our favorite new artists discovered in 2012 was Alex Boyd, the blue eyed soul singer signed to RCA Records. He looks poised to make a big splash next year after introducing himself to a lot of fans with "I Wish I Knew".
Tank continued his dominance in r&b in 2012, releasing his third #1 album and fifth overall with "This is How I Feel". The second single "Next Breath" stuck to his tried and true method of heartfelt, emotional ballads.
25) Marcus Canty "Won't Make a Fool out of You"
Fresh off of his success on The X-Factor and signing a deal with L.A. Reid at Epic Records, Marcus Canty made a big splash with his single "Won't Make a Fool out of You". The sky is the limit for him in 2013 as he ushers in a new wave of fresh r&b artists on the Epic roster.
24) Ciara "Sorry"
Ciara made a highly anticipated return in 2012 as she prepared "One Woman Army", the follow up to 2010's "Basic Instinct". Fans were pleased as she released the great ballad "Sorry" to prove her career is still alive and well.
23) RaVaughn "Better Be Good" featuring Wale (Produced by Jerry Wonda)
Jerry Wonda's production continues to dominate our charts, this time for his work on RaVaughn's "Better Be Good". As the protege of Ne-Yo, RaVaughn's future is looking bright and she should continue to grow well into 2013 with her debut album.
22) Anthony Hamilton "Pray for Me" (Produced by Babyface)
Anthony Hamilton continued to establish himself as one of the elite soul singers of our generation, releasing "Back to Love" late in 2011. The Babyface produced "Pray for Me" was the second single on the album and stuck to Hamilton's emotionally driven ballad blueprint.
In 2012, Jon B. presented us with his 7th album "Comfortable Swagg" which featured the great single "Only One". Jon continues to independently have control of his career, self writing and producing the bulk of the music on each album he puts out.
20) Ne-Yo "Lazy Love" (Produced by Shea Taylor)
Ne-Yo returned in 2012 with his most pop-oriented project to date "R.E.D.". The international superstar catered to his loyal r&b fan base with the mid-tempo jam "Lazy Love".
19) Melanie Fiona "Wrong Side of a Love Song"
2012 was a good year for Melanie Fiona, she released her critically acclaimed sophomore album "The MF Life" and further elevated her stardom. Already producing the successful singles "4 AM" and "Gone and Never Coming Back", the album produced a third smash with "Wrong Side of a Love Song".
18) Brandon Hines "Yes You Are" (Produced by Jermaine Dupri & Bryan-Michael Cox)
Brandon Hines has been bubbling for awhile now as an artist, but finally broke through with the Jermaine Dupri and Bryan-Michael Cox assisted "Yes You Are" in 2012. It will be interesting to see what the Epic Records signee follows up with next year.
17) Keyshia Cole "Enough of No Love" feautring Lil' Wayne
Keyshia Cole possibly made the strongest statement of any artist looking to make a comeback in 2012 with her new album "Woman to Woman". She got off to a great start on the success of the project with the lead single "Enough of No Love".
16) Luke James "I Want You" (Produced by Danja)
No rising artist made a bigger impact in r&b in 2012 than Luke James. His hit single "I Want You" was recently nominated for a Grammy despite not even having an album out.
15) RaVaughn Brown "Same Ol' BS"
Ne-Yo's protege RaVaughn Brown makes her second appearance on the list with her single "Same Ol' BS" from the "Think Like a Man" soundtrack.
R. Kelly continued to go down the lane he carved out for himself with the release of "Write Me Back" in 2012. After faltering a bit in the mid 2000's, he's consistently put out solid adult contemporary music including this years "Feelin Single".
13) Elle Varner "Refill" (Produced by Oak & Pop)
Another artist who made the jump into r&b stardom in 2012 was Elle Varner. Riding off of the success of her 2011 smash "Only Wanna Give it to You", she scored an even bigger hit with "Refill".
12) Vivian Green "Anything Out There" (Produced by Vidal Davis)
During 2012, Vivian Green released her 4th album "The Green Room" which was led by the great single "Anything Out There". Vivian was truly in a good place in life on this album, and it showed in the music compared to her previous efforts.
11) Usher "Climax"
Despite his excursions into the pop realm over the past few years, r&b fans were reminded of Usher's classic "Confessions" era when he released his single "Climax". There's no telling what the future holds musically for Usher, but one thing's for sure, he's certainly solidified himself as an international pop star.
10) Bridget Kelly "Special Delivery"
Bridget Kelly gave us a taste of what to expect on her forthcoming debut album with her amazing single "Special Delivery". Following up her highly regarded "Every Girl" EP, her debut will be much anticipated in 2013.
9) SWV "Love Unconditionally" (Produced by Carvin & Ivan)
Undoubtedly the biggest comeback of 2012 was by SWV who successfully released their first album in 15 years. The album was supported by their second single "Love Unconditionally" which was produced by Carvin & Ivan.
8) Brandy "Wildest Dreams" (Written by Sean Garrett)
Brandy appears on the list for the second time, this for the second single on "Two Eleven", "Wildest Dreams". The single was penned by frequent collaborator on the album, Sean Garrett.
7) Leah LaBelle "Sexify" (Produced by Pharrell & Jermaine Dupri)
Pharrell and Jermaine Dupri came together in 2012 to foster the career of the latest Epic Records signing "Leah LaBelle". She's another artist who will have a highly anticipated debut in 2013 after having success with her smash "Sexify".
Miguel elevated himself to r&b's elite in 2012 with the release of his second album "Kaleidoscope Dream" fueled by the huge single "Adorn". Known for his eclectic style, he's certainly paved out a lane all his own and is sure to influence many others.
5) Tamia "Beautiful Surprise" (Written by Claude Kelly/Produced by Salaam Remi)
Of artists making a return in 2012, Tamia was near the top of the list, triumphantly releasing her fifth album of the same name. Tamia stuck to her r&b roots on the project, which is exemplified perfectly in the self titled lead single.
4) Estelle "Thank You" (Produced by Jerry Wonda)
For Estelle's 2nd entry in our countdown for 2012, we chose "Thank You". It's a timeless ballad that really showed her vulnerability as an artist and a person.
Beyonce continued her dominance as the queen of pop/r&b in 2012, releasing hit after hit. "Love on Top" was the best of those, a song very reminiscent of her roots in r&b.
2) Elle Varner "I Don't Care" (Produced by Oak & Pop)
Elle Varner enters our countdown for a second time with her single "I Don't Care" from her debut album "Perfectly Imperfect". It was a big year for Elle in 2012; not only did she establish herself as one of the top new artists in r&b, she was also nominated for a Grammy.
1) Tyrese "Nothing on You" (Produced by Brandon "B.A.M" Alexander)
Congrats to Tyrese on getting the #1 spot on our 2012 Top 40 R&B songs of 2012 list. It was a big year for Tyrese, who successfully released his first independent album which also spawned the smash hit "Stay".
Stay tuned for the rest of the list! We'll be releasing 5 songs each day!